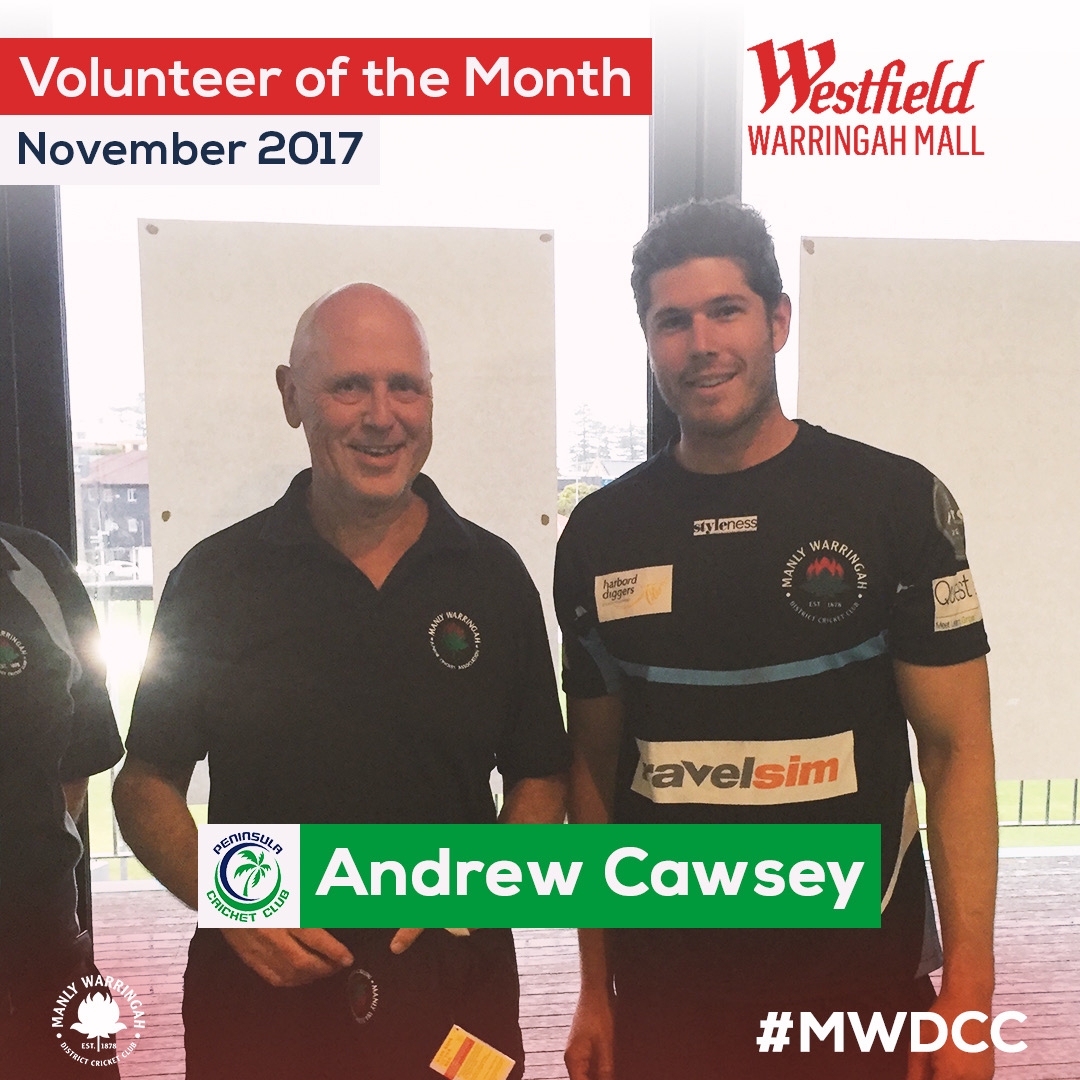 The Waratahs are proud to announce Andrew Cawsey as the recipient of November's Volunteer of the Month Award.
And in a further boost, Westfield Warringah Mall have come on-board as the major sponsor for this great award, providing a $250 voucher to the winner each month.
Andrew has been involved on the Peninsula committee for the past 2 seasons as the clubs Secretary, along with performing the role of team manager for various sides. Andrew's skills at the Peninsula club spread from managing the MyCricket site to various club management activities and becoming right-hand man for President Dion Epplett – to which Dion has personally expressed the gratitude he has for Andrew and his fantastic contribution to the Peninsula Cricket Club.
On top of this, Andrew has also played a significant role on the Junior Rep Committee for the past 2 seasons. He has gone above and beyond this season coordinating all the rep trials, liaising with council, ground allocations for junior rep training, trial matches and the season in general. He is also contributing in an array of other manners behind the scenes on the rep committee to allow it to run smoothly.
Anybody who has been involved in coordinating the junior reps understands that there are a lot of moving parts and logistics to sort through. Andrew's work, which often goes unnoticed, has been outstanding and is a testament to the hard work and commitment he has shown over a period of time to the Manly Cricket community.
Highlighting the efforts of Andrew and others is a rewarding way in which the Waratahs can highlight contributions of the many volunteers that allow cricket on the Peninsula to go from strength-to-strength.
As such, it is amazing that our close friends at Westfield Warringah Mall have also come on-board to support the monthly winners. There is no doubt that they are a community organisation that is just as passionate as recognising local volunteers as we are, and are proud to be supporting the award through a $250 voucher for each months recipient.
Andrew Wolfe, Brand Experience Manager at Westfield Warringah Mall said the Volunteer of the Month award is a fantastic way to showcase the hardworking volunteers of our local community.
"We've been involved with the cricket community on the Northern Beaches for many years now and we're thrilled that we can support and reward the volunteers who are often the unsung heroes."
Congratulations again to Andrew on being awarded November's volunteer of the month, and thank you once more for your tireless efforts in building the game in our fantastic community!