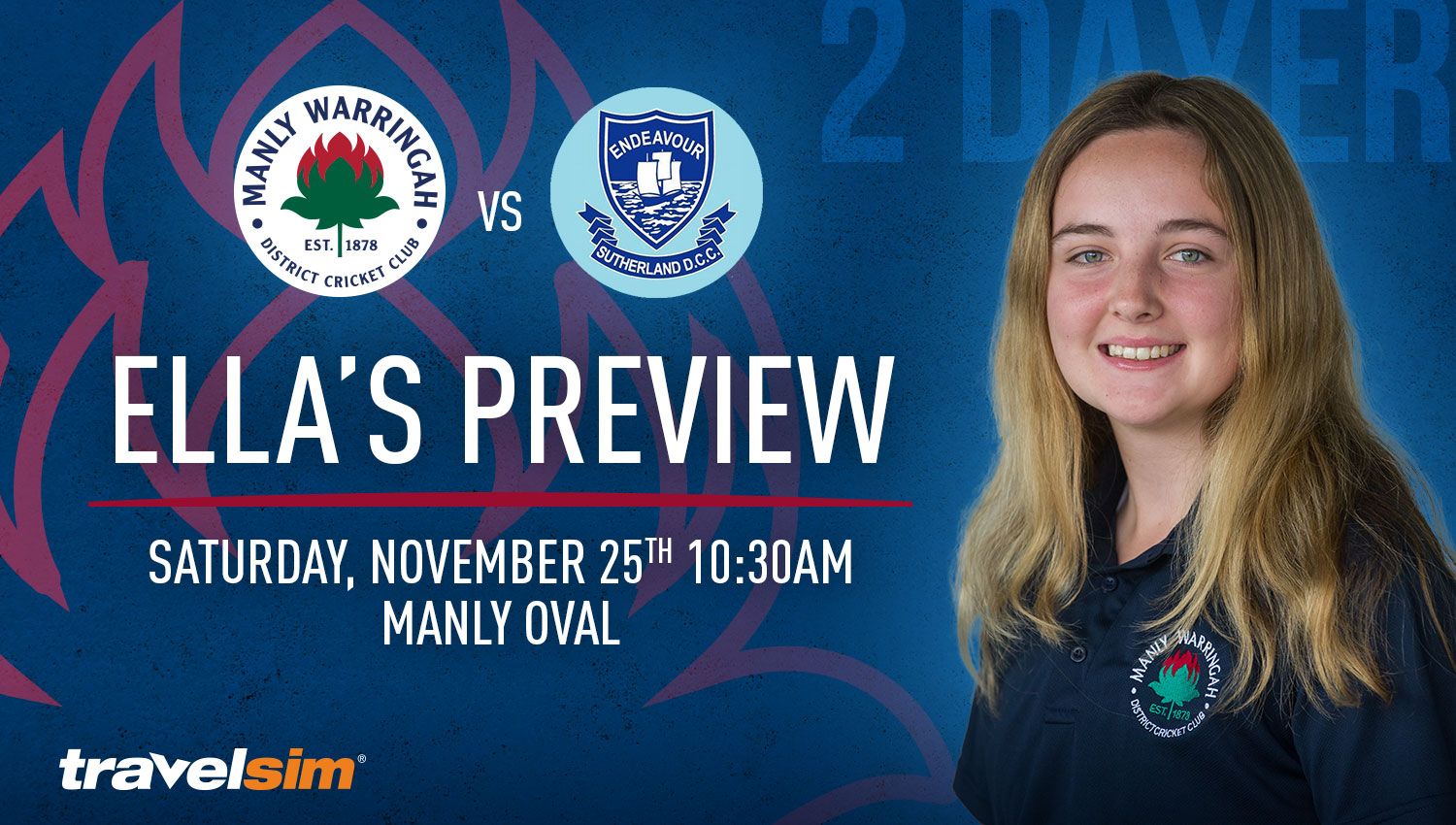 In round six of the New South Wales Premier Cricket Competition, the TravelSim Waratahs take on Sutherland in a two-dayer, on home soil.
Manly's first grade side faced their first loss of the season in last round's clash, in a particularly close match after dominating for much of the game, but struggling to get the last couple of wickets to close it. The loss resulted in Manly falling to fourth place after leading the competition all season. However, the loss will only drive the Tahs' determination even more to grab the win this time round, and work on ironing out any weak spots to ensure plenty more wins in the future. Adam Crosthwaite managed to score an outstanding 112 runs to assist in Manly's 339 total. Tahs' captain Chris Green also impressed finishing on 71*, as well as with two wickets to place him at the third highest wicket taker this season thus far. Ahillen Beadle was instrumental with the ball gaining four wickets, and Matt Alexander with two to his name. Whilst there were positives to take out of the game, it showed that you can never get too complacent even with a win in near sight.
Sutherland may be sitting outside of the top six, but that is only by one point, and after a big win last round, they'll be heading into this game with a bundle of confidence. Sutherland managed to beat competition heavyweights Eastern Suburbs, chasing down their opposition total in another fairly close game. Sutherland are sitting where they are after three wins and two losses this season, and will be determined to get another win to push them into finals contention.
To get the win, Manly will be looking to score big with the bat and field neatly to ensure they can either defend their total, or chase down their opposition in the most effective way they can. With clear weather predicted for the first weekend of round six, it will be essential for Manly to attempt to get on track to secure the win quickly as rain has been loosely predicted for the following week – although lots can change between now and then.
In the lower grades, Manly had a exceptionally successful week with all teams getting wins and 2nd and 4th grade both getting bonus points after winning outright. This has boosted Manly up to third on the club championship ladder. The teams will be looking to repeat this effort again in round five, hopefully pushing up 2nd and 3rd grade into the top six, and increasing 4th and 5th grade's minor premiership contention chances.
For the Tahs' 1st, 3rd and 5th grade play at home, whereas 2nd and 4th both will trek it down south. With an improved ability to secure the win in close matches for first grade, and a repeated effort from the lower grades, Manly will be looking to get another clean sweep of wins for the 2017/18 season.
This week is an important one for the Tahs, as Manly's inaugural Under 17s Brewer Shield side take on Universities in their first game of the season at McKay Oval. The girls have been training hard, and the bundle of that makes up this side will be looking to perform well to get the season off to a great start with a win. The Tahs are extremely proud of this new team, with the first women's side in over three decades, and with a successful history of women's cricket at the club, there are exciting times to come for all involved.