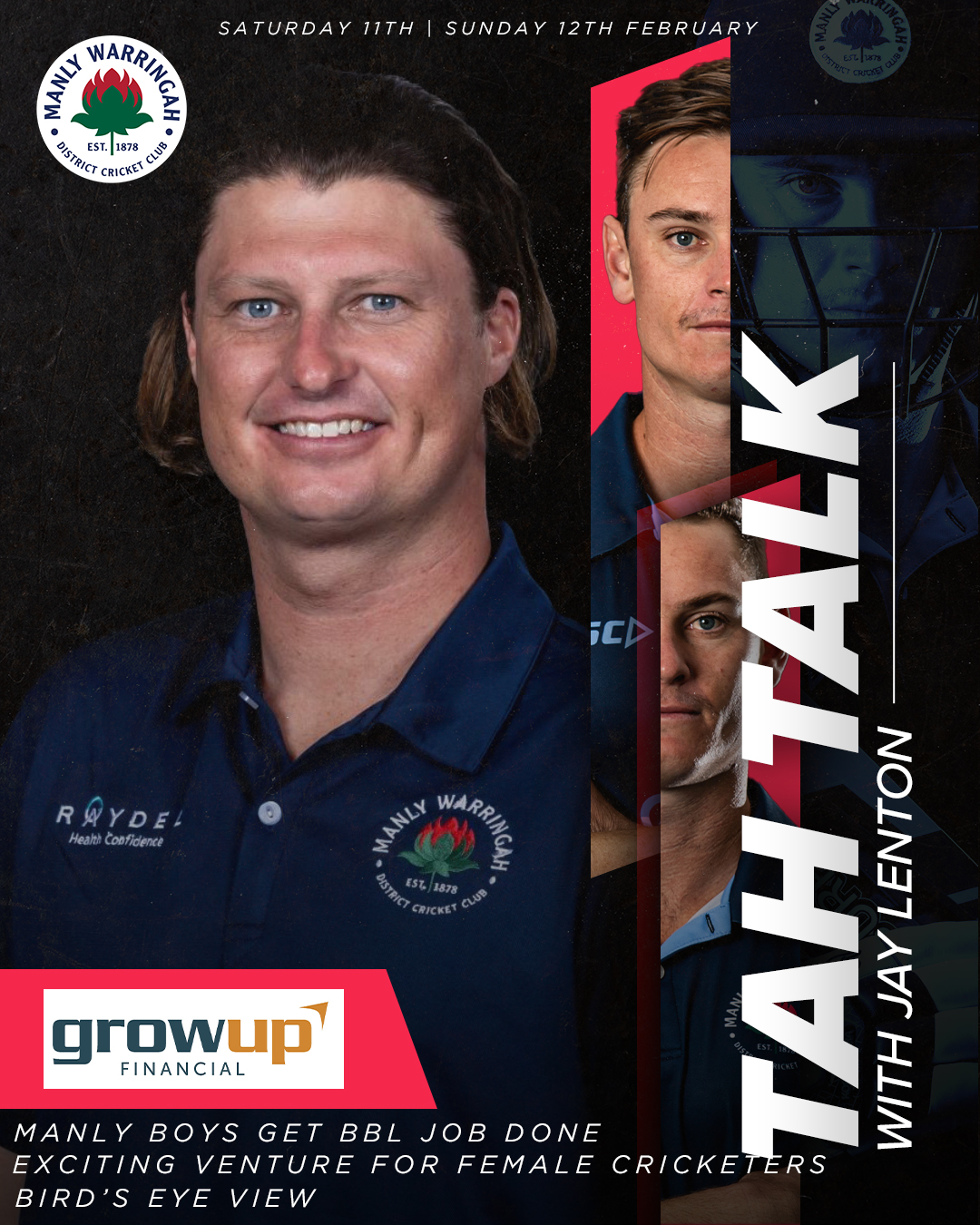 MANLY BOYS GET JOB DONE IN REVITALISED BBL
Those who were writing obituaries for the Big Bash League 12 months ago are suddenly true believers again after the tournament made a massive resurgence this summer.
Big crowds and even bigger television audience watched some scintillating cricket, which fittingly finished with a thrilling grand final win to the Perth Scorchers over the Heat before 53,000 fans last Saturday.
The BBL is back in a big way and will only get bigger, with tweaks to next year's competition ensuring we will see more of the best players in the land.
From a Manly perspective, it was great to see us represented across the two Sydney teams.
Ollie Davies had a stand-out season for Sydney Thunder, producing some exhilarating batting to propel the men in green to the play-offs.
Ollie had shown glimpses of what he's capable of in the past seasons but went next level in BBL12, teeing off in several games to lead Thunder's batting once moved to the top order.
He also proved something of a comedian on the microphone so expect him to have his own spot at Manly Boatshed's stand-up comedy night real soon.
Younger brother Joel Davies was given his first taste of BBL and grabbed the limited opportunities with both hands, excelling in the field and showing signs of class with the bat and ball.
Players around the country now know not to take on that lethal left arm of his.
Expect to see a lot more of JD in the BBL in coming years.
At the Sixers, I was fortunate to have a front row seat as one of the assistant coaches as the ageless Steve O'Keefe again worked his magic.
SOK would be the first to admit that body of his is held together by sticky tape at times, but he continues to get the job done game after game, season after season.
The work he does behind the scenes with the young players is also a big plus, not to mention the lift he gives everyone with his natural exuberance and always-up-for-a-laugh attitude to life.
It's great that he's returning for a 13th consecutive season in 2023/24.
Although we didn't see game time from Mickey and Jack Edwards, they played a pivotal part of the Sixers' success, continuously learning and growing their own games. 
The Manly contingent didn't stop there:
We also had Ryan Hadley (late replacement for the Sydney Thunder finals game), Shawn Bradstreet (Sydney Thunder assistant coach), Jackson Bird (Sydney Sixers), Ian Bird (photographer for all things BBL in Sydney) and Dave Gardiner (Sydney Sixers room attendant) involved.
Long live the BBL.
EXCITING VENTURE FOR OUR FEMALE CRICKETERS
There have been some tremendous initiatives launched in women's cricket over the last few years and the latest move is incredibly exciting for our female players at Manly.
The Premier Plus T20 competition, featuring some of the state's best Premier Cricket players alongside WNCL and WBBL guns, aims to bridge the gap between the elite and WBBL level.
The four teams  – Flames, Opals, Rays and Spirit – will comprise a combination of club and state players and play across several weeks at Blacktown International Sports Centre and Drummoyne Oval.
The Friday twilight and/or night matches will be screened live on Kayo.
Among those signed up to play are Breakers stars and Australian representatives Hannah Darlington, Erin Burns and Lauren Cheatle, alongside rising teenagers Kate Pelle, Ananaya Sharma and Frankie Nicklin.    
There will be a Manly flavour running through the tournament, with Shivani Mehta, Saskia Horley, Lauren Kua and Katie Letcher all suiting up.
All girls will do themselves and the club proud and I look forward to watching their progress over the next few weeks.
BIRD'S EYE VIEW
We are fortunate at Manly to have so many wonderful people behind the scenes ticking things over  while the players are free to go about their business on field.
And one of the best is our home-grown photographer Ian Bird.
Birdy is the man behind the lens behind some of the great images you see on our social platforms and beyond.
He's also done some great work at state and international level, working the boundaries from the lower grades right up to BBL, Sheffield Shield and Test level.
And just like a cricketer who improves with age and experience, I reckon Birdy takes his photography to new levels with each passing season.
His knack of being in the right place at the right time to capture a special moment in a game is no fluke.
Birdy has captured some of this club's greatest moments and snapped many of the great people who have been on the journey with us.
His brilliant shots of Michael Shepheard captured his mate's spirit, enthusiasm and generosity over the years, taking on extra poignancy following Juice's tragic death last year.
Thanks for all the work you put in, Birdy.
It's appreciated by everyone at the club.