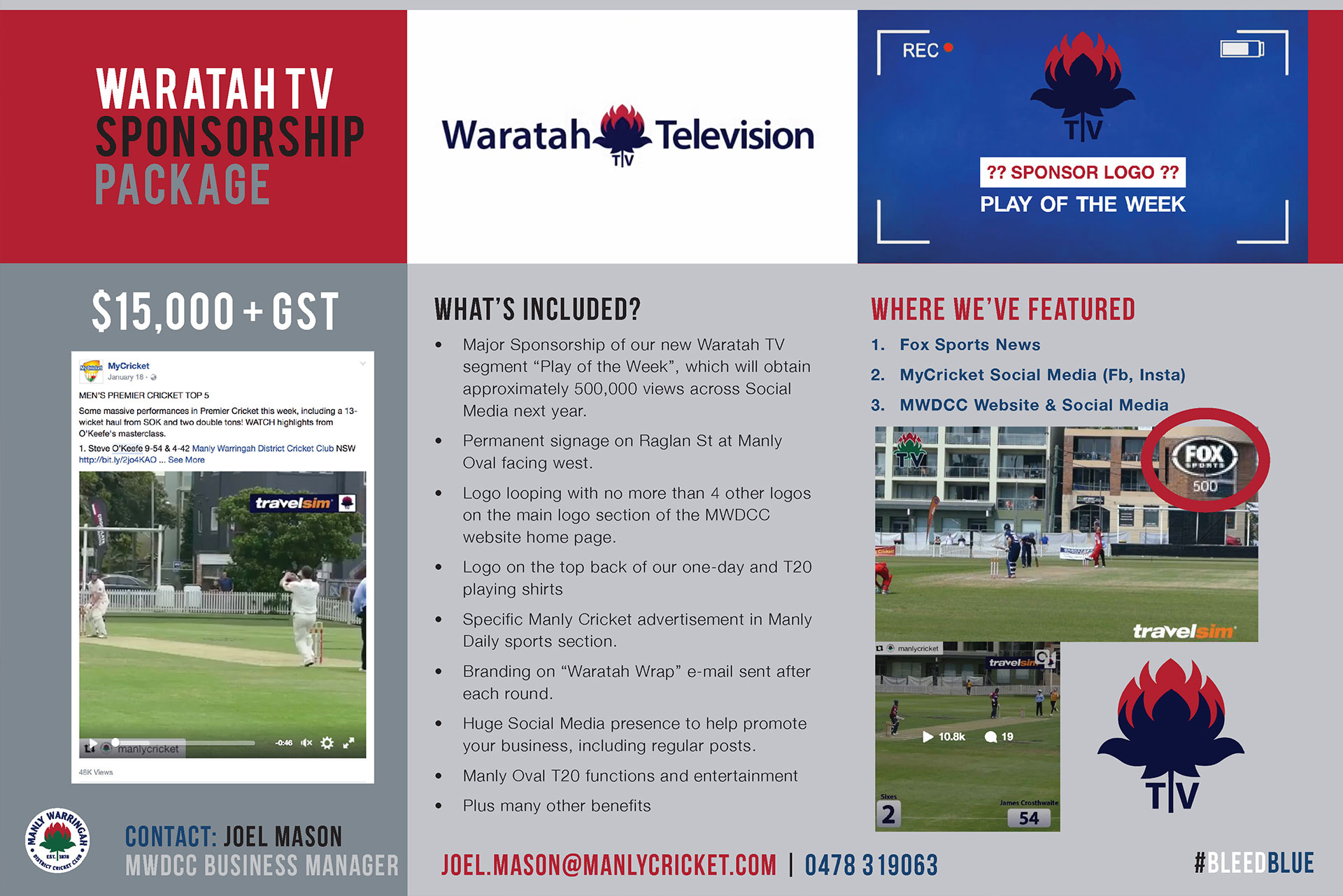 The Manly Warringah Waratahs have released a brand new top tier sponsorship package for the 2017/18 season, centred around sponsorship of the brand new Waratah TV "Play of the Week" segment.
With the club's digital footprint growing at a rapid rate, with over 9,000 social media followers, we are looking at ways to provide our fans with more laughs, entertainment and engagement over the coming season.
For the second half of the 2016/17 season, our large growth in followers led to our Waratah TV numbers averaging 24,000 views per post across all media platforms. These numbers do not include the top post prior to Christmas of 437,000 views for James Crosthwaite's T20 hundred.
As a result, next season will see the introduction of various new segments, one of which will be the "Play of the Week" segment.
This will focus on the one play during the week that was deemed to be the best, funniest weirdest or the most outrages. It will focus on the one ball, the one shot, the one runout or the one catch that best shows this.
Based on the above numbers, we are conservatively predicting views across the entire season of 500,000, with the potential of this getting towards the 700,000-800,000 viewership mark.
These are amazing numbers for a local sporting club.
Although our coverage is focused in the Manly Warringah area, due to social media channels such as MyCricket (with 600,000 social media followers across the nation) and Spartan Sports (one of our loyal sponsors) our reach covers the entire country as well as internationally.
We are looking for a community minded organisation that is also looking for national brand awareness to join our ever increasing sponsorship stable as our Play of the Week sponsor. This package also provides exposure such as permanent signage at Manly Oval, playing apparel branding, plus much more.
The sponsorship package is valued at $15,000.
If you are interested in joining our club as a top tier partner, we would love to hear from you to discuss this or any other opportunities. Please contact Business Manager Joel Mason on joel.mason@manlycricket.com or 0478 319063.