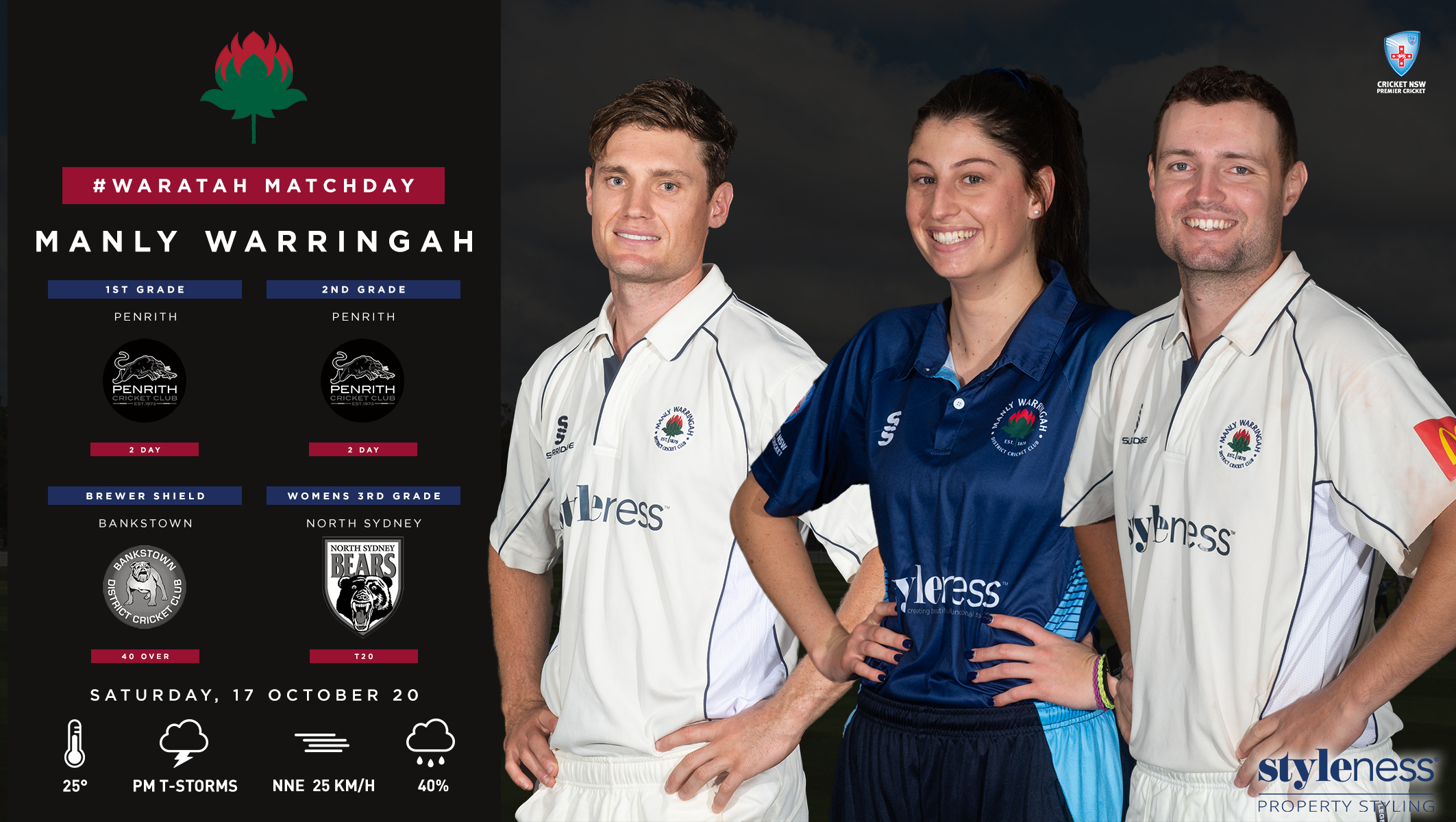 The Styleness Manly Warringah Waratahs have named teams for the Round 3 clash with Penrith as both 1st and 2nd grade seek to take home the points, as well as the start of the women's grade cricket season for Brewer's and 3rd grade T20. PG's will look to get back to back win's to start their campaign, as they take on UNSW in the first One-day fixture for the season.
Last week saw a dominant win from first grade off the back of a class 6fa from Steve O'Keefe, while 2's had a fighting loss, the standout being Jacob O'Sullivan with a spectacular 142*. PG's enjoyed a big win off the back of 123*(58) from Joel Foster, and 4 wickets to Isaiah Vumbaca.
1st grade will maintain a similar side to last round, however Ryan Farrell is unavailable due to an injury suffered in last Sunday's 1st grade T20 match. This see's Ahillen Beadle make his return to the first grade side for the first time this year, after some great performances in prior week's.
2nd Grade will be looking to bounce back from last round's loss, with the return of some big inclusions from injury. Sam Gainsford returns from injury to skipper 2's, while Jamo retains his spot in 1's. Michael Counsell returns from injury to bolster the side's bowling outfit, while Ned Hole comes in for Neal Prowse who is unavailable.
PG's welcome the inclusion of James Waddington into the squad, a very nice feat considering it's his first year with the club, and a just rewrd for his impressive pre-season. The side is unfortunately without Jake Osborne due to unavailability
Brewer Shield kick off their season with a T20 against Bankstown this Sunday at home. An experienced side has been named, as they hope to begin a successful season.
Women's 3rd Grade also kick off their T20 comp campaign, against local rivals UTS North Sydney. The side will look to begin another successful season, with a similar playing group to last year, with the exception of some new players being added to the team.
Good luck to all teams. Go Manly.
Men's 1st Grade – 2 Day Match
Round 2 vs St George @ Manly Oval
10:30 am start
1. Jay Lenton (c) +
2. Ben Bryant
3. Ollie Davies
4. Cameron Merchant
5. Joel Foster
6. Ahillen Beadle
7. Andrew Jamieson
8. Steve O'Keefe
9. Elliot Herd
10. Jake Carden
11. Ryan Hadley
Men's 2nd Grade – 2 Day Match
Round 2 vs St George @ Hurstville Oval
10:30 am start
1. Matt Brewster +
2. Logan Weston
3. Max Webber
4. Joel Davies
5. Jacob O'Sullivan
6. Isaiah Vumbaca
7. Sam Gainsford (c)
8. Tom Kaye
9. Ned Hole
10. Josh Seward
11. Michael Counsell
Men's Poidevin Gray Shield – 50 over match
Round 2 vs UNSW @ Manly Oval
10:00 am start
1. Joel Foster
2. Matt Brewster (+)
3. Ollie Davies (c)
4. Joel Davies
5. Jacob O'Sullivan
6. Isaiah Vumbaca
7. Ned Hole
8. Josh Seward
9. Ollie Melville
10. Jack Hobson
11. Lachie Trewartha
12. James Waddington

Women's U18 Brewer Shield – T20 match
Round 1 vs Bankstown @ Graham Reserve
10am start
1. Natalie Guyot (c)
2. Ruby Gruber (+)
3. Eliza Henry
4. Emily Horstead
5. Ellie James
6. Laura Judson
7. Jessica Manning
8. Chelsea Mclerie
9. Abbey Melville
10. Chloe Osborne
11. Kate Salmon
Women's 3rd Grade T20
Round 1 vs UTS North Sydney @ Balgowlah Oval
12:30pm
1. Charlotte Ambler
2. Sarah Gordon
3. Olivia Hough (c)
4. Renee Hough
5. Stephanie Hughes (+)
6. Jessica Kaye
7. Isabelle Keene
8. Sallie Molyneux
9. Mia Nel
10. Cam Pryor
11. Abby Taylor
12. Jasmin Wilson