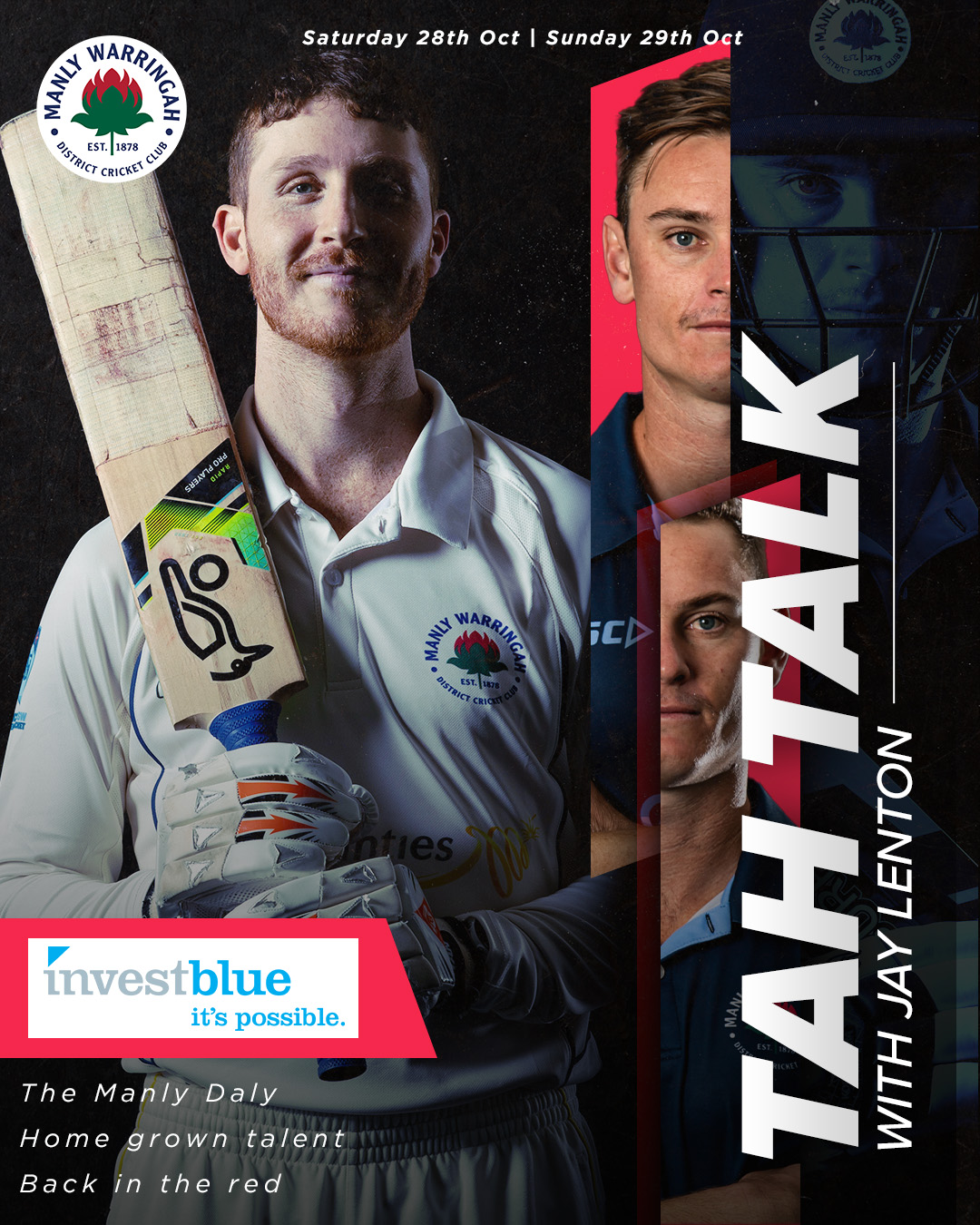 Welcome back to another week of Tah Talk, proudly brought to you by our good friends at Invest Blue!
THE MANLY DALY
A cricket club is made up of host of different characters all with a story to tell. Manly is no different, with an eclectic bunch of players featuring throughout our men's and women's programs. 
Jordan Daly, who has been with us since 2008, is one such gem. 
When he's not churning out runs in 2nd or 3rd grade, Jordy can be found hard at work at a national Community Legal Centre (CLC) called knowmore Legal Service. 
It's an incredibly important, sensitive and detailed job, drawing on Jordy's legal skills and knowledge while appealing to his empathetic and supportive nature. 
"We provide free legal advice to people on a range of matters," he explained. 
"My job specifically involves providing legal advice and support to survivors of child sexual abuse.
 "We all work together to support clients to feel comfortable and safe discussing past experiences and understand their legal options. 
"It's been an incredible experience as a young lawyer working closely with such a diverse range of professionals." 
Somehow between work and cricket, Jordy also find time to pursue musical interests. 
He plays the French horn with the Balmain Sinfonia, the Northern Beaches Orchestra and is currently playing in Willoughby Theatre Company's production of Cats. 
But it's cricket, when he's not working, that remains his first love. 
He said: "One of the best bits about playing for Manly are all the good friends I've had the pleasure to play with. 
"Although it's a long day, I really enjoy arriving at cricket knowing that you've got one job and one focus for the whole day. 
"And with so many great blokes around you're guaranteed more than a few laughs along the way.
"I feel very fortunate."
Jordy, we're the fortunate ones.
HOME GROWN TALENT
To me it sounds like the House of Horrors – only joking, boys! – but there's a special bond between three Manly players living under the same roof in Freshwater.
Matt Brewster, Jack Edwards and Jacob O'Sullivan have known each other since playing in the juniors at Beacon Hill and, later, the Manly reps.
They also attended the same high school – St Augustine's College at Brookvale – and are now regularly lining up in our first grade side.
I hate to think of the state of the house, although I'm led to believe it's not too bad considering it's three unmarried blokes living together.
It's also another strong indication of some of the close bonds we have at the club thanks to our commitment to local talent.
"It's crazy to think we've grown up since the age of 10 looking up to Manly cricketers like Timmy Cruickshank and 'Crossie' (Adam Crosthwaite) playing first grade," Sully said. 
"Now we have the opportunity to play first grade cricket together whilst living together."      
I'm hoping for a dinner invite soon to check out their digs for myself.
BACK IN THE RED
Our first grade batsmen really enjoyed getting back into red-ball cricket against Gordon last Saturday.  
Five half-centuries helped us amass a formidable 7-398 on a good Chatswood Oval deck.
I would have loved to have seen one or two blokes, myself included, turn those starts into three figures but to bat out 96 overs straight after coming off white-ball cricket was pleasing.
Having spent so much time out there, we know how the pitch will play when day two resumes on Saturday.
It's a nice track, however, it plays low and slow late in the day so we need to build pressure and bowl stump to stump and set straight fields.
Our English off-spinner Bertie Foreman will be a handful and can expect plenty of overs.