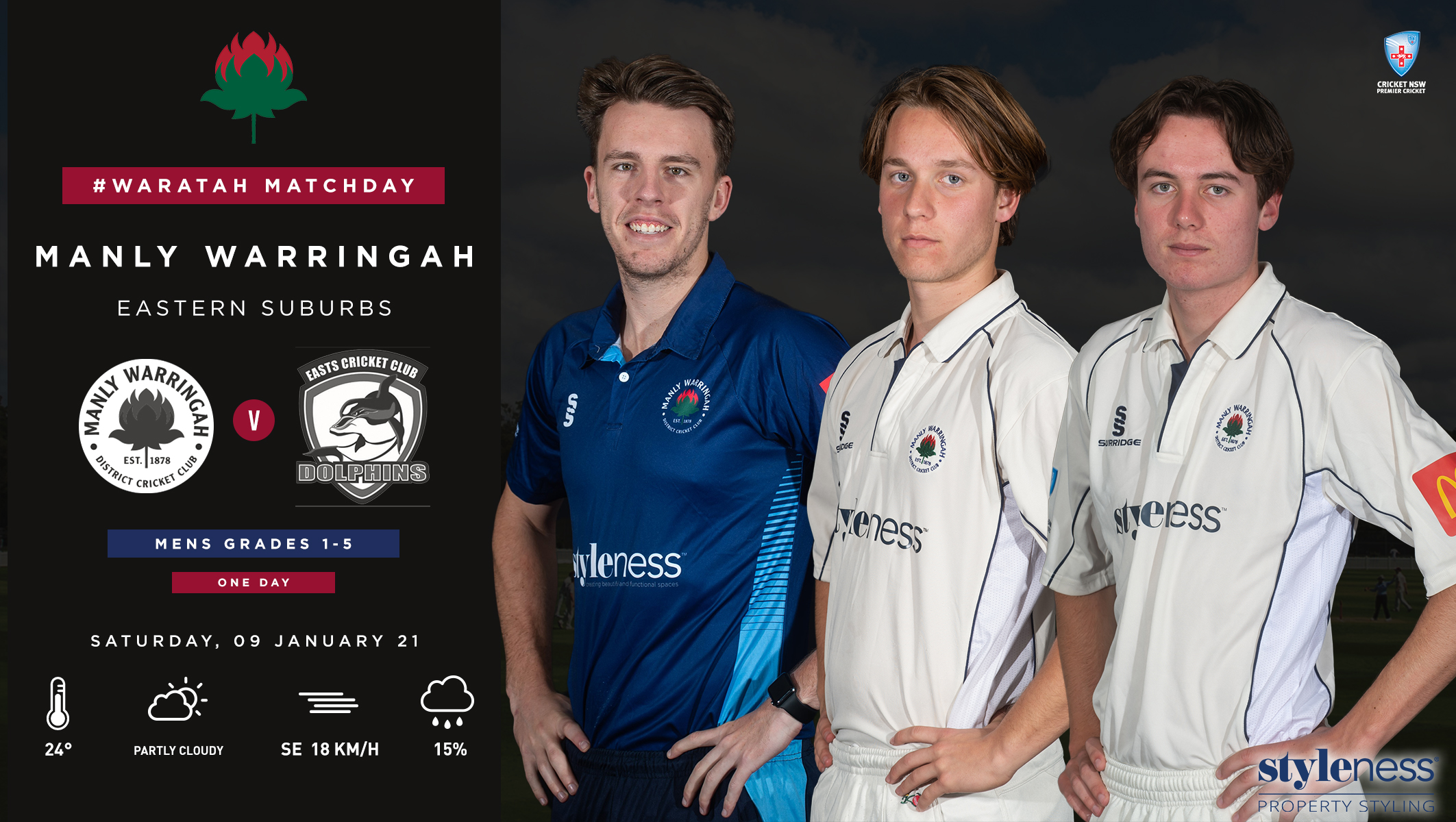 The Styleness Manly Warringah Waratahs have named sides for Men's grades 1-5 for this weekends one day clash with Eastern Suburbs. This week is the return of grade cricket for the new year, after an extended christmas break due to the last round prior to christmas being cancelled.
Due to the current restrictions in place on the northern zone of the northern beaches, anyone in this zone is not able to play this round, affecting the club greatly with multiple players and coaches unavailable.

1st grade retain the same side, as they look to continue their good form in the new year. 2's welcome back Sam Gainsford and Josh Seward from injury, with Neal Prowse also back into the side, as well as Lachlan Charles who makes his debut in 2's. 3rd grade replace Charles with Mickey Edwards who is playing as a bat only. Lachie Trewartha also returns to 3's and Michael Visser returns to the club after hanging the boots up last season.
4's welcome back Roop Dhillon and are strengthened by the inclusion of past player Billy D'arcy, as they look to get their season back on track. Ethan Buchanan will debut in grade cricket this round in 5's, a very special achievement considering how young he is. The moment will be even sweeter, as his dad Daryl suits up in 5's this week as well. Will Akhurst also returns for his first game of the season to bolster the batting lineup.
Good luck to all teams. Go Manly.
Men's 1st Grade – One Day Match
Round 9 vs Eastern Suburbs @ Manly Oval
10am start
1. Ben Bryant
2. Joel Foster
3. Jacob O'Sullivan
4. Jay Lenton (+) (c)
5. Cameron Merchant
6. Ahillen Beadle
7. Tom Kaye
8. Elliot Herd
9. Isaiah Vumbaca
10. Jake Carden
11. Ryan Hadley
Men's 2nd Grade – One day match
Round 9 vs Eastern Suburbs @ Waverley Oval
10am start
1. Matt Brewster (+)
2. Sam Gainsford
3. Joel Davies
4. Neal Prowse
5. Ryan Farrell
6. Zach Trewartha
7. Josh Seward
8. Ned Hole
9. Andrew Jamieson (c)
10. Lachlan Charles
11. Michael Counsell
Men's 3rd Grade – One day match
Round 9 vs Eastern Suburbs @ LM Graham Reserve
10am start
1. Sam Webber (+)
2. Max Webber
3. Mickey Edwards
4. Dom Wheeler
5. Sam Hole (c)
6. Andrew Boulton
7. Lachie Trewartha
8. Alex Bain
9. Michael Visser
10. Lachie Kerr
11. Jake Osborne
Men's 4th Grade – One day match
Round 9 vs Eastern Suburbs @ Trumper Park
10am start
1. Nick Cohen
2. Adam Gummer (c)
3. Jack Melchiore
4. Alec Duly
5. Oscar Lucius (+)
6. Evan Dunnachie
7. Josh Cooper
8. Ollie Melville
9. Liam Dinan
10. Billy D'arcy
11. Roop Dhillon

Men's 5th Grade – One day match
Round 9 vs Eastern Suburbs @ Mike Pawley Oval
10am start
1. Keelan Mendel
2. Charlie Johnston
3. Will Akhurst
4. Ethan Buchanan
5. Daryl Buchanan
6. Billy O'Brien (+)
7. Darcy Fleming
8. Andrew Rochford (c)
9. Simon Waddington
10. Raja Ganeshraj
11. Hayden Williams
Unavailability list for Men's teams:

– Ryan Bishop-Perrett
– Logan Weston
– Sam Gainsford
– James Waddington
– Jack Hobson
– Jake Hutchings
– Steve O'Keefe
– Ollie Davies
– Jack Edwards
– Josh Wigney
– Jordan Daly
– Andrew Hicks
– Reiley Dunlop
– Glyn Archer