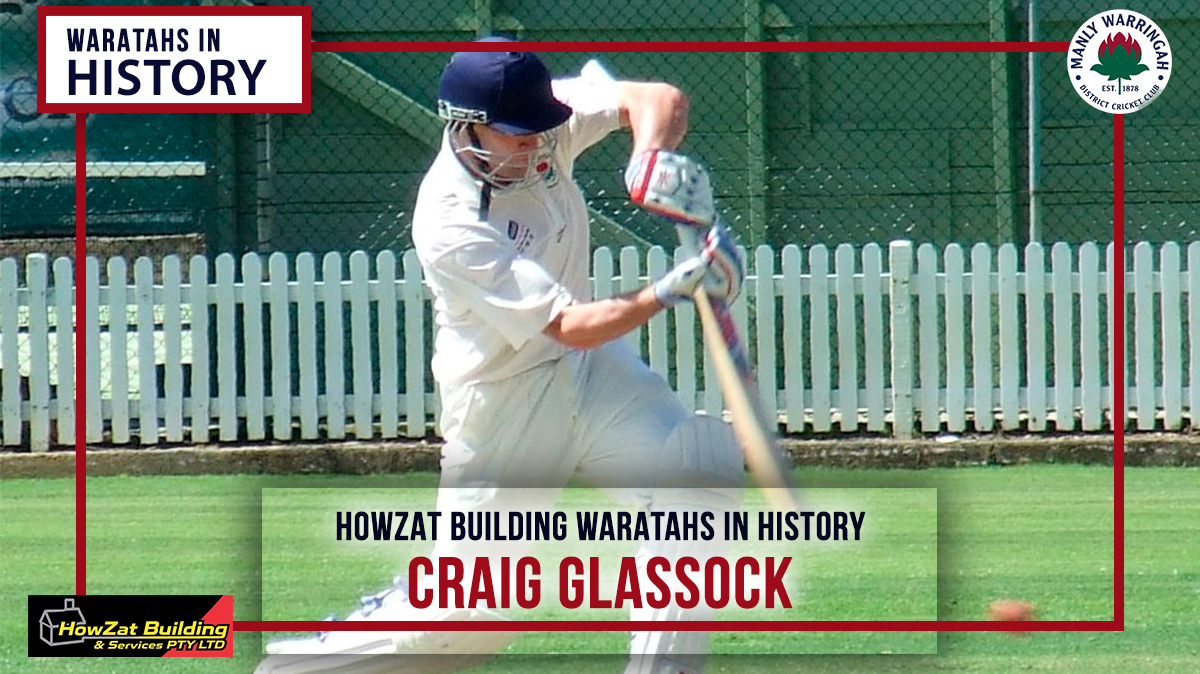 We are pleased to have Craig Glassock as our first Howzat Building Waratah in History for the 2023/24 season.
Craig captained 1st grade for 5 years, starting in 1996/1997 season and continued through to the 2000/01 season. He captained 1st Grade to a premiership in the Limited overs competition in 2000/01 and was a big part of our club in the late 80's, 90's and early 2000's.
Craig returned to play 2nd grade in 2001/02 after suffering from a bout of chronic fatigue syndrome. He came back strong and that year in the semi-final at Manly Oval he scored his highest ever grade score of 261 breaking several club records along the way. Unfortunately, a 2nd grade premiership wdid not eventuate in a tight final battle!
Craig played some more games whilst he was the Club Coach in 2004/05 & 2005/06 (Craig shared the captaincy of 2nd grade with Simon Waddington in 2005/06 as well).
The club won the prestigious title of "Club Champions" in his 1st, 12th and in his 16th (and last) season as a player/coach at the club.
Craig was also the Club Coach for 3 years from 2004/05 until 2006/07.
He played 16 seasons over an 18-year time span in his career for Manly. He is truly one of the best Waratah's in History!
Take a read through Craig's time at the club.
Tell us a bit about your junior journey on your way to playing at Manly?
Saturday morning for Beacon Hill from age 6-14. Cawsey, Moore, and Green Shield for a few years each. Those few weeks of rep Cricket which was always the highlight of my year as a kid.
Who were some of the well-known cricketers who you came through the system with, and who was the best player coming through the Manly ranks during your juniors?
We had a few future grade players in our junior team. Anthony 'Morts' Morton, Michael "Stix" Osbourne & Pat Kelly. The best player in Junior reps I played with was Brendan Shoebridge in our Green Shield side. He was the most genetically gifted batsmen and freakish ball striker I ever played with or against. He had some amazing innings for Manly and Junior NSW sides. But he was just a gentle soul whose personality wasn't really tailor made for the fierceness of high-level Cricket.
How did your love of cricket come about as a child?
Those I played with would know my dad 'Big Trev'. He fostered a love of the game in his four boys and taught us to try to play in the right spirit.
Who were your cricket heroes growing up?
Greg Chappell, Rod Marsh, Kim Hughes.
You debuted for the Waratahs in 1988 at the tender age of 14. What do you remember about your grade debut?
I broke my thumb on the second ball of my 5th grade debut. Other than that, I vividly remember the impression 'The Doc' (Jim Stewart) made on me post-match. Those who played with him will understand.
I made my first-grade debut in my HSC year age 17 in 1991. It all felt a bit surreal at the time but guys like Greg Bush and Dick Fry were very supportive and helped me adjust.
Who helped you the most throughout those initial years starting out in Grade cricket at Manly?
Dr Jim Stewart really encouraged me as a young kid in lower grades. Both the Pitcher brothers were great guys and genuinely interested in helping lower graders develop. I'm fortunate to have crossed paths with them and others.
Do you remember your first-grade debut?
For sure. Sutherland Oval. Skid Marks and Blocker Wilson were players of note for us. Test Opener John Dyson was playing for them.
What are your memories of the club in the early and 90's as you were coming through the grades? Both on and off the field?
In my first year of Grade in 88-89 our 1's won the comp, and 3's and my 5's were also in the Grand Final in a Club Championship year. It all seemed pretty easy. I remember the club being so strong that guys were getting 50's and getting dropped the next game. We had a great team in 92-93 and went close to winning the First Grade Final. But there were some lean years for the club in the first half of the 90's. I remember one training at Grahams towards the end of the year we had 30-40 blokes there with two turf nets that had not been rolled, no access to the synthetic nets, and about 4 -5 Cricket balls. It was farcical. Things gradually turned around after that. When Ron Holmes came back to the club, he did a great job providing the platform for first grade and the club in general to be a success. After I finished playing, Mick Pawley had an amazing impact at grade and Junior level. Mick's sacrificial investment in juniors helped set Manly up for a generation of on-field success.
Who drove the standards at the club during your playing time?
Whilst there were some great teachers as I was coming through (Jim Stewart, the Pitcher brothers, Gary Flowers, Sam Mesite, Tom Spencer, Greg Bush and others) as a club we didn't have particularly high standards for some years in the early to mid-90's. It was very amateur compared with what it seems like today. In the second half of my decade in first grade we were blessed with a bunch of guys who were very committed to the team and went the extra mile to prepare themselves. Around the turn of the century most of the first-grade team were high quality first graders and great team men. Peter Procopis and Billy Newell were the epitome of team men in those first-grade sides.
Your top score for Manly was 261 in 2002, what do you remember about that innings?
It was a semi at Manly Oval. I think I had finally worked out my method for batting (slow learner). I remember feeling in the zone from early on but not really thinking that much about my score until just before I got out. Then I remember having a realisation, 'Hang on. I could get 300 here'. At which point I stupidly ran myself out.
You had many great innings through your playing career with 26 x 50's and 6 x 100's in Grade cricket. What do you consider the best innings from yourself?
I scored a few hundred's chasing totals after we were in some trouble. They are probably my favourite innings. For some reason (and much to my team-mates frustration) I often needed a challenge like that to keep me focused when I was batting.
What do you think your strength was as a cricketer?
Plenty of weaknesses. I think my best strengths were probably reading the game and building teams that performed well and enjoyed playing together. Even then I have others to thank for teaching me most of those things.
Who were the people who really drove the on-field and off-field culture at Manly during your time?
Fraze was instrumental in the social side of the club in my early years. Warny and others took the reins in later years. Off the field we always had great fun. Lots of great nights at the room at the top or the bowling club and then down to Manly for dinner and the nightlife. Some of the great times of my life and I'm grateful for many good friendships and being part of the Manly family.
In terms of driving the culture- I reckon David Patterson is an unsung hero in many ways. He taught many of us technique, and how to train and prepare. I'm grateful to 'Patto' for how generous he was to me with his time, support, and guidance. He gave and gave of himself to a generation of Cricketers and I'm sure Shawn Bradstreet, Brian Clemow, Matthew Phelps, Tim Cruikshank and others would agree that without 'Patto' they wouldn't have achieved what they did.
Who was the funniest player you played with at Manly and why? Do you have any clean stories you could share with us?
Don't know if there was a funniest. But some very funny guys in different ways. David Ford, Ross Trewartha, Dick Fry were guys I played quite a lot with and who made me laugh on and off the field. Mick Pawley of course. Master orator and very funny at times.
One day we were playing at a less than desirable location. Dick Fry was getting sledged relentlessly. He bit his lip for a while before reminding the offending fieldsman that win, lose or draw the Manly boys would all be happily returning to life on the beaches whilst the sledger's location and quality of dwelling may not be quite as pleasant.
Best Nick Name?
Some that spring to mind, Warren 'The Rock Dog' Evans after 'Wazza the Rock Dog' from Triple M. Graeme 'Hooch' Turner (from the movie Turner and Hooch). Gaeten 'Pickets' Juul.
What is the best innings you saw at Manly from a fellow player?
There were many. Michael Bevan scored 200+ at Balmain when he was at the peak of his powers. It was masterful.
There was a guy from Petersham called Graham Cunningham who smashed about 80 in a second innings run chase and it felt like he hit most balls for four. It was T20 Cricket way before its time.
Who was the best player at Manly that you played with?
So many terrific players. Michael Bevan was probably the most successful at the professional level. I thought Matthew Phelps was a fantastic player. Backed at the right time I think he was good enough to play Test Cricket. Jon Moss, Shawn Bradstreet, Jamie Heath, Phil Marks, Paul Hoffman, Gavin Robertson and plenty of others were very high quality first graders.
Who was the best Captain you played with and why?
I don't know if he was the best captain I played under, but Dick Fry taught me more about the tactics of the game than anyone else. I was very fortunate to drive to and from many games with him. He massively accelerated my understanding of the game.
Who was someone that you loved to captain that you loved seeing succeed?
I think when Clem (Brian Clemow) came back from his accident and did well it was a huge buzz for all his mates. I also found it really encouraging when someone would practice catching in their main fielding position and do something special as a result of their training. Shawn Bradstreet is the person I played Cricket with more than anyone else in my life. I never once doubted that he was giving everything he possibly could to help the team do well. Billy Newell was another. He drove to and from the Blue Mountains three or four times a week to train and play with us. I found him quite inspirational. He absolutely loved seeing others succeed and made a huge difference to the teams he played in.
Special mention to Ben King. I coached the club for three years in the 2000's. Aside from being a really good player who was good enough to play a lot more first grade, Ben was peerless as a clubman in that era. He gave a lot of himself and really enjoyed other people succeeding. I loved coaching Ben.
What are some of your predictions for Manly in 2023 /2024.
I'm not close enough to it to make predictions. But the club seems to be well run and have great depth. We're always up there in the Club Champs so hopefully another one.
What does your life involve now?
Life now- married with two boys (Will 12 and Josh 10). Coaching Will's Cricket team with Wakehurst Redbacks Cricket Club this year. For work I'm a coach/ consultant mainly in the areas of leadership, strategic planning, and culture change. I work primarily with church leaders, not for profits, mainly in Australia and the US.
You have 2 young boys that are very into their cricket. How is cricket travelling on the Northern Beaches from what you see through the eyes of a parent?
Saturday morning Cricket is going well from what I can see. I am pretty removed from it but there are a lot of dedicated people doing their best and giving kids a go. I think most kids get a decent opportunity to have a bat and bowl which is a good thing for participation and better than bygone eras.
When I played Junior Rep Cricket we had a couple of net trials, a training or two, a trial match and five games. It was all done and dusted in about 3 weeks. Now it seems like 15 or more Sundays with trials and games and plenty of training. To what end?
Do you ever seeing yourself getting involved again with the Waratahs in the future?
I hope so. Like most people, life is busy. It seems like there are lots of highly capable people involved and things are pretty-well under control these days. I think I would probably be of most use using the skills I use in my profession and helping develop captains and leaders.
Ok Craig let's go deep for the final question…. What are your proudest moments during your time at MWDCC?
In the mid 90's I felt we needed a club song, so I wrote one and sung it to everyone at training at Manly Oval. Despite my terrible singing it took hold and that was it. When I penned it, I never imagined it would become part of the fabric of the club.
I wrote an opening stanza which we only really sang in the early days.
'We live in God's country by the seaside
I guess you could call us the 'upper crust'
With the sand, the surf, the sun
Manly Warringah's number 1
And I bet you wish that you were one of us'
I'm grateful for the opportunities Manly Cricket gave me to lead and the patience I was shown to develop as a leader when I was young. Those opportunities helped shape my professional life. I got to Captain Cawsey, Moore, Green, PG's, Club Captain, 1st grade captain for those 5 years, and then Club Coach.
I also got to play in 8 Grand Finals. I'm not sure if that is a record but I am sure losing 7 as a player is. Fortunately, we won a few when I was coaching. They are so hard to win. I played finals from Green Shield through to 1's (x 3) and almost had the royal flush except for 4th grade.
Craig Glassock Stats
| Season | Inns | Runs | NOs | 50s | 100s | HS | BatAvg | Catches/Stump |
| --- | --- | --- | --- | --- | --- | --- | --- | --- |
| 200506 | 8 | 218 | 2 | 1 | 0 | 58 | 36.33 | 8 |
| 200405 | 1 | 23 | 0 | 0 | 0 | 23 | 23.00 | 1 |
| 200102 | 8 | 515 | 1 | 2 | 1 | 261 | 73.57 | 8 |
| 200001 | 19 | 357 | 2 | 1 | 0 | 54 | 21.00 | 11/1 |
| 199900 | 19 | 556 | 6 | 5 | 0 | 98 | 42.77 | 37/6 |
| 199899 | 10 | 56 | 1 | 0 | 0 | 20 | 6.22 | 11/3 |
| 199798 | 19 | 641 | 3 | 3 | 2 | 129 | 40.06 | 39/5 |
| 199697 | 19 | 390 | 0 | 2 | 0 | 98 | 20.53 | 43/4 |
| 199596 | 19 | 543 | 1 | 2 | 1 | 131 | 30.17 | 34/3 |
| 199495 | 11 | 297 | 2 | 2 | 0 | 84 | 33.00 | 18/1 |
| 199394 | 17 | 488 | 2 | 3 | 0 | 74 | 32.53 | 15/3 |
| 199293 | 13 | 367 | 4 | 1 | 1 | 102 | 40.78 | 22/3 |
| 199192 | 11 | 227 | 4 | 2 | 0 | 57 | 32.43 | 27 |
| 199091 | 11 | 387 | 2 | 1 | 1 | 133 | 43.00 | 17 |
| 198990 | 15 | 258 | 2 | 0 | 0 | 32 | 19.85 | 25/1 |
| 198889 | 7 | 105 | 1 | 1 | 0 | 64 | 17.50 | 26/3 |
| Total | 207 | 5,428 | 33 | 26 | 6 | 261 | 31.20 | 342/33 |