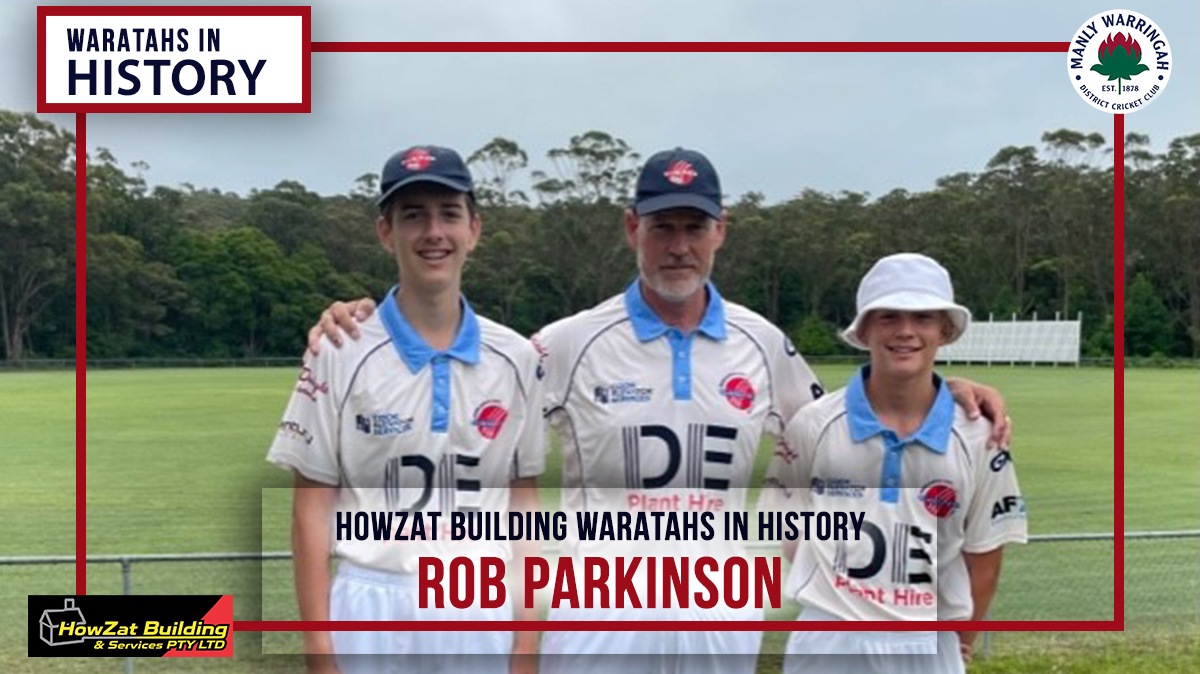 This fortnight Howzat Building Waratahs in History Q&A saw us speak with Robert Parkinson, a club member for 7 ½ years. Rob and his brother Sean moved down from Taree to play for the Waratah's in 1989.
Rob and Sean have a unique record with Manly taking all 10 wickets between them on their debut in 5th Grade.
Rob has lived in Newcastle for the past 26 years. Rob plays in the Newcastle Grade cricket competition with his sons Will & Noah, they play for Newcastle City Cricket Club. Rob captained the 3rd grade team last season.
We sat down with the original "Parko" for a chat through his time at Manly.
How did your love of cricket come about as a child?
Like most kids it started in the back yard with my dad and brothers and then progressed to junior cricket aged 9. Watching the might of the West Indian fast bowlers in the early 80's was inspiring.

Who were your cricket heroes growing up?
Plenty, David Hookes, Allan Border and DK Lillie. All the West Indian bowlers in the late 70's and 80's the likes of Malcolm Marshall, Courtney Walsh & Michael Holding, true bowling legends. Great as a youngster watching these legends going around.
Tell us a bit about your junior journey on your way to playing at Manly?
I grew up in Taree, NSW (Mid North Coast). Started playing competition junior cricket aged 9. Made some rep teams from aged about 12. I was lucky enough to be selected and play AW Green Shield with Manly in 1986/87. Made the move to Manly full-time at the end of 1989 after finishing school.
You debuted for the Waratahs in 1989 at the age of 18. What do you remember about your grade debut?
I remember it very well. My brother Sean and I moved down to Sydney from Taree in late 1989 aged 18. We were both slotted into 5th Grade (captained by Tony Scanlon) as it was half through the season, it was round 8 v Randwick at Snape Park, we both took 5 wickets each. All down the page in the bowler's column "Parkinson."
What are your memories of the club in the late 1980's and through to the late 1990's as you were coming through the grades? Both on and off the field?
My memories of the club will last a lifetime. As an 18-year-old moving to the big smoke from the country was a huge change. There were plenty of Manly stalwarts to help along the journey and make me feel a part of the club. Players like Tony Scanlon, Kenny and Tony Pitcher, Gary Flowers, Greg Hill, Greg Boyer and Andrew Fraser. All legends of the club. I learnt a lot from all these guys. However, some of the best memories were off the field at the Steyne Hotel or the Manly Pacific on a Friday or Saturday Night. Plenty of great nights with the lads. One of my biggest nights was my 21st which I had at the Room at the Top after a game, basically the whole club was there to celebrate.
Who were some of the well-known cricketers who you came through the system when you were a junior?
In my early junior days on the Mid North Coast, I was lucky enough to play a lot of Rep cricket. Played a game against a touring U16's Qld team which included Matthew Hayden got him out for 1. In Rep cricket I grew up playing with and against Adam Gilchrist (North Coast) a bit and got him out quite a few times!!!
Do you remember your first-grade debut?
I did play a few One Day 1st grade games in 94/95 however I consider my 1st grade debut was in 2-day cricket, it wasn't until my final season with the club in1996/97. The game was against Bankstown at Manly Oval we batted first and scored a decent total of 7-298. I do remember facing Wayne 'Cracker' Holdsworth, just as well it was late in the day for me!! Unfortunately, I didn't get to bowl in the game as the second day was washed out. Next game was again at home v Parramatta, I did get to bowl in that game with 3-25 and 1-2 however in the second innings whilst bowling pulled my intercostal muscle and put me out for about a month. Finished the season in 2's and played in the GF.
Who helped you the most throughout those initial years starting out in Grade cricket at Manly?
My 2nd year with the club I started out in 3rd Grade under skipper Gary "stalky" Flowers. A hard-nosed leader on the field and at training, expected the best from his players. Great to learn from such a club legend as a young country kid.
What do you consider the best spell of bowling from yourself?
Hard to say, there were plenty in my 7 ½ seasons at Manly. An 8fa in 3rd grade. I was good enough to get 10 x 5+ wkt innings. I think my final year at Manly was probably my best year with the ball despite some injury setbacks. 32 wickets @ 19.5 for the season and finally playing some 1st grade, a 3-26 and 1-2 before injury hit. The season included a 6-42 v Wests and 5-56 v Campbelltown in 2's. Unfortunately beaten in the Grand Final v Sutherland in my last game for the blue bags. Some lifetime mates from that team – Digs, Blanky, Gains, Tucks who I played plenty of cricket over many years.
You took 8 for 49 also in 1991/92, your best figures for the club. What do you recall about the game?
The game was against Mosman in 3's! I don't remember anything about the game. Must have been good to get 8!!
What do you think your strength was as a cricketer?
Those who played with me know that I wasn't the quickest of bowlers, but I always gave 100% and put the ball in the right areas. I played for my team mates and enjoyed the successes well after.
Your top score batting, what do you remember about that innings?
My highest score was 34 in 2nd grade in my final season 1996/97 with the club. Not sure who it was against, no recollection of the innings at all.
Who drove the standards at the club during your playing time?
In the early years it was Gary Flowers and Andrew Fraser. The captains I played under, Tony Scanlon, Gary Flowers, Greg Boyer, Kenny Pitcher, Gavin Fletcher, Tim Blank, Greg Hill and Anthony Dignan.  All very good cricketers and had high expectations for their team mates and bought out the best in them.
What is the best innings you saw at Manly from a fellow player?
Without a doubt it was an innings of 105 from Anthony Dignan v Penrith at Howell Oval in season 1995/96. A brilliant innings, absolutely smashed it to all parts of the ground that day on a wet outfield after overnight rain. Digs will agree that at training on the Thursday before the game I dished up some fodder to get him into form. No need to thank me Digs.
Who was the best player at Manly that you played with?
There was a few Matthew Phelps, Shawn Bradstreet, Paul 'Blocker' Wilson and Craig Glassock. Nick Derbyshire was good for a pom. Michael Bevan and Gavin Robinson were both at the club however unfortunately didn't get to play with them. Brian Clemow was a special talent in the early days.
Who were the people who really drove the on-field and off-field culture at Manly during your time?
The club culture on and off the field was always good throughout my time at Manly. The players I played most with Digs, Blanky, Tucks and Gains.
Who was the best Captain you played with and why?
Anthony Dignan, I played my final season in 1996/97 under Digs and it was a most enjoyable season. Grand Finalists in 2nd Grade. The whole team had each other's backs and we all wanted to win for each other. A great leader and he led by example.
Best Nick Name?
Gaetan "Pickets" Juul. Frase was renowned for nicknaming anyone new to the club, and they were generally clever and witty.
Who was the funniest player you played with at Manly and why? Do you have any clean stories you could share with us?
Geoff Tucker, funny on the field, the changeroom and out at the Steyn or Manly Pacific with his musical talents making up words to any song. Trunk also did some weird and funny things on the field at times.
You have some young kids that are very into their cricket. How is cricket travelling in Newcastle from what you see through the eyes of a parent?
I have been living in Newcastle for the past 26 years, married a Newcastle girl in 2004 so I'm a local now (just). My boys are now 14 and 16 both been playing cricket for 7/8 years now and both involved in local junior cricket and Rep cricket. I have been coaching them since they started. Several years ago, I got my Level 2 Rep Coaching Accreditation, so I have been heavily involved in Newcastle Rep coaching for over 5 years. Last year season I was co-coach of the Newcastle Bradman Cup Team which won the Bradman Cup for the first time in 12 years. The team went onto beat Parramatta (AW Green Shield winners) to win the U16's City v Country to be crowned State champions. I'm back playing after a 16-year break, captaining the Newcastle City 3rd Grade team in the NDCA. Assisting with club coaching and looking after the younger cricketers coming through the grades. Newcastle cricket is in a strong position.
What are some of your predictions for Manly in 2023 /2024?
I'm expecting another solid year for the Club, well run, plenty of talent, coaching staff sound. With Jay Lenton as skipper should be another solid season.
What does your life involve now, and do you keep abreast of how the Waratahs are faring?
Job wise, my wife & I operate and own renovation business which involves flipping residential properties.
Cricket wise, plenty of involvement in coaching junior club and Rep cricket and more so now senior cricket at Newcastle City Cricket Club. Last season I returned to playing club cricket after an absence of 16 years playing with my two sons.
Most weekends I will have a look at the scores on MyCricket and watch highlights via socials to see how the Waratahs are going.