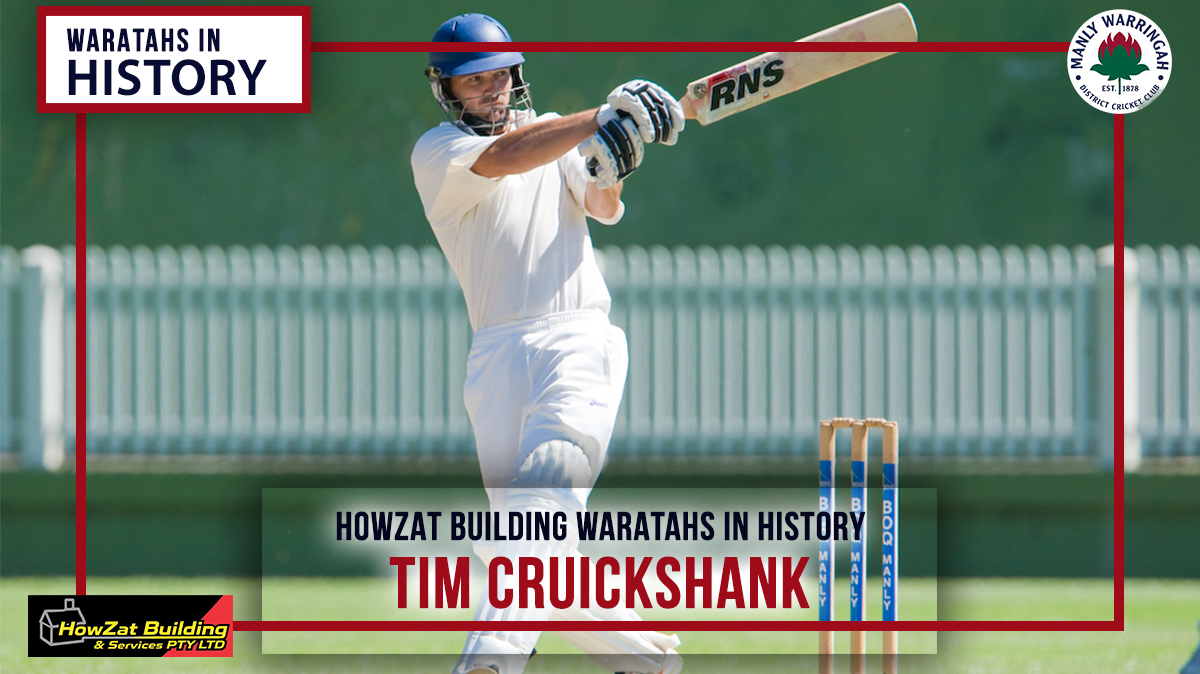 This fortnight Howzat Building Waratahs in History Q&A saw us speak with the newest Life Member of the club Tim Cruickshank (LM #53), a club member and player for 19 seasons. Tim played for the club from 1997/98 to 2016/17.
Tim is the only MWDCC player in the 145-year history to score over 10,000 runs (10,502) for the club, He amassed this total from 354 innings with a career average of 32.92. He has 14 club 100+ innings and 67 club 50+ scores as well. To put this in perspective we only have 3 players in the club history to score over 8000 runs.
Tim captained our 1st grade to their first premiership in 27 years in 2014/15.
Tim was most recently seen at the ex-player event at Manly Oval where he spent some time with his old mates enjoying the current 1st grade team having a victory.
We sat down with the Tim for a chat through his time at Manly.
How did your love of cricket come about as a child?
Naturally from my father. I soon realised that the culture around cricket was much greater than in other sports. It made my decision to choose cricket an easy one. I love the underlying principals cricket stands for; mateship, loyalty, enjoyment. Given how much time you spend with your team mates these are emphasised more in cricket than other sports.
Who were your cricket heroes growing up?
All the obvious ones… Dean Jones, Michael Slater, Ricky Ponting, Steve Waugh, Adam Gilchrist, Brian Lara, Desmond Haynes, Joel Mason etc. It's now very surreal getting to work with some of my heroes on a daily basis.
Tell us a bit about your junior journey on your way to playing at Manly?
I followed the standard pathway most juniors should. Went all the way through junior reps, attended Narrabeen sports high schools cricket program, got a glimpse of men's cricket via Warringah shires and then started with Manly when I was 14. Playing for Manly then led to selection through the NSW age cricket all the way into the senior team.
Who were some of the well-known cricketers who you came through the system with, and who was the best player coming through the Manly ranks during your juniors?
We had a lot of players around my age continue to Manly first grade. Ben King, Cameron Merchant, Craig Little and Ryan Bonnor to name a few. The best player was a kid by the name of Adrian Capp. Unfortunately, he was struck down with a back injury and fell out of love with cricket at a young age. I just remember him being so far ahead of anyone else as a 12-year-old.
You debuted in 1st grade for the Waratahs in 1998 at the tender age of 16. What do you remember about your grade debut?
All I remember is Stuart Clark and Danny MacLachlan bowling very fast on a quick Caringbah wicket. I got a pair. It was how every first-grade debut should be. I knew I needed to get much much better to do well at that level.
Who drove the standards at the club during your playing time?
In my very early days, it was definitely the playing group such as Shawn Bradstreet, Craig Glassock, Matt Phelps, Jon Moss etc. I was incredibly fortunate to learn from leaders and players such as these guys. David Patterson and Mike Pawley also stand out as coaches that lived for what Manly stands for as a club. I have an incredible amount of respect for both these men and what they have done for my development both on and off the field.
We also had so many incredible leaders all the way throughout the grades. John Warn, Ben King, Craig Little, Rowan Hammond, Andrew Jamieson etc. The list could go on forever. When you have captains like this through the club it sets an incredible standard for culture.
I also think you need to look at administrators and the impact they have on playing standards. Without them setting the foundation for success off the field, it's very hard for players to deliver on it. I've been extremely lucky to have this support the whole way through my career (both playing and coaching) thanks to clubman like Andrew Fraser, David Gainsford, Steve Beatty, Joel Mason and Bob Brenner.
Who was the best player at Manly that you played with?
It's honestly impossible to single out one player. Everyone leaves a lasting memory for different reasons. The players, and their traits, who initially spring to mind are; Shawn Bradstreet & his fierce competitive nature and desire to win, Mark Cameron's incredible athletic ability and capacity to bowl fast, Matt Phelps incredible stroke play and ability to annihilate any attack, Adam Crosthwaite's ruthlessness with the bat, and Stephen O'Keefe's consistency and knack of lifting any team around him. If you placed all these guys in the same team, you wouldn't lose many matches.
Who was the best Captain you played with and why?
Shawn Bradstreet. He made our team believe we could win from any situation and always made sure we were in the battle. He was also very good at getting the best out of me as a player. It wasn't surprising that we always seemed to build big partnerships when we batted together. I feel like the intensity Shawn played at made me lift whenever I joined him at the crease.
Who was someone that you loved to captain and loved seeing succeed?
In my last year I was fortunate enough to captain us to our first 1st grade premiership in 30 odd years. I absolutely loved captaining everyone one of those blokes but what really stood out was working with two close friends in Mickey Edwards and Nick McLachlan. Both players were relatively new to first grade at this point but their desire to learn, listen and play such a specific role for our team made my job very easy and enjoyable. Both these guys bowled us to a premiership and their stats were phenomenal. It made me very happy to see them both develop the way they did.
What do you think your strength was as a cricketer?
I always tried to attack. I felt like I wasn't as defensively sound as other players, so my method of defence was attack. Maybe I could have been more patient at times but the last thing a bowler wants is to be put under pressure. Obviously, they want to dictate terms and try get you out. I felt by attacking them they turned defensive and tried to stop runs. It's been interesting watching England use this method in Test Cricket which I think has been great for the game. It's also seen some of the best bowlers in the world lost for answers.
Your top score was 203 in January 2011, what do you remember about that innings?
What I remember most was not only putting on a large partnership of 200+ with my best mate Ben King, but also having my other best mate Ian Wheeler wicket keeping for Sydney. I did feather one when I was about 150 and wheels was keeping up at the stumps. I put my head down innocently, marked centre and luckily the umpire kept his finger down. Wheels and I muttered a few words to each other under our breath and he couldn't look me in the eye for the rest of the day. Kingy and I still enjoy tormenting Wheels about this regularly.
What do you consider the best innings from yourself?
Scoring 175 against a full-strength Sydney Uni team which included Stuart Clark, Stuart MacGill, Mark Cameron etc. and put on over 300 with Cameron Merchant. It felt like we both played our perfect innings that day.
It was overcast, the pitch was doing a bit early and we lost two early wickets. Because of the moisture in the pitch, Stuart Clark was creating deep footmarks where he was landing and wasn't too interested in risking his test career rolling an ankle on an even surface in grade cricket. Stuey MacGill (who was a character I just loved playing against) kicked up an absolute stink to the umpires saying the pitch was unfit for play. I'm pretty sure he wasn't that happy about playing grade cricket and his tactic was to get an early mark. The umpires chose to delay the game for an hour to let the foot marks dry out. Well within that hour, yes the footmarks dried out, but so did the pitch. It became an absolute belter and we piled on the runs. I reckon if they continued bowling in the favourable conditions we likely would have been dismissed cheaply – Stu would have had his feet up by 2pm!
What is the best innings you saw at Manly from a fellow player?
Very tough to discriminate against so many great innings, however there's two that stand out. Darren Wotherspoon scoring 170 in a one-day semi-final against Gordon at Killara Oval – Just pure ball striking against a strong attack. The other was Jack Ritchie playing the most level-headed innings I have ever seen in my life to win us the grand final. Whilst he may have only scored 80*, it was easily the most valuable 80 runs I witnessed under enormous pressure.
Who was the funniest player you played with at Manly and why? Do you have any clean stories you could share with us?
Hands down Sully (Jamie Sullivan) – Daylight second. Some of the Sully stories are told regularly to this day and they bring us to tears every time. Unfortunately, most stories are not clean enough for this forum but It's the nuanced mannerisms with Sul that's hard to explain but makes him such laughable character. I'm pretty sure Sul just played cricket for the showers and beers after the game.
Best Nick Name?
Phil (skid) Marks
What are some of your predictions for Manly in 2023 /2024?
I saw a post recently outlining the amount of experience within the top two grades. The career matches played within this group is incredibly high. This seems rare in grade cricket these days. Together with the obvious talent around the club, this should result in another very successful year. How much the playing group "want it" will determine whether silverware comes our way.
What does your life involve now, and do you keep abreast of how the Waratahs are faring?
I'm busy with my two young boys – Cruz who is almost 4 and Billy who is almost 2. I'm loving being a dad. I'm also representing the professional cricketers and have been with the ACA for 10 years now. Cricket is still a huge part of my life, and I am very invested in Manly as a club (and always will be). I still offer my services as a coach / mentor, and will no doubt play an official role again when the time is right. But for now, it's prioritising parenting and of course being a part the of the Manly cricket alumni that has taken over Long Reef Golf Club.
How is cricket travelling on the Northern Beaches from what you see through the eyes of a parent?
Cricket is in an incredibly strong position on the beaches. The amount of talent we are producing is a product of the systems and pathways that were introduced many years ago. There needs to be a lot of credit given to those who had the vision and also dedication to implement. The talent we've had come through in recent years has been incredible. Notwithstanding the obvious generational talents of the Edwards and Davies brothers, there are so many great juniors within our top grades.
Do you ever seeing yourself as getting back involved in the club in the future?
I will always be involved with the club. Whilst I need to prioritise my family and career for now, I will play a role wherever I can.
Tim Cruickshank career stats
| | Season | Matches | Inns | NOs | RunsBat | BatAvg | 100s | 50s | HS | Catches | St | Overs | Maidens | RunsBowl | Wickets | BowlAvg | 5fa's | BBWickets |
| --- | --- | --- | --- | --- | --- | --- | --- | --- | --- | --- | --- | --- | --- | --- | --- | --- | --- | --- |
| | 201617 | 2 | 2 | 0 | 22.00 | 11.00 | 0 | 0 | 14 | 0 | 0 | 0 | 0 | 0 | 0 | 0.00 | 0 | 0 |
| | 201415 | 26 | 22 | 6 | 584.00 | 36.50 | 0 | 5 | 74* | 9 | 0 | 0 | 0 | 0 | 0 | 0.00 | 0 | 0 |
| | 201314 | 22 | 20 | 0 | 486.00 | 24.30 | 1 | 3 | 101 | 8 | 0 | 19 | 3 | 58 | 2 | 29.00 | 0 | 2/21 |
| | 201213 | 18 | 18 | 0 | 838.00 | 46.56 | 1 | 5 | 179 | 4 | 0 | 3 | 0 | 29 | 1 | 29.00 | 0 | 1/29 |
| | 201112 | 16 | 16 | 3 | 581.00 | 44.69 | 1 | 2 | 144 | 6 | 0 | 0 | 0 | 0 | 0 | 0.00 | 0 | 0 |
| | 201011 | 24 | 26 | 3 | 942.00 | 40.96 | 2 | 6 | 203 | 6 | 0 | 0 | 0 | 0 | 0 | 0.00 | 0 | 0 |
| | 200910 | 25 | 26 | 1 | 992.00 | 39.68 | 1 | 8 | 187 | 11 | 0 | 3 | 0 | 8 | 0 | 0.00 | 0 | 0 |
| | 200809 | 22 | 22 | 1 | 809.00 | 38.52 | 2 | 4 | 151 | 7 | 0 | 2 | 0 | 15 | 1 | 15.00 | 0 | 1/15 |
| | 200708 | 12 | 12 | 0 | 207.00 | 17.25 | 0 | 1 | 61 | 8 | 0 | 1 | 0 | 5 | 0 | 0.00 | 0 | 0 |
| | 200607 | 21 | 21 | 2 | 554.00 | 29.16 | 1 | 2 | 175 | 12 | 0 | 0 | 0 | 0 | 0 | 0.00 | 0 | 0 |
| | 200506 | 19 | 19 | 2 | 423.00 | 24.88 | 0 | 3 | 76 | 8 | 0 | 0 | 0 | 0 | 0 | 0.00 | 0 | 0 |
| | 200405 | 18 | 18 | 2 | 631.00 | 39.44 | 0 | 7 | 97 | 16 | 0 | 0 | 0 | 0 | 0 | 0.00 | 0 | 0 |
| | 200304 | 20 | 20 | 2 | 385.00 | 21.39 | 1 | 1 | 101 | 6 | 0 | 4 | 0 | 27 | 0 | 0.00 | 0 | 0/27 |
| | 200203 | 27 | 27 | 3 | 817.00 | 34.04 | 1 | 4 | 106* | 24 | 0 | 0 | 0 | 0 | 0 | 0.00 | 0 | 0 |
| | 200102 | 15 | 15 | 1 | 265.00 | 18.93 | 1 | 2 | 102 | 15 | 0 | 0 | 0 | 0 | 0 | 0.00 | 0 | |
| | 200001 | 17 | 17 | 2 | 612.00 | 40.80 | 0 | 5 | 97 | 5 | 0 | 6 | 1 | 23 | 0 | 0.00 | 0 | 0/10 |
| | 199900 | 19 | 19 | 3 | 420.00 | 26.25 | 1 | 2 | 102* | 16 | 0 | 0 | 0 | 0 | 0 | 0.00 | | |
| | 199899 | 18 | 18 | 3 | 461.00 | 30.73 | 1 | 3 | 101* | 3 | 0 | 2 | 0 | 26 | 1 | 26.00 | | |
| | 199798 | 16 | 16 | 1 | 473.00 | 31.53 | 0 | 4 | 77 | 5 | 0 | 4 | 2 | 9 | 0 | 0.00 | | |
| | 19 | 357 | 354 | 35 | 10,502 | 32.92 | 14 | 67 | 203 | 169 | 0 | 44 | 6 | 200 | 5 | 40 | 0 | 2/21 |