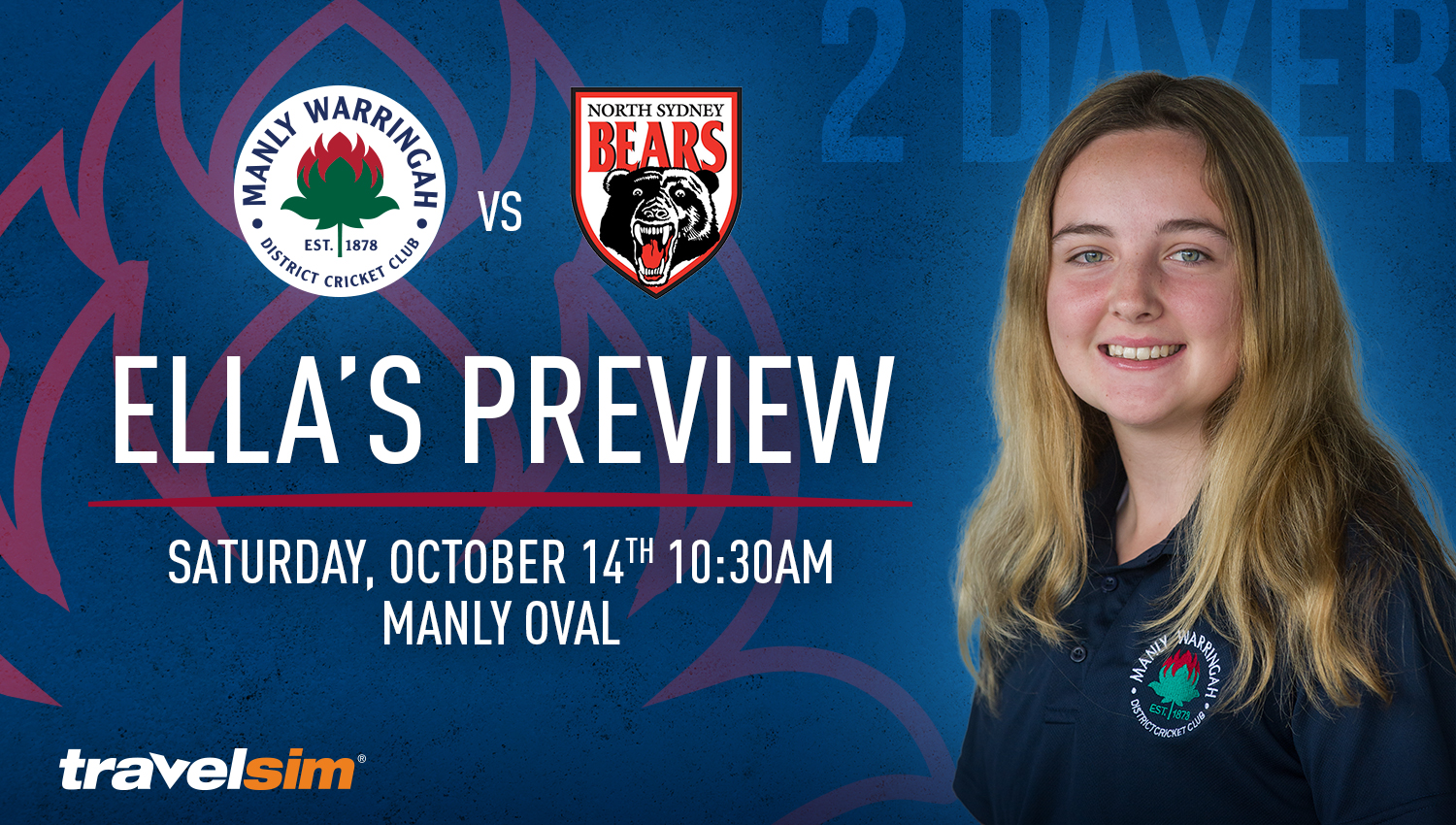 Another battle of the North arises this week as the TravelSim Waratahs take on the North Sydney Bears in round three of the New South Wales Premier cricket competition.
Manly find themselves in near identical conditions to round two – a two-dayer and on home turf at Manly Oval.
Due to their bonus point win in round one, Manly are flying high in outright first place after two matches, and North Sydney are yet to win a game. However, North Sydney cannot be taken lightly as they will be hungry to get a win. In their round two game, Bankstown set a monstrous 423 run chase for the Bears, and whilst recording a solid 368 runs, it was too little for the win. Manly have to field as cleanly as they have been this season so far to stop North Sydney from gaining big figures this week.
After an astounding five wicket haul in last round's game against his former club, captain Chris Green will be looking to back up that performance with another strong innings with the ball. Young gun Jack Edwards also managed to get two wickets with figures that would not roll off anyone's tongue better than the late Richie Benaud – 2/22, with two maidens.
It will be just as important for Manly to set a big total, or successfully chase down a total if circumstances allow. Adam Crosthwaite showed what he could do with the bat in round two when he held Manly's batting order together whilst leading from the front scoring an impressive 133 runs. Crosthwaite did so whilst hitting fourteen 4s and three 6s, with countless boundaries being essential to securing a win this week again. Tail ender Matt Alexander also assisted in bringing up Manly's declared 306 total with some quick runs, hitting 37 off 27 balls.
Manly will be without Mickey Edwards and Jay Lenton again for the first week of this two-dayer, with slim chances allowing them to play in week two. Another big loss sees Stephen O'Keefe also out after suffering a fractured finger. Although, Ahillen Beadle returns to the side after missing week two of last round. Having three of Manly's State, and Australian, representatives out is not ideal leading into this week. However, with the depth of the Tahs' full squad this year, notably seen in Manly's Poidevin-Gray Shield dominance on Sunday, there is full faith in some of the lower graders to step up and assist in getting a win for first grade.
Round two in the lower grades saw only fifth grade secure a win, with second and third grade still seeking their first victory of the season. A strong batting performance this weekend will see more consistent wins across the grades.
Assistant Coach Phil Marks has even greater incentive to help the boys in getting the win as they meet his old club, as with Jay Lenton if he is able to play in week two. It's an important game for the Tahs to get another six (or more) points to keep their spot as competition leaders, and cement their title as true premiership contenders.