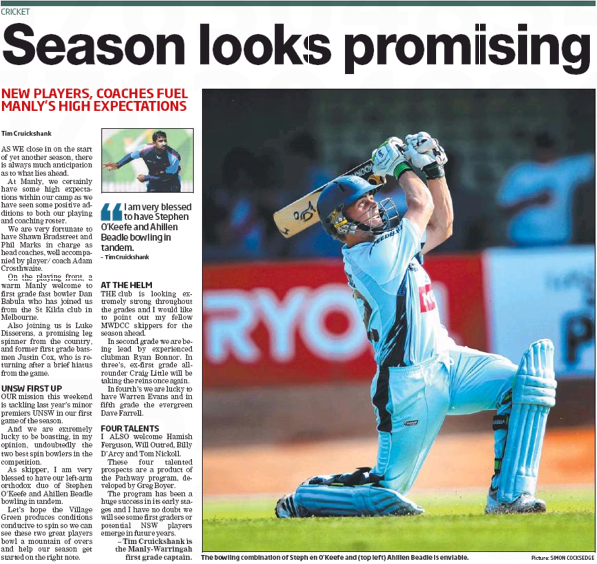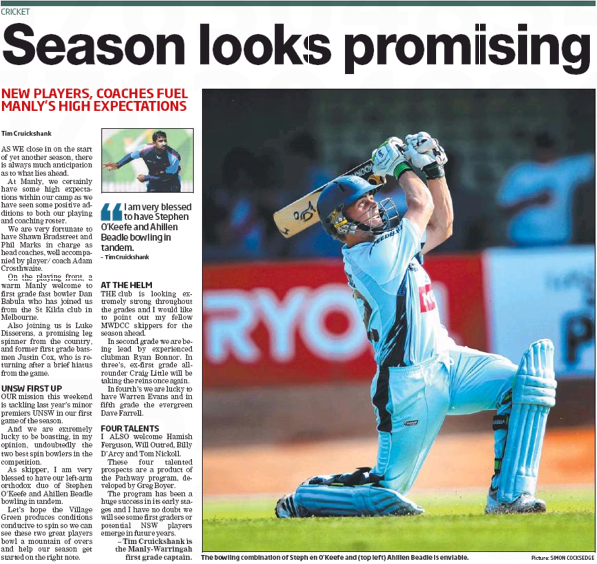 AS WE close in on the start of yet another season, there is always much anticipation as to what lies ahead.
At Manly, we certainly have some high expectations within our camp as we have seen some positive additions to both our playing and coaching roster.
We are very fortunate to have Shawn Bradstreet and Phil Marks in charge as head coaches, well accompanied by player/ coach Adam Crosthwaite.
On the playing front, a warm Manly welcome to first grade fast bowler Dan Babula who has joined us from the St Kilda club in Melbourne.
Also joining us is Luke Disserens, a promising leg spinner from the country, and former first grade batsmen Justin Cox, who is returning after a brief hiatus from the game. OUR mission this weekend is tackling last year's minor premiers UNSW in our first game of the season.
And we are extremely lucky to be boasting, in my opinion, undoubtedly the two best spin bowlers in the competition.
As skipper, I am very blessed to have our left-arm orthodox duo of Stephen O'Keefe and Ahillen Beadle bowling in tandem.
Let's hope the Village Green produces conditions conducive to spin so we can see these two great players bowl a mountain of overs and help our season get started on the right note. THE club is looking extremely strong throughout the grades and I would like to point out my fellow MWDCC skippers for the season ahead.
In second grade we are being lead by experienced clubman Ryan Bonnor. In three's, ex-first grade allrounder Craig Little will be taking the reins once again.
In fourth's we are lucky to have Warren Evans and in fifth grade the evergreen Dave Farrell. I ALSO welcome Hamish Ferguson, Will Outred, Billy D'Arcy and Tom Nickoll.
These four talented prospects are a product of the Pathway program, developed by Greg Boyer.
The program has been a huge success in its early stages and I have no doubt we will see some first graders or potential NSW players emerge in future years.