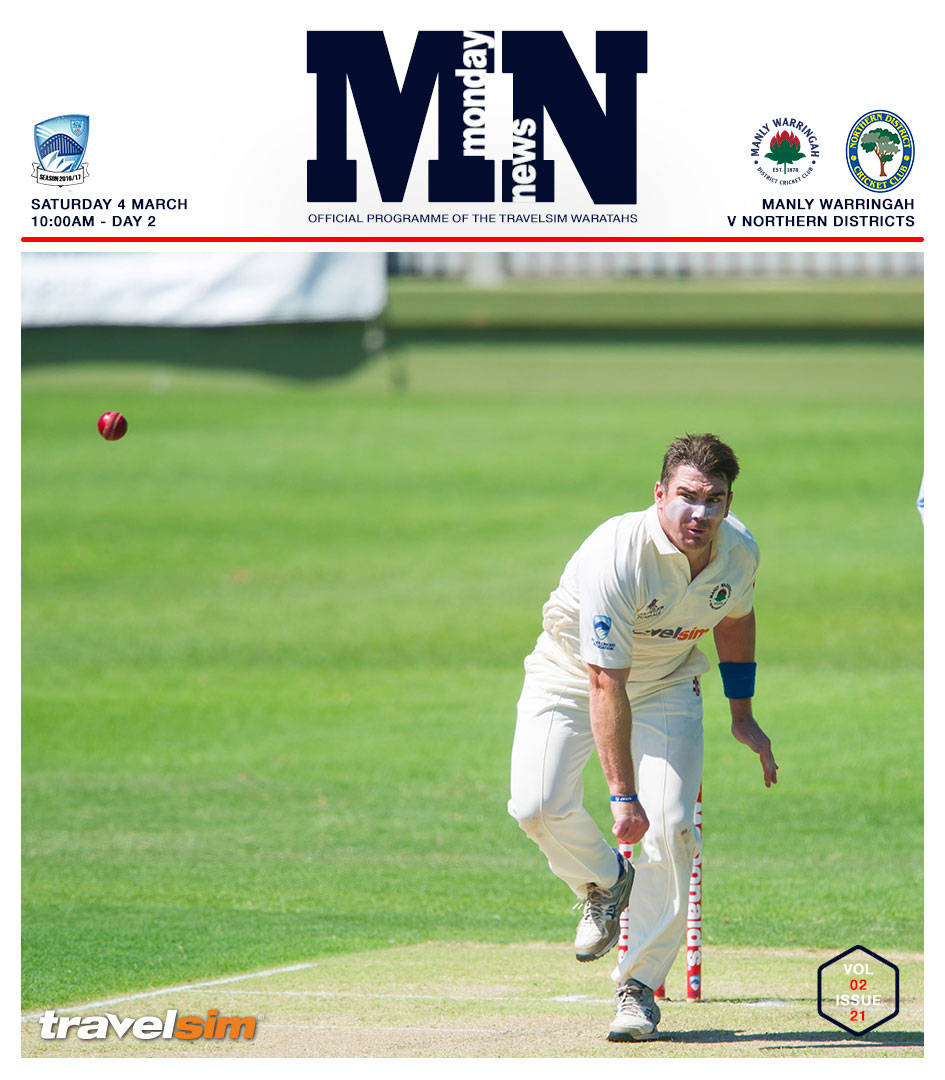 The Manly Warringah TravelSim Waratah's had only the one team play any form of cricket on the weekend – one match more than virtually any other club as the rain saw the cancellation of the vast majority of games. The recently developed Graham's Reserve absorbed a serious amount of rain yet still remained playable thanks to a combined effort from all at the ground. In a very close contest coming down the last few overs Northern District's felt the target unattainable and shut up shop, ending the game in a draw. With only the one round to go in the season, the wet weather has all but ended the finals hopes of a few teams, however with 2s and 3s very much still in the mix the challenge is there to finish the year of with a win!
Bring on Hawkesbury!!
4 Pines Players of the Week – Sam Hole
27
This week's 4 Pines Player of the week is no other than world traveller Sam Hole, who has returned back from a semester in Vancouver to bolster the batting lineup of 4th Grade. Coming in at 2 for not many in a rain-delayed "one-day" situation in a two-day fixture, many a lesser batsman would've struggled to pace their innings. Not so for Sam, who showed composure and leadership in his knock of 27 to steer 4th Grade to a competitive 97 in the agreed time, proving too much for NDs to chase.
1st Grade
No play.
2nd Grade
No play.


3rd Grade
No play.
4th Grade – Manly 9/95 dec. (S.Hole 27) drew with Northern Districts 8/81
4th Grade arrived to another moist day at Graham's Reserve knowing nothing less than a result would keep there season alive. After spending the previous Saturday working tirelessly to ensure some play, the side knew the drill on another rain-affected day. Max and the Northern Districts captain snuck a toss in around midday, with our skipper duly losing the toss and having us sent in to bat. Gummer and Brewster survived a damp 3 overs before rain forced another stoppage in a frustrating morning for the Tahs. It wasn't until 3pm, and more than half a dozen removals and replacements of the covers later that play resumed with the captains agreeing a 26 over a side ODI extravaganza.
Upon resumption, Adam had his off-stump thoroughly dismantled without scoring before Brewster (0) flashed at a wide one to leave Manly 2 for not many. Hole (27) and Wheeler then knocked the ball around well until Dom was adjudged LBW. Zac came and went for a quick-fire innings, with Vumbaca looking sublime at the other end for a cheeky 16 throughout the middle overs. Captain Burgess stunned the swelling crowd with the only boundary of the innings before contributions throughout the lower order got us to a more than competitive 9/95.
Alex Bain got Manly off to a fantastic start claiming the stonewall opener LBW early. Falconer bowled well without luck before Jacob 'The Yak' Graham did what he does best, bowling full and straight to grab another wicket for us. The tension reverberating around a packed ground, as wickets gradual fell to Vumbaca and Captain Burgess, was unbelievable by this stage.
With light fading and wickets required, Isaiah was poised to bowl the 3rd last over of the match with 24 runs required. A great catch from Gummer bought the equation to 2 wickets and 18 runs from the final 2 overs, before ND's shut-up-shop to prevent one of the all-time great 4th grade victories and a pitch invasion by the capacity crowd.
A disappointing was to end what was a great day for 4th grade, doing all they could to get a result when every other game in Sydney was called off! Special thanks to all the players, supporters and coaching staff who gave up there Saturday's to support the boys, it was certainly appreciated and something not often seen in the 4th grade competition.
Onwards and Upwards against Hawkesbury next week!
Sam Hole
5th Grade
No play.