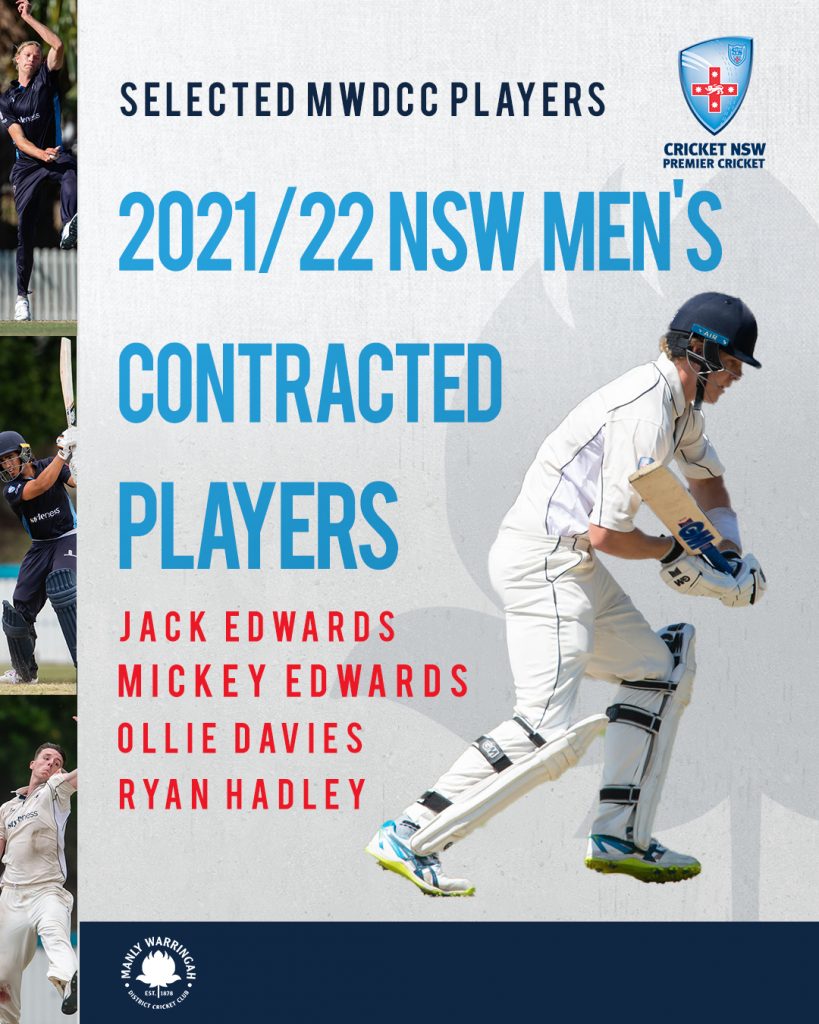 Four Manly Warringah Waratahs have earnt themsevles a NSW Blues Contract for the 2021/22 season.
Jack Edwards, Mickey Edwards and Ollie Davies were all given contracts, whilst Ryan Hadley was awarded a Rookie contract for the upcoming season.
After another strong season for Jack, which included a crucial 100 and being awarded man of the match in NSW's win in the Domestic One Day Final, Jack will look to carryover this form in the 2021/22 season.
Jack has slowly begun cementing himself in the NSW set-up, and will continue to look to lock down a spot and play regular cricket with the Blues.
Despite another injury marred season, Jack's brother Mickey will be raring to go for the Blues come 2021/22.
With raw pace and natural talent, Mickey will be a big in for the Blues this season, as he has always made an impact with the ball when wearing the baggy blue.
After launching onto the scene in this Big Bash this season, and making a big impact in the One Day cup, Ollie Davies has been upgraded to a full contract from a rookie contract this season.
Ollie had a massive 2021/22 season, and was invovled in the Domestic One Day Cup winning side for NSW. Ollie will no doubt be looking to replicate and improve on his form from 2020/21, and also hopefully break into the Shield side to accompany his white ball success.
Another big season with the ball from Ryan Hadley has been rewarded with another rookie contract with the blues. Hadley led from the front for Manly, as well as in the 2nd XI games he had which were limited due to COVID.
Hadley will no doubt be looking to continue this form, and earn himself a deserved debut with the Blues this season, after some terrific cricket over the past couple of years.
Congratulations to all 4 men awarded contract, and we wish you luck for the 2021/22 season for the Blues and for Manly.