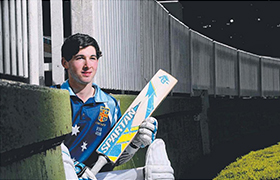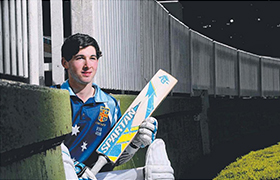 STANDOUT Manly junior Aiden Bariol is about to have his first taste of international cricket when he represents the Australia under-16s XI in Bowral next week.
The 15-year-old, who attends St Augustine's College, can't wait to take part in three one-dayers and three Twenty20 fixtures against Pakistan.
"I still haven't got my head around it,'' Bariol told the Manly Daily.
"It is every kid's dream to represent Australia.
"I don't really know what to expect but it is safe to assume they (Pakistan) will have a few decent spinners."
Bariol is expected to be a major player in the squad, coached by former international batsman Stuart Law.
At the recent under-17 national championships in Brisbane, the Frenchs Forest teenager performed brilliantly with the bat and behind the stumps, blazing an unbeaten half-century against South Australia.
Bariol was exceptional behind the stumps, snaring nine catches and two stumpings.
Law said: "Aiden has considerable promise and is a very intelligent young man.
"He is extremely coachable and knows what is going to be required to go far in the sport.
"From what I hear, Bradman Oval is fairly small, so that should suit his batting."
{loadposition cricket}