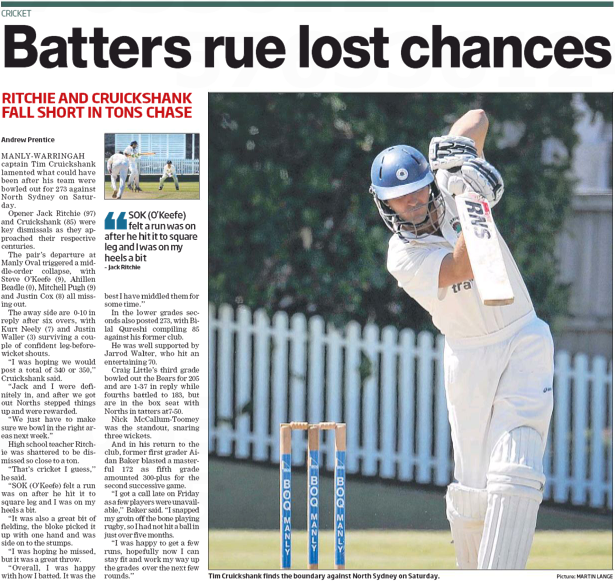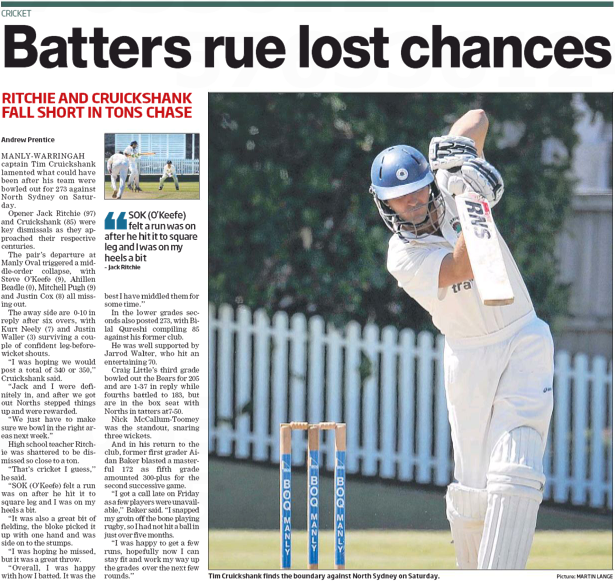 MANLY-WARRINGAH captain Tim Cruickshank lamented what could have been after his team were bowled out for 273 against North Sydney on Saturday.
Opener Jack Ritchie (97) and Cruickshank (85) were key dismissals as they approached their respective centuries.
The pair's departure at Manly Oval triggered a middle-order collapse, with Steve O'Keefe (9), Ahillen Beadle (0), Mitchell Pugh (9) and Justin Cox (8) all missing out.
The away side are 0-10 in reply after six overs, with Kurt Neely (7) and Justin Waller (3) surviving a couple of confident leg-beforewicket shouts.
"I was hoping we would post a total of 340 or 350,'' Cruickshank said.
"Jack and I were definitely in, and after we got out Norths stepped things up and were rewarded.
"We just have to make sure we bowl in the right areas next week."
High school teacher Ritchie was shattered to be dismissed so close to a ton.
"That's cricket I guess,'' he said.
"SOK (O'Keefe) felt a run was on after he hit it to square leg and I was on my heels a bit.
"It was also a great bit of fielding, the bloke picked it up with one hand and was side on to the stumps.
"I was hoping he missed, but it was a great throw.
"Overall, I was happy with how I batted. It was the best I have middled them for some time."
In the lower grades seconds also posted 273, with Bilal Qureshi compiling 85 against his former club.
He was well supported by Jarrod Walter, who hit an entertaining 70.
Craig Little's third grade bowled out the Bears for 205 and are 1-37 in reply while fourths battled to 183, but are in the box seat with Norths in tatters at7-50.
Nick McCallum-Toomey was the standout, snaring three wickets.
And in his return to the club, former first grader Aidan Baker blasted a masterful 172 as fifth grade amounted 300-plus for the second successive game.
"I got a call late on Friday as a few players were unavailable,'' Baker said. "I snapped my groin off the bone playing rugby, so I had not hit a ball in just over five months.
"I was happy to get a few runs, hopefully now I can stay fit and work my way up the grades over the next few rounds."