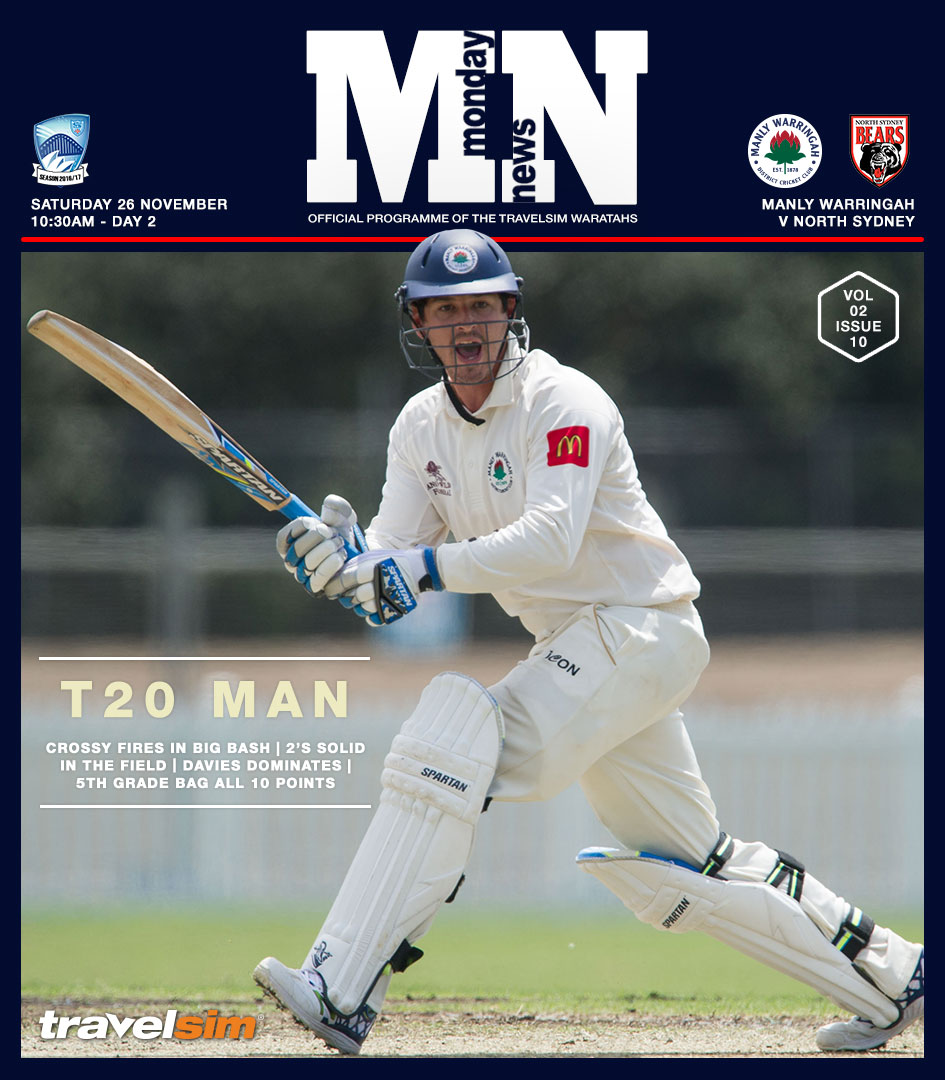 The Manly-Warringah Travelsim Waratah's experienced almost the complete spectrum of results this weekend in with grade fixtures against North Sydney Bears and the 1st Grade Kingsgrove Cup T20 Doubleheader. The immense frustration of 4th Grade's draw combined with the disappointment of 1st grade's demoralizing loss was tempered by the highs of 5th grade's comprehensive outright victory, impressive wins in 2nd and 3rd Grade as well as a T20 Masterclass in the 1st Grade T20 match against UNSW. The exceptional performances of Simon Waddington's 5th Grade side plus the ridiculous batting displayed by Ollie Davies and James Crosthwaite continues to show how the hard work at training is starting to pay off. With three teams within their respective top 3 places and no team below 9th, the Tash are looking to come into Christmas with a wet sail.

"Watch James Crosthwaite's blistering 139* in Sunday's T20 against UNSW"
4 Pines Player of the Week – Oliver Davies
This Week's 4 Pines Player of the Week is a seriously talented youngster who tore apart North Sydney's 3rd Grade bowling attack in a devastating display of timing and power en route to his maiden grade century for the Tahs. Entering in the 5th over of the day with another 260 runs required to give 3rd Grade victory, Ollie Davies set about almost single-handedly destroying the North Sydney bowling attack during a 24-over period where it looked the game would be over before tea! Coming off an incredible vein of form in the Australian U/17 competition where he scored 321 runs at an average of 54, it was only a matter of time before this and the half-centuries in 3rd Grade and Poidevin-Gray were converted into something even bigger.
Keep up the great work Ollie!!!

1st Grade – North Sydney 4/444 def Manly 5/443 (M. White 2-113, M. Visser 1-96 [19])
The day started off well with Whitey getting the first wicket on the fourth ball of the day via the opening batsman leaving it and it flicking some glove on the way through. From that moment, the game was never in our favour with their captain Avedano making 176. Early on in his innings he looked like we could get him caught behind with him playing through the vacant cover region consistently. A dropped catch didn't make things easier.
We didn't bowl to our plans that we discussed during the week and gave away too many loose balls instead of focusing on maidens. After getting the first two wickets, they developed another partnership before Visser took a sharp catch at mid on that was hit like a rocket. Visser got our fourth and final wicket which he deserved LBW. Even though it was an absolute road of a deck we didn't show up, our bowling wasn't as good as we know it can be and we didn't stick to our plans made during the week by bowling straight.
Jarrod Rawlings
2nd Grade – Manly 264 & 1/44 def North Sydney 171 (J. Carden 3-24, M. Alexander 2-27, L. Weston 2-3)
We arrived at Grahams confronted with a belter of a wicket thanks to Green Options extraordinaire Samoz and Norths resuming at 1-10 chasing 270.
Norths got off to a strong start until the big bopper Kerrod went for one to many off Andrew "Jamo" Jamieson and had to depart. From here the batsmen continued to grind away with very few loose balls from the manly boys making it difficult to score. Eventually Jake "Ping" Carden got the breakthrough, taking an excellent return catch off his bowling. After another couple of wickets the Norths practically shut-up shop and after Lunch they were well and truly playing for the draw. Working hard for the boys all the wickets were shared and a good effort bowling them out for 140.
Good Ol Glenn decided to put us in for another stick for some reason after tea and we finished 1-50 when the two skippers called it.
Well done bois.
Jack Edwards
3rd Grade – North Sydney 271 (S. Alexander 5-67 [24]) def by Manly 6/272 (O. Davies 112, J. Daly 64, A. Virdi 45)
3rd grade had a lovely, slightly dry pitch to score a further 261 runs. Buoyed on from the team coffee we expected to watch someone take it to the Bears. It wasn't Jimmy Crombie (0) who followed an outtie to gully and it wasn't Will Wolter (21) who looked good, hitting some nice boundaries but slashed at a ball maybe a bit full and tight and was well caught at 2nd slip. 2/32. Sam Webber (7) joined Ollie Davies (112) to try and get us out of trouble. Sam looked very comfortable, whipping one off his legs amongst others but was undone by a well timed straight drive from Ollie clipping the bowler's fingers and being run out. 3/73.
Jordan and Ollie had to get another 200 and for a while it looked like they would do it before tea. Firstly Jordan's innings – hardly a support role but that's what it was. It was littered with great shots scorching to the boundary and he once again was a rock throughout ensuring we got the points, being there at the end only to be unluckily dismissed after we passed them, supposedly caught at slip off a bottom edge from a spinner.
Ollie's innings was all action. Going in in the 5th over, departing in the 28th. In for 24 overs, missed some strike action for a few overs so probably faced no more than 65 balls. No-one hit a six for the two days except for 6 massive bombs from the young man. No chances, dynamite stroke play and the Nths capt at tea said it was the best innings he has ever seen. As the opposition I would put 4 slips and 3 gullies in for the first 3 balls and hope for the best. A very well hit cover drive for 6 brought up his century and he left another hundred out there when he played across a part time leggies ball that hit him in front.
We still had work to do at 4/180 but Ash Virdi (44) played a great innings, hitting the ball hard for 10 boundaries, most of them along the ground. Went aerial and found mid off unfortunately just as we were about to win. Good signs from Ash.
All up a very good win which sees us in 2nd spot behind Mosman on quotient.
Warren Evans
4th Grade – Manly 236 (A. Gummer 80) drew North Sydney 7/153 (J. Graham 4-29, D. McKenna 2-12)

It was a boring day out for the Manly boys, with North Sydney been given a wicket that looked to benefit the batsman, we knew we had to bowl stump to stump and be patient. There weren't many highlights in the first 2 sessions with North Sydney batting out 21 maidens in the first 40 overs of the match, ending up on 1-57. Opening bowlers, Ben Falconer and Dan McKenna bowled well and were unlucky to snare a wicket early on.
As the wicket was playing true and the batsmen blocking everything Max had to rotate the bowlers in short spells to try and get the first break through. Alex Bain in his first over took the first poll, with the batsman playing at a wide one and dragging it on. From that first wicket it was a while till the next wicket fell, however with consistent line and lengths and plenty of patients, Jacob Graham was able to bag a 4fa which was the highlight for the day. Dan also got amongst the wickets later on in the day.
From this point onwards the opposition blocked out the rest of the day for a draw, which at the start of the day didn't look likely.
Will Akhurst
5th Grade – North Sydney 120 (M. Counsell 5 wickets) & 58 J. Sullivan (3 wickets) def outright by Manly 2/274 (M. Brewster 113, D. Wheeler 59*)

Fifth grade arrived at Tonkin Park after posting a big total last week and the game being much in Manly's favour.
From a quick pre game inspection, the wicket looked similar to last week (green and hard) and we thought it would be a good day for pace bowling. North Sydney started the day 0/38 after the opening batsmen spent the final 10 overs of last week slashing at any width.
Opening bowlers Glyn Archer and Michael Counsell started the day off with a masterclass in seam bowling with both bowlers bowling with pace, aggression and both being able to get the ball moving in the air and off the pitch. Counsell bagged the wicket of the more dangerous opener within the first few overs and Glyn also picked up a couple of early ones, with Jacob O'sullivan combining with Dom for a runout to keep the pressure building. Big Michael Counsell continued to bowl consistent areas and constantly troubled the bat all day and was surprisingly unfatigued after bowling for most the first innings. He ended up with 5 for the innings, his second fifth grade 5-fa this season. Hayden Brown also snagged 2 wickets coming on at first change, troubling the batsmen with consistent lines. North Sydney ended up with a first innings total of 120 off 39 overs and we sent them in again after tea.
After Counsell's long first innings spell, Waddo decided to open up with Jacob O'sullivan and Glyn and sure enough early wickets began to fall quickly. Sully picked up 3 wickets in his opening spell, which were his first wickets for the club. Glyn was again on fire at the other end, getting 4 wickets in quick succession and finishing with 6 for the game. North Sydney were in shambles and were 7-22 before drinks. Counsell then came on, picking up another wicket to also make his total 6 for the match. We eventually bowled out North Sydney in the second innings for a total of 58 in 24 overs ensuring a well-deserved 10 points for the Tahs.
Ben Watts