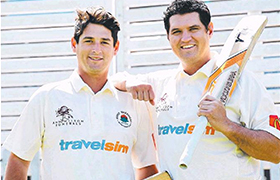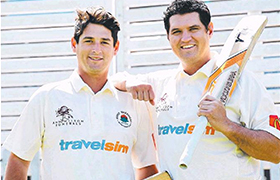 YOU can almost hear opposing teams in the Sydney Grade Cricket competition collectively groaning.

After years of struggling to dismiss Adam Crosthwaite, this season they will also have to contend with his younger brother, dynamic opening batsman James Crosthwaite.

The 27-year-old was always going to link up with Manly after moving to Sydney recently for work, and swinging the willow with his older sibling on weekends is something the pair have always wanted to do.

"It will be a fair change from our battles as young fellas in the backyard," James Crosthwaite told the Manly Daily.

"I am very excited about the move. It has been a long time coming.

"It will be interesting to see how we go. Adam and I play the game differently.

"Hopefully the boys can repeat their success from last season and I can be a big part of it."

Not surprisingly, Crosthwaite comes from good stock.

He has played cricket in the United Kingdom, been on the books of NSW and even spent two years abroad in his whites in Seattle.

After standing out for Geelong last summer in Victoria, he wanted to test himself against the best attacks in Sydney – a frontier he always wanted to conquer.

"At the end of the day, it came down to timing," James said.

"I am living in Collaroy and absolutely loving it. The lifestyle is amazing.

"Adam has spoken to me about the culture at the club, and it was pretty easy to see what he was on about after the first few training sessions there.

"Manly is a club full of great blokes, a terrific training facility at Graham's and a first-class coaching staff.

"I am excited about how my game can develop over the next few months."

James Crosthwaite will open the batting with grand final hero Jack Ritchie this Saturday against Hawkesbury at Richmond.

He is tipped to also feature in Sunday's Twenty20 clash against Eastern Suburbs at Waverley Oval.
{loadposition cricket}