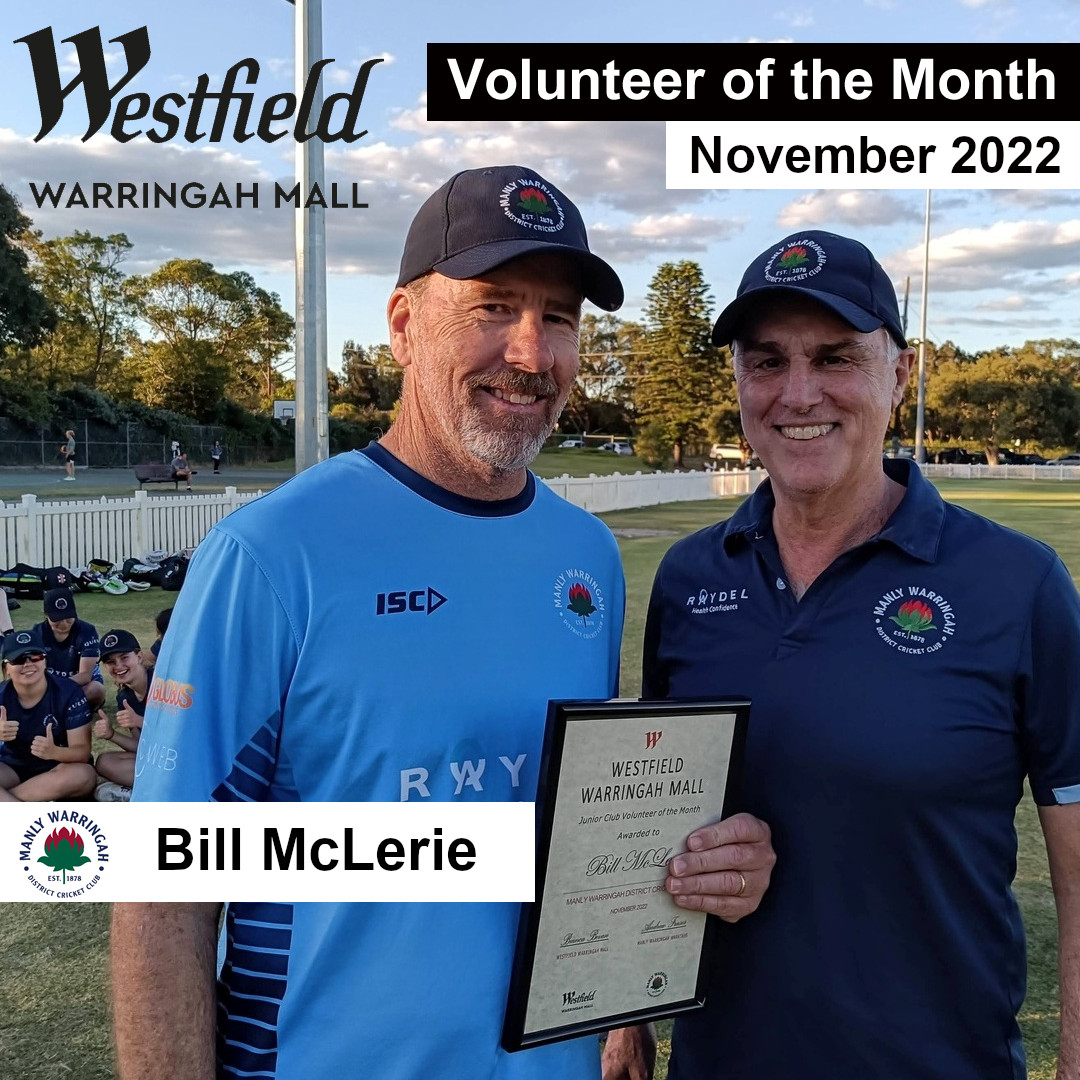 The Manly Warringah Waratahs are proud to announce Bill McLerie  as the November recipient of our Westfield Warringah Mall Volunteer of the Month award. This award is available to Manly Warringah junior clubs and Manly Warringah Waratahs volunteers and is proudly sponsored by Westfield Warringah Mall.
Bill first came onto the Waratahs' radar 5 years ago when his daughter, Chelsea, was playing Mollie Dive. Bill was very enthusiastic and began assisting at training sessions. This continued as Chelsea progress to Margaret Peden with Bill helping out with coaching and also assisting the juniors at Forest Cricket.
When Chelsea was selected for Brewer Shield Bill was asked to come on as fielding coach. In addition to fielding, Bill also helps the players one-on-one with batting skills.
This season he has taken on the role of head coach for Brewer Shield. Coaching in any form requires commitments and sacrifices, and being Brewer Shield coach means Bill can't attend his daughter's 1st grade matches. The role of Brewer Shield coach is a key role in pathways. Ross Denny works closely with Bill and is really impressed not only with his enthusiasm and the commitment of his time, but also with the great job he is doing. 
The Manly Warringah Waratahs are extremely fortunate to Bill and others like him who dedicate their time and talents to grow the game we love on the Northern Beaches. it's because of them that our girls cricket program is growing so strongly. 
Ross Denny presented Bill with his award of a framed certificate and a $250 voucher courtesy of our great friends at Westfield Warringah Mall.
Congratulations and thanks for all your hard work, Bill, and good luck to the Brewer Shield girls this season!