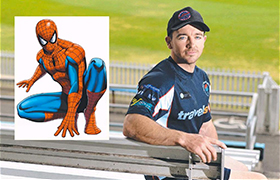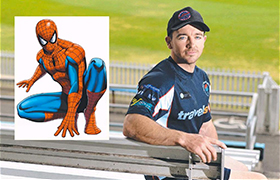 COX FALLS TO ARACHNID'S AGGRESSION
THERE was a web of intrigue surrounding the injury that forced Manly cricketer Justin Cox from the field in last Saturday's first grade match against Eastern Suburbs at Manly Oval.
But it wasn't a strained hamstring or being hit by a ball that made him retire.
Cox has spun the yarn to the Manly Daily about how he was the victim of a mystery spider bite.
"I had a nap on Friday after work and when I woke up I had a massive bite mark on my butt," he said.
The wound got a bit worse that night but Cox, a personal trainer from Dee Why, didn't think any more of it.
Early Saturday morning he went to work at the gym but had to cancel his last two sessions and go to the doctor because the glands in his hip had become swollen.
"The doctor said he was more worried about the infection because obviously spiders don't brush their fangs," Cox said.
He was put on a course of strong antihistamines and antibiotics and still rocked up to play for the Waratahs.
But the medication did not mix well with a sunny day in the field.
"That combination made me feel very drowsy, almost like I was drunk," Cox said.
He had to get a player from fifth grade to field for him after lunch.
"I actually went and had a sleep in the sheds for an hour," he said.
The spider that did the damage remains unidentified despite leaving two fang marks at the scene of the attack.
"Spider-Man" and his girlfriend now have insect trays in every room of their house, including under the bed.
Manly captain Tim Cruickshank said it was gutsy effort for Cox to turn up and try to play last Saturday. "He's a tough bloke," Cruickshank said.
The infection is clearing up and Cox is back to his 5am starts at work – and he is ready to bat with venom in the second day's play this Saturday.
{loadposition cricket}