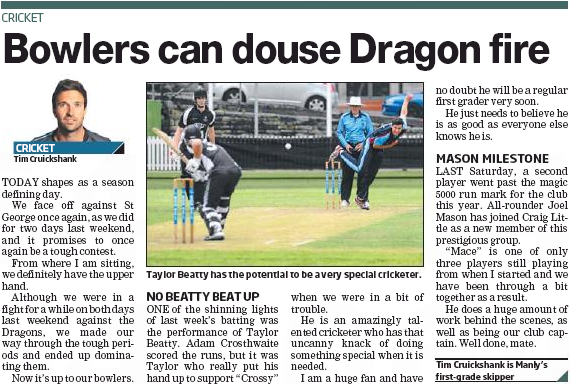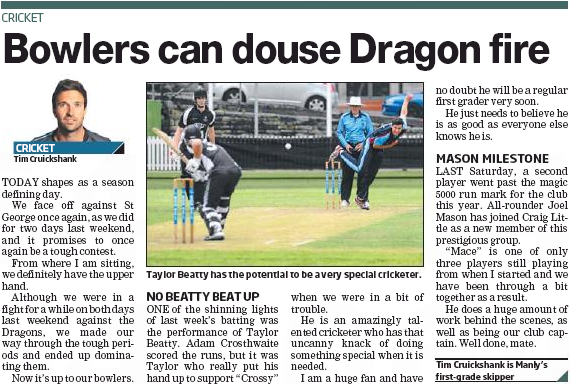 TODAY shapes as a season defining day.
We face off against St George once again, as we did for two days last weekend, and it promises to once again be a tough contest.
From where I am sitting, we definitely have the upper hand.
Although we were in a fight for a while on both days last weekend against the Dragons, we made our way through the tough periods and ended up dominating them.
Now it's up to our bowlers.
NO BEATTY BEAT UP
ONE of the shinning lights of last week's batting was the performance of Taylor Beatty. Adam Crosthwaite scored the runs, but it was Taylor who really put his hand up to support "Crossy" when we were in a bit of trouble.
He is an amazingly talented cricketer who has that uncanny knack of doing something special when it is needed.
I am a huge fan and have no doubt he will be a regular first grader very soon.
He just needs to believe he is as good as everyone else knows he is.
MASON MILESTONE
LAST Saturday, a second player went past the magic 5000 run mark for the club this year. All-rounder Joel Mason has joined Craig Little as a new member of this prestigious group.
"Mace" is one of only three players still playing from when I started and we have been through a bit together as a result.
He does a huge amount of work behind the scenes, as well as being our club captain. Well done, mate.
{loadposition cricket}