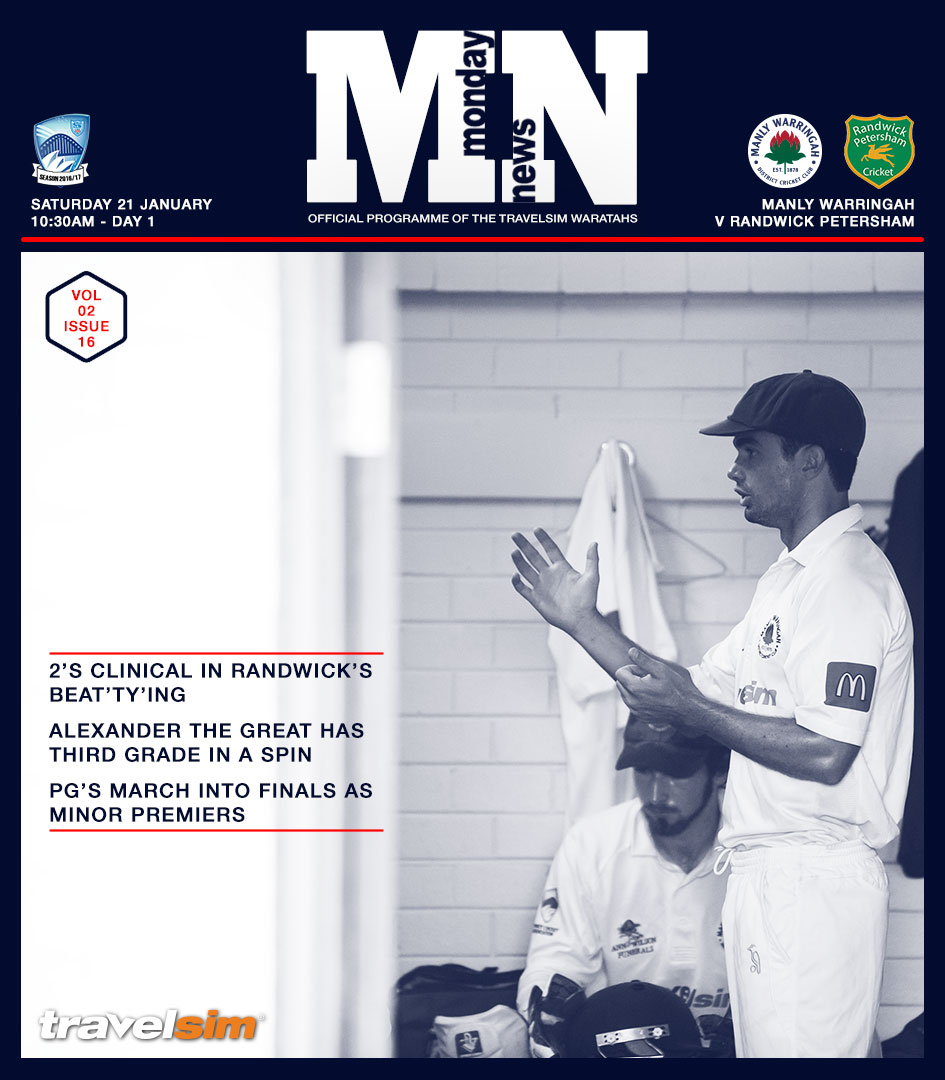 The Manly-Warringah Travelsim Waratah's experienced the full range of results this week after the completion of Day 1 against Randwick-Petersham. 1st grade have an uphill battle, resuming at 7/105 in pursuit of Randy-Pete's 262. 2nd Grade have already secured 1st innings points thanks to a Taylor Beatty 5fa, while 4th Grade are in the reverse position after an uncharacteristic collapse saw them rolled for 57.
3rd Grade is in a strong position at 1/61 chasing Randy-Pete's 205 after Sam Alexander took career-best figures of 6-68. While 5th Grade too looks in safe hands with the experienced Will Outred and Cult Hero Mickey Edwards resuming at 3/73 in pursuit of their 140. Sam Gainsford's Poidevin-Gray side also put together a clinical batting performance to chase down Blacktown's imposing 242, the skipper himself 69* and Jake Carden's 60* guiding the lads to their 6th straight win in the competition.
All up a very mixed weekend for the Tahs, but the challenge is there for 1s and 4s to show Randy-Petes the fight they know we're capable of… Who knows what a bit of individual brilliance may create this weekend… Up the Tahs!
4 Pines Player of the Week – Sam Alexander 6/68

This week's 4 Pines Player of the Week is none other than club favourite Sam Alexander who took his best figures for the Manly-Warringah Travelsim Waratahs in 3rd Grade this weekend.
Now an experienced cricketer at the club with nine previous 5fas (including a 5-50 on debut in 2nd Grade) it's incredible that this is Sam's first 4 Pines Player of the Week award, however anyone fortunate enough to watch his bowling on the weekend would attest that he was a class above. Ably assisted by Sam Webber's excellent glovework, Samos tore through Randwick-Petersham's middle order plundering 6 for 68 in a clinical spell of bowling that was only a hair's breadth away from including a hat-trick, with the tough chance going to ground.

With Randy-Petes cruising at 1/83, Samos entered the attack and gradually began turning the game back into our favour. Despite initially coming under fire from an aggressive Randy-Pete's top order he maintained his composure, ripping the heart out of their batting line-up with an unplayable combination of flight, turn and guile. It's fantastic to see Sam's hard work at training transform into belief as he continues to go from strength to strength this season.

An exceptional competitor with a world of talent, you get the feeling that there's still plenty more to come from Sam Alexander!
1st Grade – Randwick-Petersham 262 (Graham 4-73) plays Manly 7/105 (Beadle 33*)
We rolled into Coogee oval on Saturday coming off a few very good wins with our season back on track. Randwick are consistently a good side with some very talented players and this game will be telling for our season.
We lost the toss and Randwick batted first on what was a beautiful wicket on a great Sydney day. We started well as Randwick were patient early and our quicks worked hard. We made our first break through when spin was introduced and Randwick had a shocker between the wickets almost being run out at the bowlers end only to find a direct hit from Jack Edwards at the keepers end found their captain Kemp short of his ground. 1/43 soon became 2/60 and then 3/74 as Joey Graham bowled tight and built pressure from one end. We went to lunch 3/110 having been pretty happy with our start.
Spin was the key in the second session with Joey continuing to bowl well and the introduction of Ryan Farrell's leg spin who took two key wickets in the middle order. Ahillen Beadle was also introduced taking a wicket and keeping them close. Joey finished off a great session with two late wickets and we went to tea with them 8/230. Randwick best bat Nathan Price still batting on 80 at tea was a danger.
After tea we got a lucky break with a Visser run out off his follow through to take us them to 9/. Price still at the crease and he played beautifully for his 112 not out as Ryan Farrell wrapped up the innings with his 3rd wicket to close Randwick at 262. An excellent effort. Graham 4/73, Farrell 3/35, AB 1/24 plus two run outs.
25 overs to bat in the day to get to Stumps, This is where the story begins. James Crosthwaite's back spasms meant he could not open the batting meaning Farrell along with Rawlings took on the new ball. Farrell first to go with the score on 10, very next ball Adam Crosthwaite bowled put the Manly boys at 2/10. Jay Lenton was positive and counter attacking in his brief stay and when we lost Lenton and Rawlings in quick succession we were in a world of hurt at 4/23.
Jack Edwards and Ahillen Beadle went about the rebuild until Jack Chopped on and was bowled for 19. We decided to bat James at 7 still struggling with his back but his fate was sealed for a duck pushing us deeper into the dark at 6/47. Jake Carden joined AB and batted well for his 24 before getting out just before stumps. Joey 0* along with AB 33* got to the end of the nightmare with a horrible 25 overs which cost us 7/105.
158 runs to get this Saturday with 3 wickets in hand. A tough ask but with some character and belief it can be done. Two Excellent sessions with the ball and a bad 25 overs with the bat has us in this position. Fight Manly Fight!
Adam Crosthwaite
2nd Grade – Manly 0/144 (Weston 88* D'arcy 51* def Randwick-Petersham 139 (Beatty 5/43) & 1/34
The 2nds boys turned up to a picturesque Manly oval looking to carry their recent momentum forward. We lost the toss and were asked to bowl on a slightly tacky deck. Taylor Beatty got us off to a great start nicking the opener off to Cubby (Jack Ritchie) who took a neat catch at second. He then proceeded to tear through the Randwick top order, with an irresistible display of swing bowling finishing with a well deserved 5-43. He was ably supported by Tommy Kaye who bowled a tidy line and length to finish with 3-21. Josh Wigney and Ryan Bishop-Perret both bowled well and were unlucky to go wicketless. After a few false starts in recent weeks Dmarsh (Dylan Marshall) finally reached his 200th wicket and was unlucky to only grab the one, while Gainsy (Sam Gainsford) was his usual aggressive self also chipping in with one. The boys bowled superbly well as a unit and were backed up in the field (for the most part) to have Randwick all out for 139 in 50 overs.
Billy D'arcy and Logan Weston went out to bat with about 8 overs until tea and were looking to set a good platform for the boys, which they did coming in at 0 for 30 at tea. After tea the boys looked to play positively and did so with both playing some nice shots. At the drinks break we were 0-95 and the message came out to knock off the 40 required for a first innings victory so we could have another crack at them. The boys moved forward at a rapid pace and quickly passed the Randwick total none down, a partnership of 144. This was followed by a quick declaration, leaving Logan on 88* and Billy D on 51*.
We had 10 overs left to see if we could give a few of their boys a big Friday night next week. We managed to get one through a nick from Josh Wigney, again neatly caught by Cubby. The boys dominated from start to finish of Day 1 and will be pressing hard for 10 points next Saturday!
Logan Weston

Click on the images below for a larger view
"Taylor Beatty on his way to a 5 wicket haul"
"2nd Grade Coordon amazed it missed the edge"

| | |
| --- | --- |
| | |
| "Tommy Kaye keeping the opposition quiet with his bowling" | "The boys after a superb effort in the field" |
3rd Grade – Randwick-Petersham 205 (Alexander 6-68-21) plays Manly 1/61 (Webber 32*, Daly 12*)
Petersham Park was hard and flat with some patchy grass – pretty good for batting but given our track record this year we decided to have a bowl after winning yet another toss. It wasn't looking too good when they reached 60 without loss but Edgell (1/34 from 10) care of a mishit drive to mid off got us running.
Another partnership threatened before Wilson (2/40 from 14) broke through via a smart catch (finally) in the slips by Daly (2/40 from 14) to make it 2/90. A smart stumping from Webber and some excellent bowling from Alexander (6/68 from 21) saw us claw our way back into it by tea having them 4/114 off 41.
After tea we chipped away with Dan McKenna (1/54 from 13) bowling better than his figures suggested and getting a big wicket with a snick. Some adventurous hitting mixed in with good bowling saw us continue to work our way on top.
A great over from Sam saw two set batsmen out in consecutive deliveries via a well judged high ball to Brad and a brilliant catch by Webber. Hattrick ball, first ball of Sam's next over followed with everyone around the bat. Sam slipped in a faster ball, catching the batsman by surprise causing him to push hard, hitting a touch chance to short leg who couldn't hold on to it. We decided to laugh rather than cry. The rest of the over there was a half chance created just about every ball – it was actually quite funny despite not getting a reward. Sam was in great control of his bowling and with a move in the field he initiated which had me raising my eyebrows saw a catch to the changed position immediately. Wilson knocked them over with another snick and good snare to Webber and 205 was a good result for us. Sam's bowling was again excellent throughout his long spell and like a number of games this year he was the standout bowler.
With 16 overs to face we were up against an energised attack which Sam Webber (31no) and Wolter (12) looked good against before Will got an edge. Daly (12no) looked comfortable through to stumps and it is set up nicely for a good day's play next week
Wazza
4th Grade – Manly 57 (Cohen 23, Gummer 21) def by Randwick-Petersham 5/124
Day one for the manly boys didn't go exactly as planned but after a stronger second session post tea, there's everything to play for going into the second day next week.
Day one started well for the manly boys with the warm up energetic and clinical. The touch football game was dominated by the bottom five once again to continue a strong run a form post Christmas. The only concession to the fine start we had was Max unfortunately losing the toss but we ended up doing what we were hoping to, which was to bat.
The pitch had a good covering of grass, but we knew if we got through the first hour and a half we would be well on our way to putting up a very competitive total.
Nick and Adam opened up and got us off to a great start, grinding away through the first 15 overs and putting away the loose bowling which erred wide or too straight.
We were 42 without loss, then Nick got a ball which drew him a fraction wider and was caught at point. What happened next was simply unbelievable. Following the breakthrough the opening bowlers found their mark, and not only gave us nothing to score off but also finally managed to find the tackier parts of the pitch. What resulted was a collapse to rival the Aussies in Hobart as we lost 9-15 to be bowled out for 57.
For those who weren't there to see it was merely a case of excellent seam bowling from aggressive lines and lengths and our batsman being in enough form (or so the saying goes) to snick absolutely everything that came near us. 7 from our 10 wickets were caught between keeper and 2nd.
Tea followed the close of our innings and we went about resetting our focus and adjusting our game plans. Nicko started up for us and was unplayable in his first spell, the only runs coming from him outside edges, his first wicket firing us up. Glynn bowled well but without luck but 1st change Alex Bain found his rhythm and got one early. 2-37. We were bowling well and creating chances and there was the slightest of inklings and hope that if we got on a roll perhaps we could do the unthinkable and roll through them like they did us, but unfortunately it wasn't the case as they passed us 2 down. Wickets fell to the bowling of Glynn in his second spell, Isaiah and Jacob as the visitors blocked out the rest of the day to finish at 5-124.
Lots to do next week but we certainly have the players to get it done.
Jacob Graham
5th Grade – Randwick-Petersham 140 (Watts 5-36) plays Manly 3/73 (Outred 28*)
Most of 5th grade turned up to a picturesque Kensington oval, with the exception of Mick Counsel, turning up half way through warm up.
On a beautiful wicket, Randwick won the toss and elected to bat. Great opening spells from Counsel and O'Sullivan saw Randwick one down at drinks.
The drinks seemed to bring around an almighty collapse, with a superb spell of bowling from Ben Watts, taking 5fa, quoted saying "this should get me a few more insta followers".
Watts, along with an unlucky Jonah Anderson, brought the Randwick innings to an end, all out for 140.
Proceedings started shakily, with Matt Brewster bowled with a great Yorker, Dom Wheeler nicking one behind, and Jack Pickering run out in very controversial fashion, which we all believe the umpires got wrong.
The ship was steadied by Mickey Edwards coming in at 3/40, helped by the in touch batsman, Will Outred (28*), to see the boys to tea.
Currently standing at 3-70, boys will be very eager to wrap up these 6 points for no more wickets.
Hurricane
Poidevin Gray Shield – Manly 9/242 (Gainsford 69*, Carden 60*) def Blacktown 4/245 (Falconer 3-31)
The boys arrived at Manly Oval looking to go undefeated in the round stage of the competition. Blacktown won the toss and batted, meaning the manly boys were bowling. Some tight bowling and good pressure early meant Blacktown were going at a slow rate. However, once the spinners bowled their 10 overs (Joe Graham and Sam Gainsford) for little runs, Blacktown started to lift the run rate, with their captain making a very good hundred. In the last ten overs Blacktown scored close to 100 runs, due to good batting and poor bowling, with the bowlers not executing their plans. Blacktown ended up on 9/242 with Ben Falconer taking 3 quick ones through some quality death bowling.
Aiden Bariol and Will Wolter opened the batting and looked aggressive early until Baz mis-hit one. Jack Edwards and Will Wolter continued to bat well until mis-hit shots saw them both undone. That brought the skipper (Sam Gainsford) to the crease who played a patient innings to get us into a position to chase the runs. He was joined by Jake Carden who made a run a ball 60, and combined with Gainsy's batting brought the manly boys home, making it 6 from 6 heading into the quarter finals against Hawkesbury.
Josh Wigney

Click on the images below for a larger view
"Gainsy hitting his mark and picking up a wicket for PG's"
"The boys belting out a an undefeated team song heading into Finals cricket"