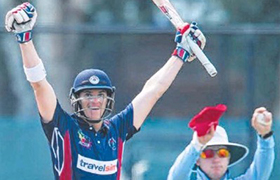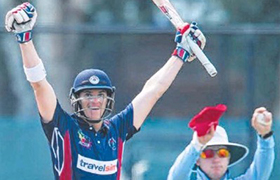 A FOCUS on the mental side of batting each time he is at the crease has Manly's Jay Lenton in the form of his life.

The "prince of the peninsula" was a different level over the weekend, smashing unbeaten centuries against Fairfield-Liverpool (101 not out) at Rosedale Oval and St George at Manly Oval (104 not out).

It followed his swashbuckling hundred in a oneday clash on home soil against Sydney University back on October 3, leaving the 25-year-old sporting a ridiculous average of 121.30.

Lenton showed he is human in Sunday's second T20 game against Mosman, dismissed for a first-ball duck.

Yesterday the umpires administration officer for Cricket NSW deflected his success on to his captain Adam Crosthwaite.

"I knew if I was going to take my game to the next level I need to factor in some of the smaller things,'' Lenton said.

"So I spoke to Crossy in pre-season a few times about how to do that.

"On Saturday (against Fairfield-Liverpool) we batted together for almost a full session, which was great.

"Adam (Crosthwaite) stressed to me there is always an opportunity to 'cash in' at the end of each innings if I am patient early on and put away the bad balls.

"It has been my approach so far this season in all three forms and it is paying off."

After a stuttering start to the season, the Waratahs appear to have found their groove.

In stifling conditions out west on Saturday, Manly batted the entire day, reaching 7/285.

On Sunday Manly defended 164 against St George in a 10am T20 game before passing Mosman's 124 in the afternoon game seven wickets down in a nailbiting double header.

It wasn't a happy return for Whales quick Nic Bills, who was sledged non stop by the crowd on the hill.

The bearded opening bowler did manage one wicket late in the day, but conceded four boundaries in three overs, which had the locals in raptures.
{loadposition cricket}