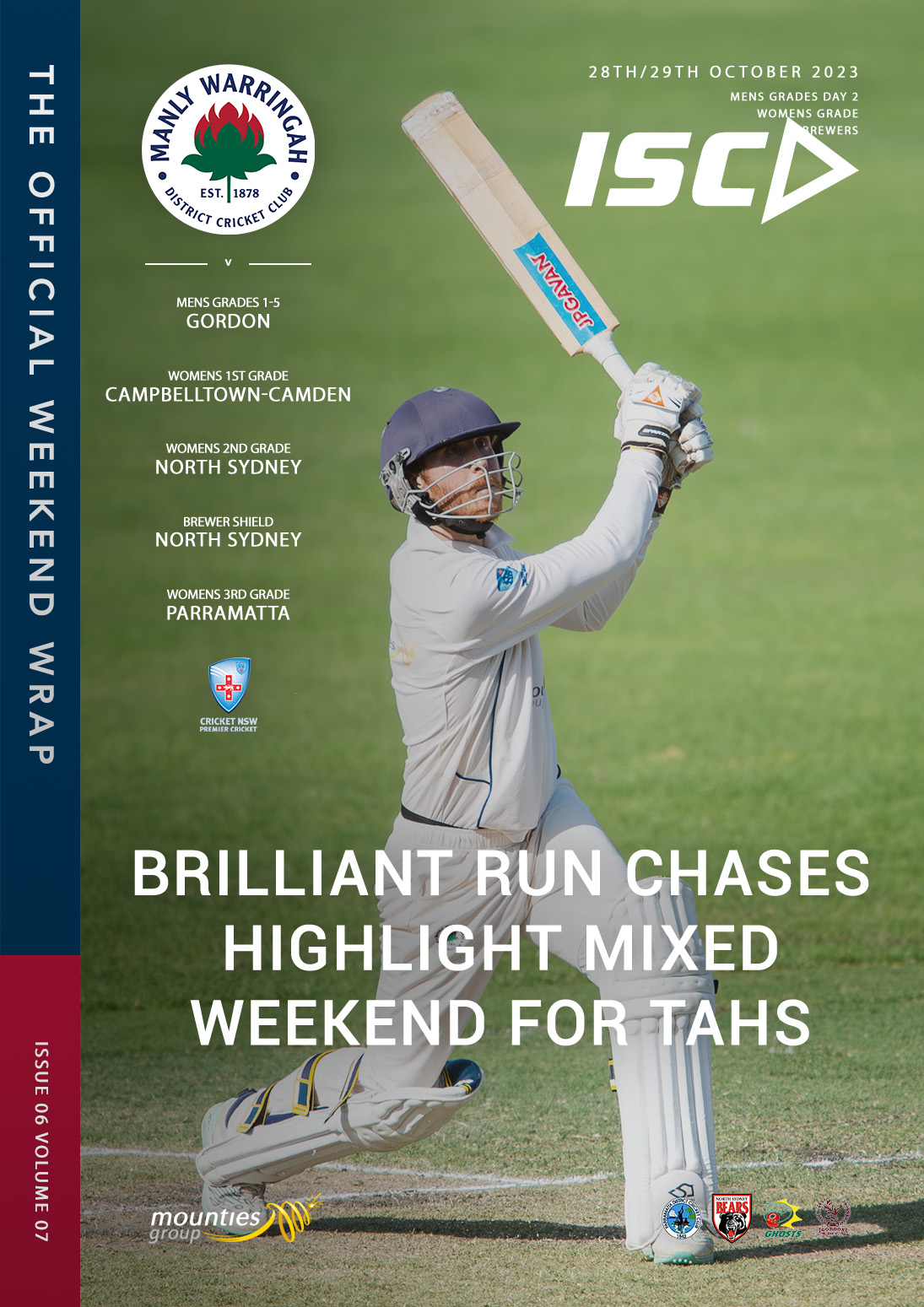 The final weekend of October saw the Tahs Men resume their clash with Gordon on Day 2 of their fixtures, while the Women took on Parramatta, Campbelltown-Camden, and UTS North Sydney across Saturday and Sunday.
M1's declared on their overnight score of 7/398, leaving 96 overs to chase a result at Chatswood. With Jay Lenton and Joel Davies unavailable, Ollie Davies returned to the side to lead the troops, while the great Ryan Hadley made his first appearance of the season as a sub fielder. All bowlers toiled hard all day on the flattest wicket in the world, and at tea a result in favour of either side looked unlikely, with Gordon 3/192 off 63 overs. However, as is the Tahs way, the boys stayed in the fight, 3 wickets apiece to spinners Bertie Foreman and Ahillen Beadle, and 1 to Tom Kaye. Unfortunately, time ran out as the match ended in a draw, Gordon finishing 8/347 off 96 overs.
Manly Oval held host to a phenomenal run chase from M2's on Day 2 of their clash with the Stags. Resuming 1/24 chasing an even 300, an early wicket didn't faze Ben Bryant and nightwatchman Roop Dhillon, as they combined for a composed 126 run partnership to put the pressure on the visitors. When Dhillon was run out for a gritty 39, a quick succession of wickets followed either side of the tea interval, including the loss of Bryant for a classy 92 (out to one of the better catches you'll ever see). Enter Isaiah Vumbaca (56*) and Jordan Daly (70) who put on a match-winning partnership of 116, counter-attacking against the second new ball to lead the Tahs to a memorable victory, as we passed Gordon's total late on Day 2 for the loss of eight wickets.
M3's are on the board for the 2023/24 season after a gutsy win away at Killara Oval. The decision was made to bat on from 8/218 overnight, as we were eventually bowled out for 228, leaving 77 overs to bowl Gordon out. Fraser Noack struck in the first over courtesy of a sharp catch from skipper Sam Hole at second slip, before Lachie Trewartha picked up two wickets in quick succession to have Gordon 3/73. The home side consolidated, and with the game in the balance, it was L.Trewartha who stood tall, finishing with superb figures of 6/58, including a hanger of a caught and bowled for the last wicket, to lead the Tahs to a 78 run win, Gordon all out for 150.
Atmosphere Park (aka. Graham Reserve) welcomed back M4's, Gordon resuming 3/40 in pursuit of 146. An early pole to James Waddington (2/31) had the Tahs on the front foot, before the visitors rebuilt until Adam Parkinson (1/13 off 7) struck a crucial breakthrough courtesy of a sharp catch to w/k Oscar Lucius to keep hopes up, Gordon 5/87. The bowlers fought hard until the very end, Josh Cooper (1/16 off 13) and Preston Lee (0/17 off 10) in particular bowling economical spells to ensure the Tahs stayed in the fight. Ultimately though, our batting and sub-par total on Day 1 left us with a mountain to climb on Day 2, coinciding with M4's first defeat of the season.
The run chase kings were back at it again on Saturday, M5's set a chase of 279 from 80 overs at Beauchamp Oval. Jack Melchiore (140*) and Reiley Dunlop (15) started the day positively, seeing off the new ball and capitalising on run-scoring opportunities. The dismissal of Reiley saw Jack Donnan (48) come to the crease and continue the Tahs' momentum, combining with Melchiore for a patient 108 run partnership which saw us 2/164 at the fall of Donnan's wicket. Nothing was going to stop Melchiore though, as he brought up his second hundred in as many rounds, joined at the crease by the great Ollie Melville. From there, these two knocked off the remaining 116 runs with some sublime batting, Melchiore finishing 140* from 195 balls and Melville 59* off 67, as M5's completed their fourth successful run chase in a row, winning by eight wickets.
W3's returned to Fortress Balgowlah to take on Parramatta on Saturday afternoon, with Renee Hough taking the reins as skipper, winning the toss and electing to bowl. Consistent wickets throughout the bowling innings kept the score in check, with the Tahs' spin trio of Jasmin Wilson (3/40), Sophia Randall (3/36) and Sienna James (2/27) doing the bulk of the work, along with an important wicket to Lily Crabbe. Parramatta all out for 164 in the 36th over. Sienna (42) and Emily Hatfield (28) began the run chase with a solid 67 run partnership, before the momentum shifted significantly as Parramatta tightened the screws. Unfortunately, despite a late flurry of boundaries from Renee (33* off 30), the Tahs finished 9/147, falling 17 runs short.
Sunday saw Brewers make the trip to Bon Andrews to face rivals UTS North Sydney. After skipper Sophie Lowry won the toss and chose to bat first on a picturesque morning, it was Elizabeth Cambridge that was the mainstay for the Tahs, carrying her bat through the innings to finish with 49no off 65 balls. Lizzie was well supported by valuable runs late to Annabelle Croll (15) and Lowry (9) as the Tahs posted 6/89 off 20 overs. Charlotte Allen picked up an early wicket, but UTS consolidated and the game was quickly back in the balance, until Kaya Punter (2/12) and Hannah Moss (2/15) helped shift the momentum. But it was again Lizzie that stole the show, closing out the innings with incredible figures of 5/6 off 4 overs to lead the Tahs to a 28 run victory.
W2's were in action quickly after the conclusion of the Brewers match, Manly asked to field first after losing the toss. Darcey Whiteley started proceedings with an early breakthrough, but UTS fought back strongly to have the Tahs under pressure. It wasn't until Lara Hughes (3/14) and Hannah Moss (2/23) entered the attack that Manly regained ascendancy on the back of some economical bowling late which saw UTS finish with 7/112. The run chase began shakily with a couple of early wickets, before new recruit Gabby Dunnage (25) steadied the ship. Needing 8+ an over for the last 6 or so overs, Brooke Frew (27) kept hopes alive with some powerful boundaries, and despite the best efforts late of Steph Hughes, Nat Guyot, and Renee, the Tahs fell 5 runs short in an agonising defeat.
With a new-look team due to player unavailability, W1s ventured south-west out to Raby Oval. Fielding first after losing the toss, the Tahs were under pressure early as Campbelltown-Camden's openers attacked the bowling fearlessly. Mia Phelps (0/18) bowled well without luck, before skipper Lauren Kua provided the first breakthrough with a run out. The game turned with crucial wickets to Eliza Henry (2/20), Kua (1/22) and Mia Nel (1/6), along with an economical three over spell from Kristie Crawford (0/15), as the home side posted 5/122. An early wicket in the Tahs' run chase didn't stop Katie Letcher (28) and Kua (65*) from building an ultimately match winning partnership of 99, before Henry (12*) closed the game out in the final over, Kua finishing with 65no off 57 balls in a superb captain's knock to lead the team to an 8 wicket win.
The focus now shifts to next weekend's fixtures, the Men beginning their two-day clashes against Hawkesbury, with M1s, M3s, M5s at home, and M2s and M5s away at Bensons Lane. W3s take on reigning premiers St George-Sutherland away in a grand-final rematch, before a Sunday triple header at Manly Oval sees Brewers up against Greater Hunter Coast, W2s facing St-George Sutherland, and W1s versing Penrith.
Up the Tahs.