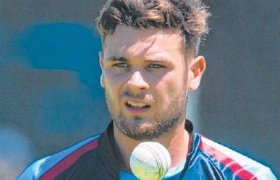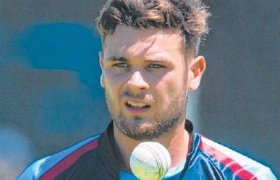 ONE of the great advantages of being an elite cricketer is the chance to see a bit of the world while playing the game you love.
At Manly, we've had plenty of players mix travel and cricket overseas – and plenty have come the other way, mainly from the UK.
The good news is one of our favourite Englishmen – paceman Nathan Buck – has lobbed back at the Village Green after a two-year absence.
"Bucky" last played with us in 2013-14 and made a real impact, collecting 28 wickets at an average of 24.32.
He returned to England and shifted county clubs, moving from Leicestershire to Lancashire, but was restricted due to injury.
He is back at Manly and looking to rip in as he continues his comeback.
"It feels like I have never really left," Buck said.
"I had an amazing time here two seasons back and made some really close, lifelong friends.
"Obviously last season was one of the best in the club's history and I'm really pumped to keep both the club and the first-grade side in the winner's circle.
"It's also going to be great spending a summer in Manly once again."
Welcome back, Bucky.
SEMI-FINAL SUCCESS
THREE of our five DCA junior rep teams have made it through to the semi-finals after impressive quarterfinal victories last weekend.
The all-conquering under-16s beat St George by five wickets, with Jacob O'Sullivan (3-4) and Will Yeaman (3-16) leading the way.
An undefeated 104 from Ollie Davies set up the 15s' tense three-wicket win over Newcastle, while Sam Greenland (57), Tom Phelps (43) and Luke Morley (4-32) were the standouts as the 13s beat Central Coast at Ourimbah.
Unfortunately, the 12s and 14s both bowed out of their respective competitions after stellar seasons.
Tomorrow our three semifinal teams will be in action on the peninsula.
The 13s hosts Canterbury/ Western Suburbs at Griffith Park, the 15s meet Parramatta at Frank Gray Oval and the 16s take on Camden at Mike Pawley Oval.
Meanwhile, our Presidents Cup side started its campaigns last weekend with four wins from five grades.
ROOKIES STEP UP
TWO products of our junior system have been doing us proud in Bowral this week.
Jack Edwards and Aiden Bariol opened the batting for Australia in the inaugural under-16s BradmanMohammed Cup against Pakistan.
The pair have been opening the batting at club, school and representative level for a few years and look to have big futures in the game.
Well done, boys.
{loadposition cricket}