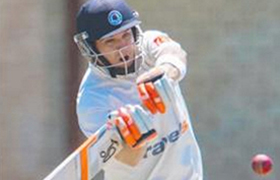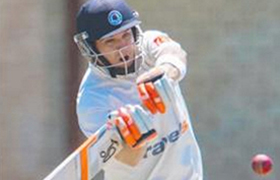 A BRAVE captain's call by Adam Crosthwaite paid dividends as Manly scored a thrilling win over Gordon in the final round of the T20 competition on Sunday, which secured them a quarter-final berth.

The stage was set for a nailbiting climax at Chatswood Oval, where the result came down to the final ball.

Manly got to 9-130 and had Gordon at 8-123 with just two deliveries left.

Then a Gordon batsman hit a six which put his team one run behind with one ball remaining.

A single from the last ball would have meant a tie, with the game going into a super over. Two runs would have meant a heartbreaking defeat for Manly.

Faced with that pressure scenario, Crosthwaite took the big gamble and showed faith in his young teammates.

Rather than putting them on the boundary, the skipper brought them all up with the aim of grabbing the crucial wicket.

It proved the right call. The Gordon batsman was caught by Ahillen Beadle at backward point and Manly claimed an unforgettable victory.

They face reigning T20 champions St George at Manly Oval on Sunday.

"Crosthwaite's batting and leadership and backing our young team was just outstanding," said Manly head coach Shawn Bradstreet.

"It was some of the best captaincy I have seen for many years."

Crosthwaite's bold decision was reminiscent of the call made by the Japanese rugby team in their game against South Africa in the Rugby World Cup when they opted to go for a matchwinning try at the death rather than take a shot at a penalty goal that could have secured a draw.

"It was an amazing way to finish," Bradstreet said.

"We were seriously under the pump the whole game."

After six overs, Manly were 2-23. The corresponding figure, when Gordon were batting, was 2-43.

Earlier, Crosthwaite capped his memorable day by starring with the bat.

He blasted 80, and his partnership with last season's grand final hero Jack Ritchie laid a strong platform for the Manly team.

On Saturday, the Manly first grade side had a narrow loss to Fairfield.

"I feel we are headed in the right direction," Bradstreet said.
{loadposition cricket}