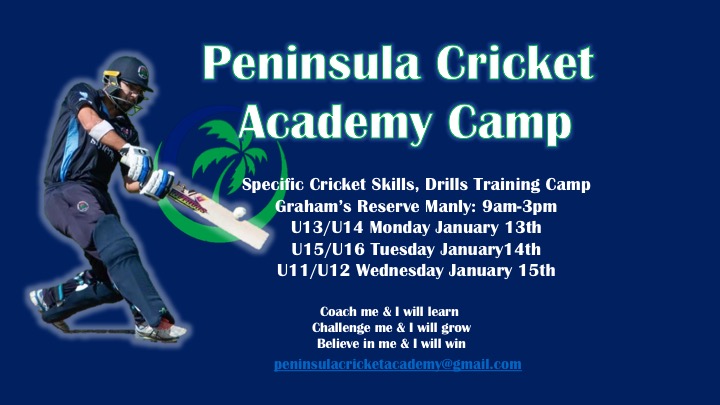 Penisular Cricket Academy, run by Manly Cricket First Grade stars Cameron Merchant and Joel Foster will be holding a series of high performance skills workshops in January, and would like to invite boys and girls who are interested to come along.
The camp will be focused on cricket specifics, aiming to help all aspects of cricket, including the technical and physical aspects of the game, as well as the mental side.
The cost of the camp is $90 per person for the full day, and wil provide players with invaluable lessons on how to improve their game.
The camps aim is to accelerate your knowledge of the game resulting in you becoming a better player, developing more confidence and therefore resulting in having a lot of fun.
The camp is open to both junior boys and junior girls, and will be tailored to specific age groups, taking place between 9am-3pm at Grahams Reserve, on the following dates;
13 January 2020 – U/13 & U/14
14 January 2020 – U/15 & U/16
15 January 2020 – U/11 & U/12
To book your spot at the camp for only $90 per person email peninsulacricketacademy@gmail.com with your details.
See the above flyer for any further details.