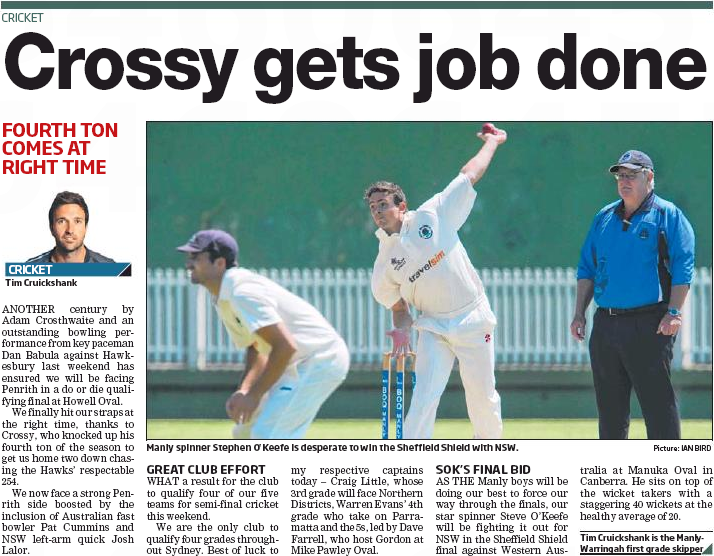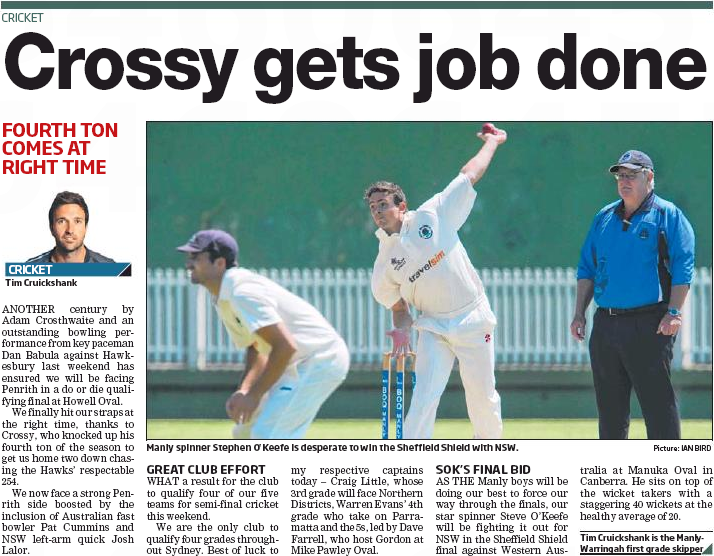 ANOTHER century by Adam Crosthwaite and an outstanding bowling performance from key paceman Dan Babula against Hawkesbury last weekend has ensured we will be facing Penrith in a do or die qualifying final at Howell Oval.
We finally hit our straps at the right time, thanks to Crossy, who knocked up his fourth ton of the season to get us home two down chasing the Hawks' respectable 254.
We now face a strong Penrith side boosted by the inclusion of Australian fast bowler Pat Cummins and NSW left-arm quick Josh Lalor.
GREAT CLUB EFFORT
WHAT a result for the club to qualify four of our five teams for semi-final cricket this weekend.
We are the only club to qualify four grades throughout Sydney. Best of luck to my respective captains today – Craig Little, whose 3rd grade will face Northern Districts, Warren Evans' 4th grade who take on Parramatta and the 5s, led by Dave Farrell, who host Gordon at Mike Pawley Oval.
SOK'S FINAL BID
AS THE Manly boys will be doing our best to force our way through the finals, our star spinner Steve O'Keefe will be fighting it out for NSW in the Sheffield Shield final against Western Australia at Manuka Oval in Canberra. He sits on top of the wicket takers with a staggering 40 wickets at the healthy average of 20.
{loadposition cricket}