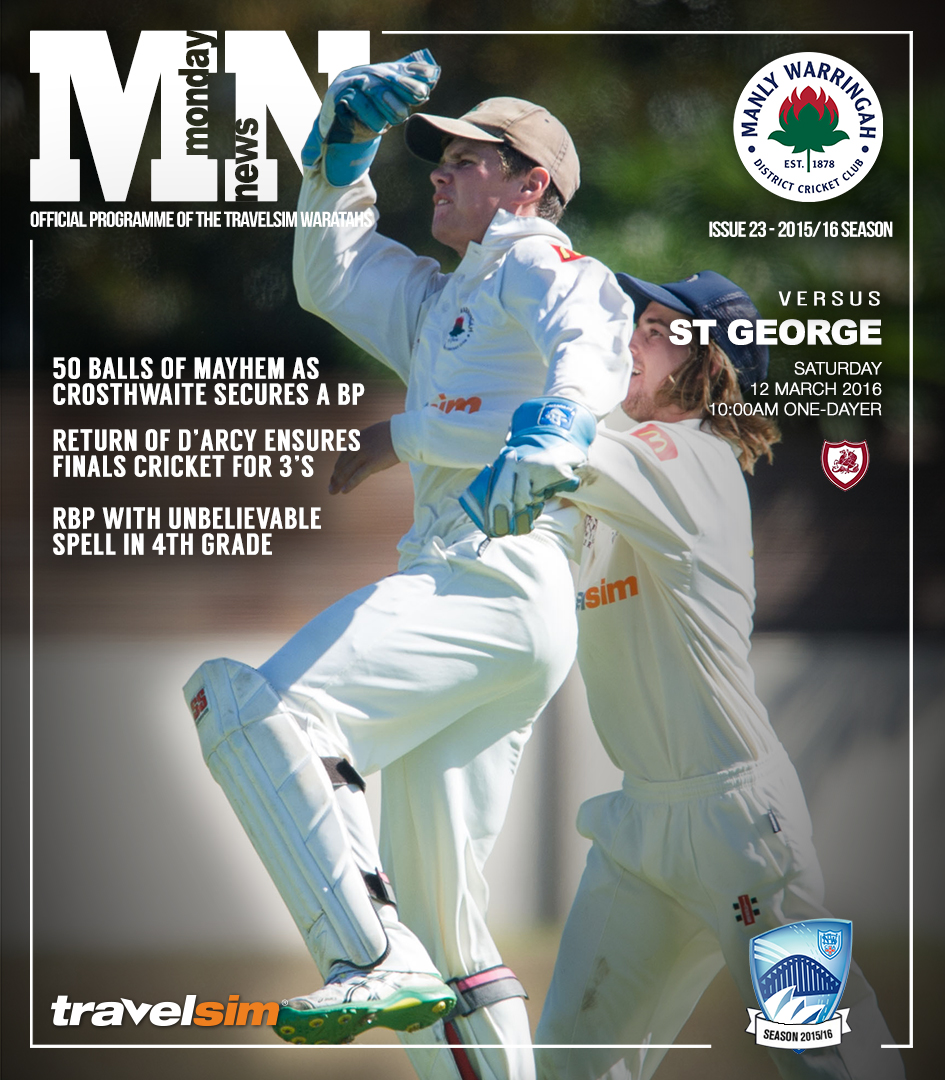 The TravelSim Waratahs have ended the regular season with 3 wins and a few remarkable performances against St. George. 1st grade required a bonus-point victory to have a chance of playing finals cricket, and they delivered just that on the back of an incredible 108 from just 63 balls by James Crosthwaite in pursuit of 220. Unfortunately, a few results didn't go the Waratahs way and Adam Crosthwaite's side tragically miss out on finals cricket by just 1 point. The boys can be very proud of there season and the emergence of a few young players including Ryan Farrell and Jarrod Rawlings. Special mention to Tom Kaye and Sam Gainsford who also made there debuts in the top grade over the weekend, well done guys!
2nd grade concluded there season with another narrow loss. Captain Hamman, in what could be his final game for the club scored 56, however it wasn't to be Manly's day as The Dragons chased 152 for the loss of 8 wickets. 3's qualified for finals on the back of a comprehensive win at Harold Fraser Oval. Runs to most of the top-order setup an imposing 260 which St. George never looked like chasing as they were all out for 209. Warren Evan's side will take on Eastern Suburbs in what is a rematch of last season's final.
4th grade had a narrow loss, with Ryan Bishop-Perrett producing one of the spells of the season in there defence of 103. Ryan ended the day with figures of 6/16, taking the edge of all top-6 batsmen. Unfortunately, St. George chased the runs 9 down in the final over of the day, meaning Max Burgess's side travel to Northern Districts next week to take on the minor premiers. Finally, 5's ended there season with a tight win on th back of 48* and 2 wickets to Isiah Vumbaca.
The TravelSim Waratahs ended the season in 9th place on the Club Championship, not quite last seasons incredible success but a reasonable finish none-the-less. We look forward to next week where our 3rd and 4th grades begin what will hopefully be a strong finals campaign.
Go Manly!
4 Pines Players of the Week – Ryan Bishop-Perrett & James Crosthwaite

This week's 4 Pines Player of the Week has been shared between James Crosthwaite and Ryan Bishop-Perrett, who both achieved outstanding performances in 1st and 4th grade respectively over the weekend.

James Crosthwaite opened the batting in 1st grades chase of 220, knowing that the total had to be chased down in less than 30 overs in order for his side to have any hope of finals cricket. 79 minutes and 63 balls later, 'Crossy' had smashed the ball to absolute all parts of the ground and set the stage for the Waratahs to chase the total down in 25 overs. A truly remarkable innings from a remarkable cricketer who has scored 3 centuries this season and averaged over 55. Well done James!

Our second winner this week is none other than 'RBP' who produced a masterclass in fast-bowling to decimate St. George's top-order in 4th grade. Known as one of the hardest workers at the club, Ryan finally got all the rewards he deserves with a spell that those that witnessed won't forget in a hurry. 'RBP' had figures of 6/9 at one point, dismissing all top 6 batsmen with edges to the wicketkeeper and slips. It's wonderful to see Ryan finding form on the verge of finals, and we hope he can keep this up next weekend in 4's do-or-die quarter-final against Northern Districts.

Congratualtions to both James and Ryan!



1st Grade: St. George 9/216 (M. Alexander 3/28, M. White 2/37) def by. Manly 2/220 (J. Crosthwaite 108, J. Ritchie 62, J. Lenton 30*)
Going into the last round game against 4th placed St George we needed a bonus point and other results to go our way in order to make the semis. We won the toss and bowled to be able to chase whatever they got in under 30 overs for the bonus point.
In a special day for Tommy Kaye, Sam Gainsford and both their families, these boys made their first grade debuts for manly. This was well deserved for both of them and something they should be extremely proud of, well done legends I'm stoked I was able to be on the field with you for it.
The bowling group really stood up and bowled well, nicko and Whitey were unlucky not to pick up a couple in the opening spell. Mattos got the first wicket when they were on 50, we then picked up 2 more quick ones to have them 3-60. Their next pair then put on 65 for the 4th wicket before mattos again got the breakthrough. We then took constant wickets and bowled really tight to restrict st George to 9-216 off their 50. All the quicks bowled outstanding along with cubby who bowled a tight 7 overs for us.
So we needed 217 in 30 overs (7 and a half and over) for a bonus point and a chance at making the semis. This should of been a tough chase, but James, newly appointed team veteran, and cubby, pulled off something really special. They put on 173 off the first 16 overs for the first wicket, Cubby made an unbelievable 62 off 48 balls whilst James Crosthwaite scored one of the most ridiculous hundreds ever seen. The mad dog finished on 108 off 63 balls with 13 fours and 5 sixes, only to be cooked by jay and getting run out. This was one of those special innings that people will talk about for a long time. Jay (30) wacked a few at the end to finish off the chase, reaching the 217 in the 25th over for the loss of 2 wickets. This was one of the great wins and the great chases, a game we will remember for a long time. Unfortunately even with the bonus point it was not enough to into the top 6, with both the other teams getting bonus points as well, leaving us 1 point out of 6th.
It wasn't to be for us this year, we had such a strong side that could have gone all the way if we snuck into the semis. It's been an awsome year fellas enjoy the break and we'll come back better next year. Special mention to juicy who is one of the greats, tireless effort from you all year juice we appreciate everything you do for us.
Go manly
Faz
2nd Grade: Manly 152 (R. Hamman 56) def by. St. George 8/153 (A. Baker 2/23, L. Diserens 2/27, T. Beatty 2/33)
It was round 15 the last game of the season against St George. If they won this they would make it to finals, so we didn't want to give them a chance.
When we turned up the ground was covered in a heavy due. The wicket also looked like it was going to be slow. We still wanted to bat first. Rowan Hamman and Jarved opened up. The aim was to get through the first few overs to take the shine off the ball to make it easier for the rest of the line-up. Jarved was unlucky to snick off on a good ball, which brought Aiden Baker to the crease. The two of them started to create a partnership when Aiden also was caught behind. The problem was no one could bat with Rowan to get us to a decent score. In the middle of all the wickets Rowan knew he had to stand up. He was at his best getting a solid 50 but was unlucky to fall just after. None of the other batsmen looked set at the crease but quick runs from Jake Cardan and Mickey Edwards brought the score to 152.
The bowlers knew what they needed to do to keep the runs down. We also had the advantage of the slow Grahams wicket, which would be hard for the batsmen to score on. The St George batsmen never looked set, losing quick wickets throughout the run chase. Then there number 7 came out, and he and his partner blocked it out for a good 10 overs. All the bowlers balled great line a length throughout the day, but it wasn't enough in the end, with St George chasing it down with 2 overs to spare.
Will Akhurst
Waratah TV
Click on the images below to view the videos
| | |
| --- | --- |
| | |
| "Rowan Hamman struck the ball cleanly for 56 in his last match for 2nd Grade." | "2nd Grade were right in the hunt on Saturday with some great wicket taking deliveries" |

3rd Grade: St. George 209 (J. Graham 3/39, J. Wigney 2/37, D. Marshall 2/53) def. by Manly 4/260 (B. D'Arcy 74, Z. Trewartha 68, J. Daly 55*, J. Edwards 49)
For those that hadn't played at the tucked away Harold Fraser, they were in for a pleasant surprise. A very nice suburban oval that could easily host higher graders with a dressing room refurb. The pitch was made for batting and we won our 4th toss of the year and had a bat.
They opened up with a spinner and first ball he dragged it down to be about 6 inches short of a good length and Bill D'Arcy (74 from 117) could have taken the easy option of tapping it back (and looking at this spinners' figures over the year was what he was probably expecting) but instead Bill leant back and smashed it hard for 4 through mid wicket. He and Jack both looked untroubled in the opening overs and got us off to a solid 4-5 rpo over start. Again Jack was at another level, cruising to 49 from 63 balls with a mix of deft touches and hard hitting. It was a great start with Bill working the ball for plenty of singles and Jack looking to attack. In the 22nd over Jack got an under edge to a half tracker from the med and was scooped up by the keeper. Aiden (3) played an attacking shot trying to keep the momentum going only to be caught at mid on to make it 2/87 in 26.
Daly (55no from 56) then joined Bill and they added 69 in 14 overs. Bill was exhausted with the hard running Daly put him through but the running between wickets was exceptional, hopefully we can still do this in two day cricket. Bill opened up his shoulders and looked to smash everything towards the end of his innings and was batting well, middling most of them however a wide full toss down the leg side saw him over balance and stumped to make it 3/147 in the 40th. Good batting from here will give us a competitive low 200 total. Here's hoping.
Zac (68 from 48 with 5 towering sixes) enjoyed himself. He was very hard to contain, even on the large oval. All of his sixes were hit long and most talked about was the one that went deep into a neighbouring property. The one that stuck out for me was the low hard carve over the covers that went for 6. Again, I hope we can do this in finals cricket as well.
The running between wickets went to another level, Daly having the hands of a surgeon with his placement and the legs of a marathon runner with his running. It was great to watch these young blokes pick of so many extras. They added 105 in 9 overs. Arsh then faced 0 balls but ran well to add a further 13 with Daly. Daly showing his smarts when the last balll was delivered wide of off stump. Instead of having a go he let it go for a wide. The bowler tightened his line only to see the last ball sail well over mid wicket for a towering 6 to finish things off.
Saints started well against Wiggers (2/37) and Falcs (1/38). Both bowled better lines than previously and Wiggers was all over the left hander. The other bloke started to find the middle and looked dangerous. With the run rate building they attempted a bad run and was easily run out to make it 1/67. Evans (0/19) was dispatched and Graham (3/39) came on and had an immediate impact picking up a smart C&B to get rid of the dangerous opener. Jack (1/22) also bowled well. The number 3 hit out well and had Marshall (2/53) a bit nervous early on but when he carved one to mid on for Evans to take it from Joe we were well on our way. Jack then took a smart outfield catch from Marshall and when Dylan trapped the #5 in front we weren't really threatened after that. Their old bloke (Hayes) batted well and looked like he could have scored a million in a two day game but no one had a serious go at the 7 to 8 rpo required and we cruised home to win by 50. Both spinners doing the job well.
Well done on getting in. Interesting to note the luck NDS had over the weekend. In 3rds they missed out by one ball to get the bonus point which would have put them in 5th rather than 7th. Their 1st grade side missed out by .001 as well. They had a bonus point win against CC but they had a run out the last ball of their innings which cost them a finals spot.
WE
4th Grade: Manly 103 (W. Outred 32, A. Gummer 26) def. by St. George 9/104 (R. Bishop-Perrett 6/16, L. Edgell 2/15)
After a quality warm up and team talk max wasn't able to win the toss and we were sent in to bat on what looked to be a fairly even track.
Our batting never got up and running and with all batsmen bar Gummer and Outred, not being able to reach double figures and our scored shuddered to a halt in the 44th over for 103. Plenty of lessons to be learned there but definitely commendations must be made to Will and Adam who both took the game by the scruff of the neck and did all they could to wrestle something to our side of the ledger.
We knew we needed to do something special in order to be competitive and that we did. Enter Ryan Bishop-Perrett with arguably the best spell of fast bowling any of us have seen. His 10 overs spell with the new rock read 6-15. His ability to hit an almost unplayable line and length left all his victims edging behind. Catches to Graham, Boyer, Outred (x2) and Hole (x2) in the grippers all sent the batsmen packing.
Dan at the other end wasn't as lucky and didn't pick up a wicket till his second spell. Luke Edgell was on fire with the ball and made the batsman play and miss at almost everything. His constant pressure got him 2 deserved wickets, both of these as well caught behind. Graham bowled an economical 10 overs but without luck and Morris wasn't able to hit his length and went wicket-less as well.
As mentioned Dan came back on and picked up a wicket courtesy of an amazing diving catch in front of Graham at 1st slip.
From there it was a tough grind which we weren't quite up to take.. Plenty of shouts late in the day but fell on deaf ears and St George were able to scrape home 9 down in the last over of the day.
We made a game of it with the ball but we needed plenty of more runs on the board to start with.
Congratulations to Ryan who made his first Grade 5fa that spell was a sight and a half to behold!
Onwards and upwards for the tahs who look to knock off the table toppers NDs next week in the quarters.
Jacob
Click on the images below for a larger view
"Daniel McKenna picking up 1/28 down at Mike Pawley Oval"
"Will Outred with some very safe hands in the cordon"
"Luke Edgell terrorising the Saints batting lineup"
"Ryan Bishop-Perrett celebrating one of his 6 wickets for the match"
"James Boyer after a stunning one-handed take"
"Manly boys asking the question after some quality fielding"

5th Grade: St. George 7/190 (A. Bain 3/32, I. Vumbaca 2/31, J. Anderson 2/36) def by. Manly 8/195 (I. Vumbaca 48*, T. Poole 32, J. Anderson 28)
At Cahill park, Waddo won the toss and elected to bat first on a belter of a track. A wicket fell early in the day, however the 2nd wicket partnership between Toby (32) and Jonah (28) set us off to a convincing start. Runs were coming at ease until a miscommunication occurred between the two. Toby was unfortunate to be run out. Jonah not long after was dismissed. More wickets kept falling around the middle order. Izzy, however weathered the storm and formed a match winning innings of 48 not out to set a defendable total of 194.
On a flat pitch we knew that wickets would be hard to come by. Our bowlers did a great job. Dot balls were key for us as the pressure and run rate mounted for the opposition. In the end, 13 runs were required off the last over. Ned performed under pressure and bowled tightly to safely get the win. Credit must go to all the bowlers for their efforts to defend our total.
Will Wolter
Hardboard Diggers Team of the Round
The final Harbord Diggers Team of the Round for 2015/16 see's a power packed batting lineup with some a crafty bowling lineup. James Crosthwaite and Billy D'Arcy are opening up with Jack Ritchie coming in at first drop. All 3 were in sublime form on Saturday. A plethora of top order bats make up the middle order with Daly, skipper Hamman and young gun all-rounder Edwards, while Zach Trewartha finishes off the innings nicely at number 7. Jimmy Boyer is behind the pegs after his consistent as usual performance. Taking the new ball are Bishop-Perrett and Alexander after strong returns, with Vumbaca providing the spinning option. Edwards and Ritchie complete the bowling lineup #bleedblue