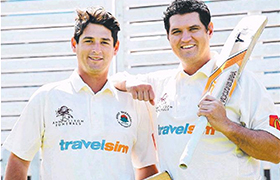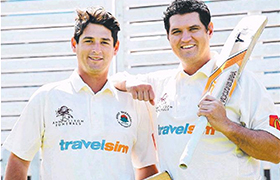 A THRILLING 91 from James Crosthwaite saw the Waratahs secure a vital first-innings victory on Saturday at Manly Oval.
With the majority of other games across the competition labouring to draws after rain washed out most of day one, the home side knew six points was imperative on day two. Play finally began around 2.30pm and Crosthwaite got stuck in to the task at hand immediately.
His innings featured seven boundaries and half a dozen sixes before he was caught at first slip.
"It was a shame James didn't go on and score a hundred,'' his brother and capManly's tain Adam Crosthwaite told the Manly Daily.
"He certainly deserved one, he was in the mood. "Time was always going to be the enemy, so his contribution with the bat was invaluable for us.
"AB (Ahillen Beadle, 53 not out) also batted well, you are never short of entertainment when those two boys are at the crease.
"After our slow start to the season (three losses) it was vital we got something out of the game, so as a result, confidence is high."
bowlers were also on song, capturing two Magpies wickets, but in the end an outright result was never really on the cards given all the rain delays.
Next up for Manly is Northern District, who are tipped to play ex-Australian wicketkeeper Brad Haddin.
"It will be great if he plays, I know Hadds is keen for a game,'' Crosthwaite said.
"Our bowlers will be keen for a shot at him, Brad is always a decent scalp."
Manly's Poidevin-Gray (under-21) Shield XI were all smiles following Sunday's thumping win at Waverley Oval. The Tim Cruickshank coached squad rolled Eastern Suburbs by nine wickets, with Ryan Farrell the standout.
{loadposition cricket}