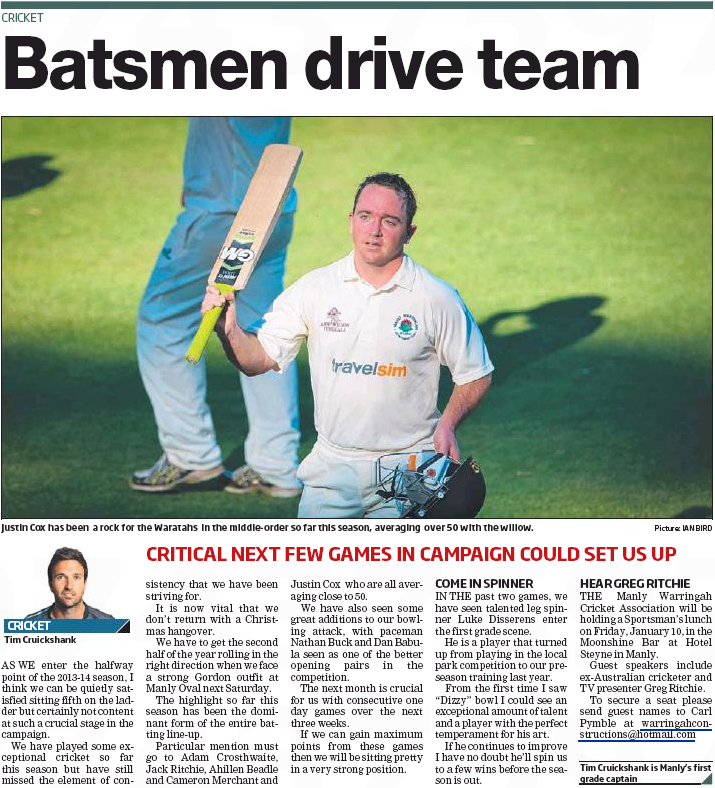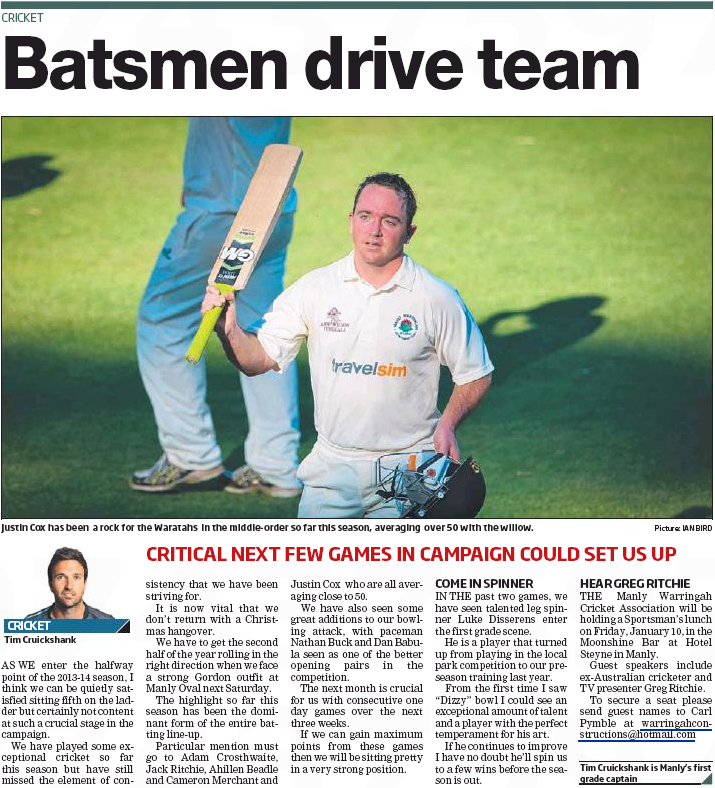 AS WE enter the halfway point of the 2013-14 season, I think we can be quietly satisfied sitting fifth on the ladder but certainly not content at such a crucial stage in the campaign.
We have played some exceptional cricket so far this season but have still missed the element of consistency that we have been striving for.
It is now vital that we don't return with a Christmas hangover.
We have to get the second half of the year rolling in the right direction when we face a strong Gordon outfit at Manly Oval next Saturday.
The highlight so far this season has been the dominant form of the entire batting line-up.
Particular mention must go to Adam Crosthwaite, Jack Ritchie, Ahillen Beadle and Cameron Merchant and Justin Cox who are all averaging close to 50.
We have also seen some great additions to our bowling attack, with paceman Nathan Buck and Dan Babula seen as one of the better opening pairs in the competition.
The next month is crucial for us with consecutive one day games over the next three weeks.
If we can gain maximum points from these games then we will be sitting pretty in a very strong position.
COME IN SPINNER
IN THE past two games, we have seen talented leg spinner Luke Disserens enter the first grade scene.
He is a player that turned up from playing in the local park competition to our preseason training last year.
From the first time I saw "Dizzy" bowl I could see an exceptional amount of talent and a player with the perfect temperament for his art.
If he continues to improve I have no doubt he'll spin us to a few wins before the season is out.
HEAR GREG RITCHIE
THE Manly Warringah Cricket Association will be holding a Sportsman's lunch on Friday, January 10, in the Moonshine Bar at Hotel Steyne in Manly.
Guest speakers include ex-Australian cricketer and TV presenter Greg Ritchie.
{loadposition cricket}