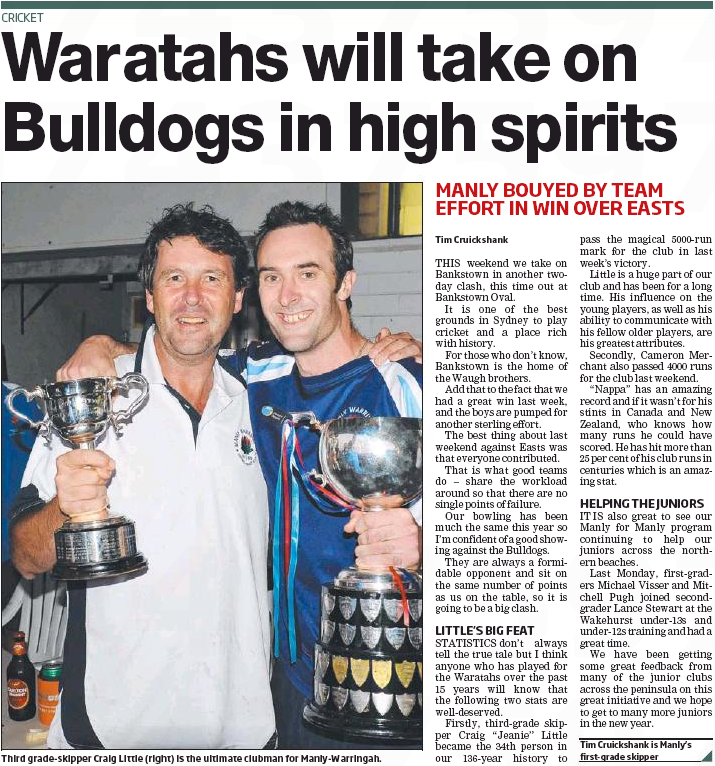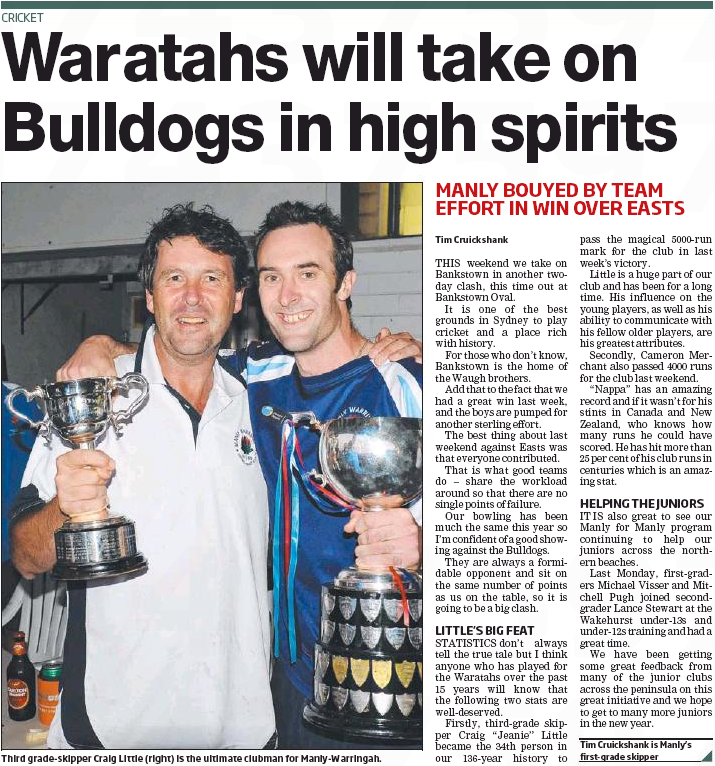 THIS weekend we take on Bankstown in another twoday clash, this time out at Bankstown Oval.
It is one of the best grounds in Sydney to play cricket and a place rich with history.
For those who don't know, Bankstown is the home of the Waugh brothers.
Add that to the fact that we had a great win last week, and the boys are pumped for another sterling effort.
The best thing about last weekend against Easts was that everyone contributed.
That is what good teams do – share the workload around so that there are no single points of failure.
Our bowling has been much the same this year so I'm confident of a good showing against the Bulldogs.
They are always a formidable opponent and sit on the same number of points as us on the table, so it is going to be a big clash.
LITTLE'S BIG FEAT
STATISTICS don't always tell the true tale but I think anyone who has played for the Waratahs over the past 15 years will know that the following two stats are well-deserved.
Firstly, third-grade skipper Craig "Jeanie" Little became the 34th person in our 136-year history to pass the magical 5000-run mark for the club in last week's victory.
Little is a huge part of our club and has been for a long time. His influence on the young players, as well as his ability to communicate with his fellow older players, are his greatest attributes.
Secondly, Cameron Merchant also passed 4000 runs for the club last weekend.
"Nappa" has an amazing record and if it wasn't for his stints in Canada and New Zealand, who knows how many runs he could have scored. He has hit more than 25 per cent of his club runs in centuries which is an amazing stat.
HELPING THE JUNIORS
IT IS also great to see our Manly for Manly program continuing to help our juniors across the northern beaches.
Last Monday, first-graders Michael Visser and Mitchell Pugh joined secondgrader Lance Stewart at the Wakehurst under-13s and under-12s training and had a great time.
We have been getting some great feedback from many of the junior clubs across the peninsula on this great initiative and we hope to get to many more juniors in the new year.
{loadposition cricket}