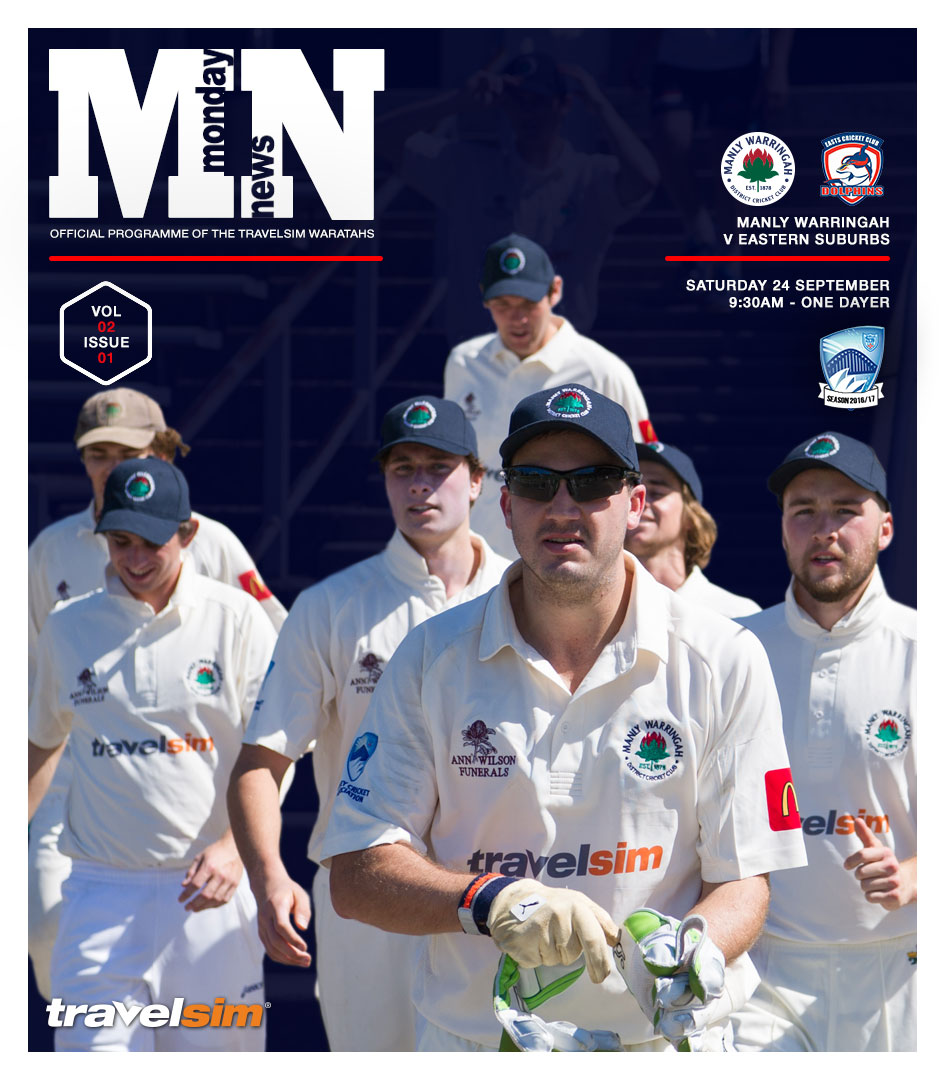 The Travelsim Waratahs have kicked off their 2016/17 campaign with an impressive 3/5 weekend Vs the strong Eastern Suburbs club. 1st Grade won convincingly against a line-up which included current Test wicket-keeper, Peter Nevill and also NSW Captain Nic Maddinson. Steve O'Keefe enjoyed his return to Manly with a great all-round performance. Club Skipper Matty White made the most the last minute call up to the top grade, taking key top order wickets to help set-up their victory. 2nd Grade had a tough day out at Waverly with the home side winning pretty convincingly in the 42nd over. 3rd Grade had an impressive win over Eastern Suburbs with Daly, Baker and Marshall all having stellar matches. 4th Grade unfortunately went down in a low scoring affair at Snape Park, with the boys unable to chase down 139. 5th Grade had a great game of beach cricket at the shocking Manly Oval, with Brad Wilson enjoying his home-coming with a match winning spell of 5/27. Overall a good start to the 2016/17 season with hopefully some more wins coming next week Vs. Bankstown.
4 Pines Player of the Week – Brad Wilson
This week's 4pines Brewery Player of the Week goes to club favourite and boatshed regular Brad Wilson. Brad enjoyed his return to grade (premier) cricket after a long stint overseas, proving that "it's not that tough out there", taking a match winning 5/27.
Starting the season in 5th Grade and will more than likely be making his way up the Grades with performances like these.
Well Done Bradley!
1st Grade – Manly 4-149 (A. Crosthwaite 60, S. O'Keefe 39*, J. Crosthwaite 38) vs. Easts 148 (A. Beadle 3/27, M. White 3/32, S. O'Keefe 2/17)
Plan, discipline, action… Description of Manly First grades victory against a quality Eastern Suburbs at the glamorous Graham's Reserve on Saturday.
With an amazing calibre of players of first class and test players on show, possibly the 4 best keepers In the State let alone the country, over 200 first class games and more than 20 test matches shared.. Graham's reserve and its new facilities were treated to something special for the day.
Losing the toss and requested to bowl first, Manly boys were all ready and excited to express their ores season hard work, well talked about plans to get this summer off to a good start
Action was taken, great energy and superb discipline was shown by all the boys in the field and with the ball to bowl Easts out for 148 in the 47th over.
Led by Matty White with 3/32. AB 3/27 and Sok very controlled and skilful with 2/20, the first half was as good as I can remember from any team Iv played with in the field..
Chasing the total was always going to be a task and we didn't get complacent and knew what was to happen to chase it down..
Losing AB early only brought the 2 quality brother Crosthwaite's together to get us off to a great start and James as he does certainly knows that way!
Putting Easts on the back foot with an entertaining and quick fire 38 and putting a 50+ partnership with Adam before departing.
Adam and Sok coming together were steadying the ship with a 78 run partnership and guiding the boys to a comfortable position.
Adam a quality captains knock of 60 leading the way before Sok finishing the total, showing his class in getting to the total and finishing the game with an unbeaten 39.
Every player playing their part and having an impact.. Quality team performance and much appreciation shown for the day and the players and performances shown..
First win for Manly!
Plan, discipline, action.. Result!
Cameron Merchant
Click on the images below for a larger view
"Grahams Reserve playing host to 1st Grade for Rd1"

"Aussie Test player Steve O'Keefe was on song for the Manly Boys"
"1st Grade Manager Michael "Juicy" Shepherd running the drinks"
"That's got to have been a close one from the cordon's reaction"

Waratah TV
Click on the images below to view the videos
| | |
| --- | --- |
| | |
| "Cameron Merchant was on fire in the slip cordon for 1st Grade on Saturday." | "Adam Crosthwaite showed his class scoring a valuable half century in Rd1." |
"Full Match Highlights of the 1st Grade Match on the Weekend"
2nd Grade – Manly 191 (J. Edwards 54, J. Rawlings 43) Vs. Easts 3/193
2nd Grade began their season at the picturesque Waverly Oval. New captain Jack Ritchie won his first toss for the season and elected to bat. The Tah's got off to a fantastic start with the opening pair of Jack Edwards (54) and Jarrod Rawlings (43) getting the boys off to a tremendous start. After losing Jack Edwards for a well compiled 54, Jarrod continued to steady the innings for the Waratahs', with Jack Ritchie falling soon after Jack. Tom Kaye joined Rawlings at the crease as the two looked to rebuild the Waratahs' innings. After a steady 40 run partnership, Kaye threw his wicket away getting caught in the deep. This sparked a middle order collapse with Rawlings, Weston, Webber and Gainsford falling in relatively quick succession. With the score at 7-176 the Tah's looked like they were going to fall well short of a believed 230 par total on a batting friendly wicket. Despite great efforts from lower order batsmen Andrew Jamieson and Mickey Edwards, the Tah's still posted a mediocre total of 191 off 49.2. Not batting the 50 was a disappointing result, especially after the terrific start we got off to.
We knew we had our work cut out for us the minute we walked out on to field. Despite only having 191 on the board the boys still believed we had enough to take home the 6 points. Opening bowlers Mickey Edwards (0-24) and Andrew Jamieson (1-46) both bowled fantastic first spells to have the Manly boys on top of Easts with the score at 2/38 off 15 overs. Due to some high quality batting from the Dolphins, the game was left in the balance at the fall of the next wicket at 3/120 off roughly 30 overs. Easts batsmen A. Ezekiel took the game away from the Waratahs' with an impressive 100 as they chased down our 191 in the 42nd over. A good lesson for all batsmen on how to construct a one day innings.
Unfortunately, despite our great bowling effort we weren't able to achieve the desired result as Easts were just too good on the day. The boys remained positive and enjoyed a chat after the game about the areas to improve for next weeks' matchup Vs. Bankstown.
Big thankyou's to Dave Gardiner and Gordon Curry for their efforts scoring and during the warm-ups.
Tom Kaye
3rd Grade – Manly 8/260 (J. Daly 77, A. Baker 73, Z. Trewartha 27) Vs. Easts 8/243 (D. Marshall 4/45, W. Evans 2/41)
The MPO pitch looked like a beauty for this time of season. The outfield a little sluggish but that's always the case down here. Winning then toss we chose to bat and Bariol (7) looked in confident form before a good snare at 2nd slip brought Baker (73) to the crease to join D'Arcy (22). These guys gained control before Bill edged to 1st slip to make it 2/55 in the 16th.
A great 130 run partnership between Daly (77) and Baker followed. Highlighted by good running between the wickets (except for an early confusion where we were lucky the keeper attempted a back hand flick from 20 yards away instead of a slow lob as both batsmen stranded) these two took control and really built momentum nicely. Runs were worked both sides of the wicket and something resembling 250+ was taking shape. A couple of quick wickets to the left wrist spinner got rid of both set batsmen unfortunately to make it 4 /190 in the 40th.
The Trewartha twins then looked to get us home but the older looking one (5) was trapped by the offie and then Ash (20) and Zac (27) both put on great cameos, highlighted by great running and some beautiful Verdi cover drives. They took the score to 243 before Zac was cleaned up and then Ash snicked off. Dylan (2) swung across the line after a nasty beam ball seemed to rattle him a bit. Bishop-Perrett (9no) played the shot of the day, a flick off his hips first ball that raced to the boundary and Evans (5no) picked up a few singles at the death to ensure a strong total of 260.
RBP (0/39 from 8) and Wigney (0/20 from 4) opened up and bowled well. RBP unlucky not to get a very early one via a standard snick into the cordon that was uncharacteristically put down. He bowled with good pace and energy as did Wiggers who went for a few as the lucky opener decided to open up to the pitched up bowling and hit well down the field.
Evans (2/41 from 9) slowed things down a bit and then the "squeeze" was applied via great spells from Baker (1/29 from 10) and Marshall (4/45 from 10). This bowling partnership was critical to our win as the pitch was a belter and we just needed to mix it up a bit as the quicker bowlers were starting to come on nicely. Baker did that very well and was rewarded with a good low C&B. Marshall was the one that broke their backs, getting rid of the dangerous opener with great flight to snare a C&B and then watched and picked up the middle order with a mix of reckless batting against tight bowling.
Ash (1/65 from 9) picked up a leg side stumping first ball, very smart work from Bariol and then was maybe guilty of trying a bit too much during his spell. Aware that we needed to change things up a bit on this type of deck Ash certainly provided a mixed bag but it was great to see this bloke back to bowling and he'll be very useful this season with his offerings. RBP also came back after Marshall's spell and went for a few. Easts 7 & 8 then started to play well and pick us off quite easily putting on close to a hundred. Seemingly the game was in hand from a long way out but the 8rpo required from about over 30 onwards didn't really change much and about 10rpo was needed over the last 6. Evans bowled a reassuring spell to pick up both scorers and from there it was a little easier and we got home 17 run winners on the back of a great 30 over performance and a fairly slack 20 over performance in the field. All good, just knocked off the grand finalists from the past two seasons but a couple of things to tidy up.
Waren Evans
Click on the images below for a larger view
"Skipper Warren Evans storming through the crease"
"It was a double dose of Trewartha on the weekend for 3rd Grade"
"Dylan Marshall getting the fist pumps going as he grabs another pole"
"A picture of concentration, Aiden Baker at the top of his mark"
4th Grade – Manly 118 (W. Wolter 54) Vs. Easts 139 (J. Crombie 3/24, J. Graham 2/12, D. McKenna 2/27)
Manly 4th grade turned up to Snape Park full of enthusiasm for the new season and the challenge ahead against an experienced Easts line-up. With an incredibly strong team, the boys were hoping to get off to a good start to the season. Despite losing the toss, we got what we wanted by bowling first on a good cricket wicket which we knew would flatten as the day progressed. Falcs and D-Mac opened and bowled some good lines with 1 or 2 early chances being dropped. D-Mac got one of the openers with a nice edge to Max in 2nd slip. From there, a steady flow of wickets came at regular intervals, thanks to the tight bowling of Jimmy C, Jacob and Sammoes. At the 30 over mark they were about 4-70. From there Maxy chopped and changed the bowlers around, along with a small spell from Izzy as well, with the intention to stop the batsmen from getting use to the pace of the bowlers. The plan worked with easts getting bowled out for 139 in the last over. A solid effort from the bowling group with D-Mac and Jacob finishing with 2 and Jimmy grabbing 3.
The run chase got off to a good start with Gummer and Wolter at the crease. Both were able to negotiate the openers and were looking solid at the crease until Gumms was caught in front. Jimmy Boyer looked in good touch before the umpire fired him. Toby then skied one off a spinner for not many. Jimmy C joined Walter at the crease and steadied the ship but our run rate was slowing down due to not being able to turn the strike over against their annoying and slow dibbly dobbler and spin bowlers. Looking at the scoreboard at the final drinks break, we needed 70 off the last 20 overs which we could not capitalise on with the wickets we had left in the shed. Wolter departed not too long after bringing up a well compiled 50 trying to increase the run rate, as others came and went by maybe trying to slog too early in their innings instead of turning the strike over. In the end, we lost a clump of wickets going down swinging, bowled out for 118 in the 48th over.
A disappointing start for the Tah's but plenty of positives to take out of the day.
Go Manly
Ben Falconer (Falcs)
5th Grade – Manly 8/210 (N. Cohen 46, W. Akhurst 42, D. Wheeler 31) Vs. Easts 138 (B. Wilson 5/27, G. Archer 2/31)
It was the first game of the season. After the months of pre-season everyone was ready and in full fitness. The one day match was played at Manly oval against Eastern Suburbs Cricket club.
After losing the toss and getting sent in to bat the two new openers Will Outed and debutant Nick Cohen got us off to a strong start. Both were able to see off the new ball before Outed was unfortunately bowled after a well-played 19. This brought Ned Hole to the crease, he was looking good until he missed a ball which held up in the wicket causing him to be stumped. During the fall of these wickets Dom Wheeler and Cohen came together to build a strong partnership at the top of the order that ultimately set up the innings.
Wheeler raced to 31 before being caught and bowled. Cohen looked as if he wasn't going to get out, giving out no chances to the fielding side before miss judging one and was given out LBW. He was unlucky not to go on and bring up his half century after being dismissed for 46. The top order had set up the base, and it was now up to the middle order to try and create some partnerships to put us in a good position. Simon Waddington and Will Akhurst kept the run rate ticking over. Manly was on 3/140 at the time with only 15 overs remaining and both decided to pick up the tempo, this brought about the fall of Waddington who was looking for the boundary but missed timed it to deep long on off the spinner. At this stage it was up to the two batsmen at the crease to stay there till the end as it would be harder for the lower order to score of the slow wicket. Jonah Anderson and Akhurst put together a strong partnership before Anderson fell for 21 and soon after Akhurst on 42. The tail added some well needed runs to leave Manly at 7/210.
Once the batters had done their job it was now up to the bowlers to finish off the game. Glyn Archer and Michael Counsell took the new ball with Archer yoking the opener bowling him middle stump. The batting side started to get on top. This was short lived when Archer took his second, finding the edge of the number 3 batsman. A good catch from Waddington and some good fielding Manly were able to take control of the game. Then Brad Wilson came on and bowled stump to stump to clean up the tail, he even claimed two consecutive wickets and unlucky not to get the hatrick. Wilson finished up with 5/27 as we ended up rolling them for 138 with 10 overs remaining.
Its was a good win for fifth Grade giving them the perfect start to the season and providing them with the moment they will need for next game against Bankstown. Also a big thanks to Don Sellen for scoring and Todd Harper for helping out with Drinks.
Will Akhurst
Click on the images below for a larger view
"Debutant Glynn Archer zoning in for 5th Grade"
"Will Akhurst soaking up the crease at Manly Oval"
"The 5th Grade boys heading out to field at Manly"
Hardboard Diggers Team of the Round
Our first Harbord Diggers Team of the Week presents plenty of good performances that thoroughly deserve their place. No huge scores but some match winning innings from Crosthwaite, Baker, Daly and Akhurst get them into the top 6 with Edwards and Wolter opening up. Special mention to Cohen who's innings in 5s set the game up at the top of the order. The 3 of the 4 bowlers pick themselves with Wilson, Marshall and White all making significant contributions. Final position in the bowling group went to all-rounder Jimmy Crombie who bowled a tight spell in 4th grade. Congrats to all members. #bleedblue