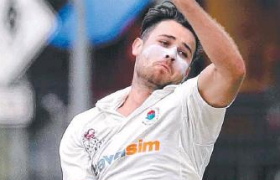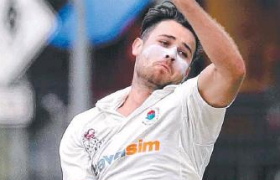 SOMETIMES winning and losing isn't all that matters.
Sometimes the game of cricket moulds boys into men.
There is no doubt that every single one of our Green Shield squad this year has grown as a cricketer and person this season.
Under the tutelage of David Gainsford and his coaching team, our young Waratah representatives shrouded themselves in glory throughout their entire campaign.
They were a team that had tasted a large amount of success over the last five years coming through the junior ranks, but it is fair to say that we didn't play our best cricket over the last few weeks. What was very obvious, and what impressed everyone, was how the team fought tooth and nail in all of their matches.
This was no different in the semi-final on Thursday against Mosman. After struggling to 9 for 90, a last wicket partnership of 45 from Jacob O'Sullivan and Harry Kantor-Smith got us to a competitive 135.
However, Mosman were too good on the day, and passed us five wickets down.
Congratulations to all the coaches, off-field staff and parents on a great season. But it's the players who deserve the most credit. Cricket has a bright future here on the northern beaches.
PRESSURE CONTEST
TODAY sees our boys go up against North Sydney in an important finish our round 10 clash.
It's a great opportunity for our first-grade side to take advantage of the amazing bowling performance of Nathan Buck last weekend and finish the Bears off, with Adam Crosthwaite's side already taking first innings points.
It was without doubt our English import's best performance for the Tahs, bowling with great pace and accuracy in his six-wicket haul.
But it means nothing if we don't perform this Saturday and capitalise on our great position and push for an outright victory.
Ten points is very rare in first-grade cricket and we will again be looking to "Bucky" to lead the way with the ball once again.
Michael Visser also returns to the side to strengthen the bowling after his work commitments with NSW Cricket last weekend.
SCORER MOURNED
THE club experienced a very sad loss during the week with the loss of muchloved scorer John Baxter.
He was around the club when I first started in the 1980s and was already a wellentrenched member. But even I was amazed at his passion for our club and cricket in general.
Many of our old players will remember his love for life, ability to make everyone smile, and more than anything his love for the Waratahs.
What made him even more amazing was the fact that he suffered from spina bifida and was wheelchair bound. But that didn't stop him enjoying his life to the fullest.
There are many things that go into a semi-professional, community based club like ours, and our amazing group of volunteers is probably the most important.
There was no better volunteer than Johnny Baxter. May he rest in peace.
{loadposition cricket}