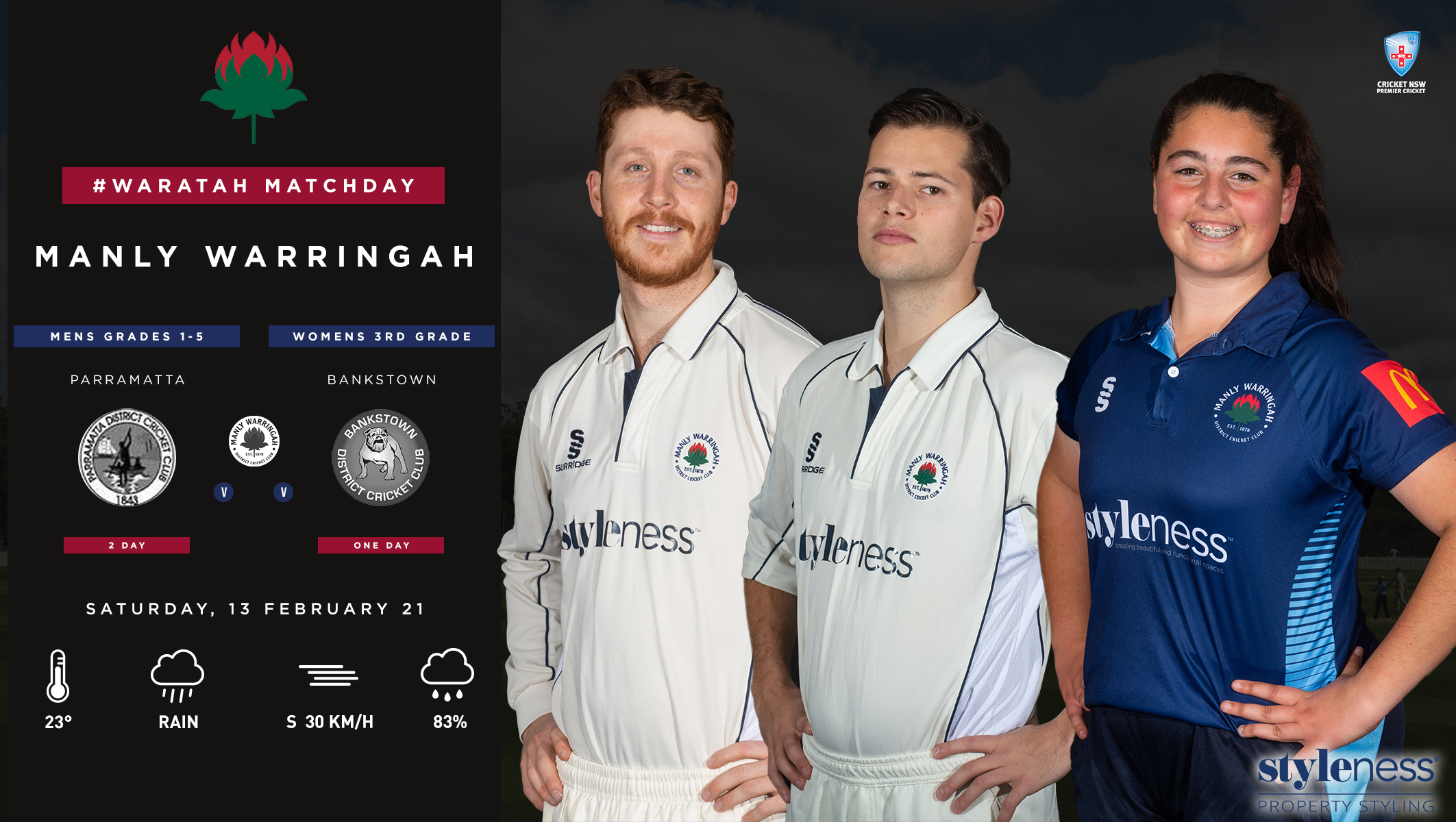 The Styleness Manly Warringah Waratahs have named sides for Men's grades 1-5, First grade limited overs semi final, Women's 2's, 3's, and Brewers. Grades 1-5 will play a 2 day match against Parramatta, while the First grade limited overs side faces Randy Petes in a do or die semi final.
Last week was successful for the tahs. 4 out of the 5 Men's grades took home wins, with 5th grade resulting in a draw. The success from last round has now placed the tahs back to the top of the club championship. Brewer's enjoyed a demolition job of the ND's batting lineup, rolling the opposition for just 58, then chasing it 3 down. Women's 2's suffered their first loss of the season, while W3's had no play due to the wet weather. First grade limited overs comfortably ran through Fairfield-Liverpool in their QF, thanks to 5fa from Ryan Hadley.
1st grade welcome the return of Jack Edwards, who returns from BBL duties. Andrew Jamieson suffered a horrific injury last week in 2's, so he is replaced by Lachie Charles, and the captaincy has been handed to Andrew Hicks. Mickey Edwards and Jake Osborne return to 3's, while 4's have made several changes. Nick Cohen and Glyn Archer return from injury, while Adam Gummer, Billy D'arcy, Oscar Lucius, Michael Visser and Jack Hobson all return to the 4's side. 5th grade make two changes, with James Waddington and Charlie Johnston returning to the side. Women's 2's make one addition to their side, with Kate Salmon being selected this week. Brewers replace the loss of Salmon with Stephanie Hughes. Women's 3's make some changes with Jess Kaye and Mason White returning to the side.
Good luck to all teams. Go Manly.
Men's First Grade – Two Day Match
Round 13 vs Parramatta @ Old Kings Oval
10:30am start
1. Ben Bryant
2. Jack Edwards
3. Jay Lenton (c) (+)
4. Cameron Merchant
5. Sam Gainsford
6. Ryan Farrell
7. Isaiah Vumbaca
8. Tom Kaye
9. Elliot Herd
10. Jake Carden
11. Ryan Hadley
Men's Second Grade – Two Day Match
Round 13 vs Parramatta @ Manly Oval
10:30am start
1. Ned Hole
2. Matt Brewster (+)
3. Ahillen Beadle
4. Joel Davies
5. Jacob O'Sullivan
6. Zac Trewartha
7. Neal Prowse
8. Jordan Daly
9. Lachlan Charles
10. Josh Seward
11. Andrew Hicks (c)
Men's Third Grade – Two Day Match
Round 13 vs Parramatta @ Merrylands Oval
12:15pm start
1. Max Webber
2. Sam Webber (+)
3. Dom Wheeler
4. Tim Doonan
5. Mickey Edwards
6. Sam Hole (c)
7. Jake Osborne
8. Alex Bain
9. Ryan Bishop-Perrett
10. Michael Counsell
11. Lachie Trewartha
Men's Fourth Grade – Two Day Match
Round 13 vs Parramatta @ LM Graham Reserve
12:15pm start
1. Nick Cohen
2. Adam Gummer (c)
3. Billy D'arcy
4. Oscar Lucius (+)
5. Michael Visser
6. Marcus Campbell
7. Ollie Melville
8. Lachie Kerr
9. Jack Hobson
10. Glyn Archer
11. TBC
Men's Fifth Grade – Two Day Match
Round 13 vs Parramatta @ Castlewood Oval
12:15pm start
1. Jack Melchiore
2. Reiley Dunlop (c)
3. Andrew Boulton
4. Josh Cooper
5. Roop Dhillon
6. Daimon Smith
7. Charlie Johnston
8. James Waddington
9. Andrew Rochford (c)
10. Raja Ganeshraj
11. Liam Dinan
Men's First Grade Limited Overs Cup – One Day Match
Semi Final vs Randwick Petersham @ Manly Oval
10am start
1. Jay Lenton
2. Ben Bryant
3. Joel Foster
4. Cam Merchant
5. Ryan Farrell
6. Ollie Davies
7. Jack Edwards
8. Isaiah Vumbaca
9. Sam Gainsford
10. Jake Carden
11. Ryan Hadley
12. Elliot Herd
13. Tom Kaye
Women's 2nd grade – One Day match
Round 15 vs Sydney @ LM Graham Reserve
10am start
1. Niamh Bullen
2. Charlotte Camburn
3. Kristie Crawford
4. Annabel Hutt
5. Sienna James
6. Zara Shipp
7. Mikaela Turik (c)
8. Mia Waddington
9. Natalie Jonkers
10. Hannah Woolf
11. Claire Waddington
12. Kate Salmon
Brewer Shield – One day match
Round 15 vs Campbelltown-Camden @ Mike Pawley Oval
10am start
1. Natalie Guyot (c)
2. Ruby Gruber (+)
3. Jasmin Wilson
4. Mia Nel
5. Ellie James
6. Gemma Lacey
7. Jessica Manning
8. Chelsea Mclerie
9. Abbey Melville
10. Chloe Osborne
11. Stephanie Hughes
Women's 3rd Grade Limited Overs – 40 over match
Round 5 vs Bankstown @ Balgowlah Oval
12:30pm start
1. Charlotte Ambler
2. Olivia Hough (c)
3. Renee Hough
4. Isabelle Keene
5. Stephanie Hughes
6. Jess Kaye
7. Mason White
8. Mia Nel
9. Sallie Molyneux
10. Cam Pryor
11. Sarah Gordon
12. Jasmin Wilson