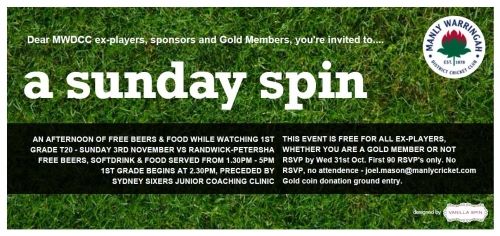 Our club is what it is today because of its players. Our culture has evolved and grown due to the input of these players, both past and present. Our present players seem to get all the glory, so we thought that it is time that we celebrated our past.
The Waratahs will be holding a free ex-player day at The Room at The Top at Manly Oval on Sunday 3rd November in conjunction with our first T20 home match of the season against Randwick-Petersham. The club will be providing beer and lunch for all attendee's free of charge, whether an ex-player is a Gold Member or not. It is our way of saying thankyou to helping build our great club into what it is today.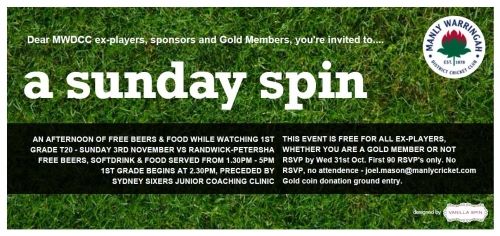 We are extremley lucky to be having our great supporters from Brookvale Insurance Brokers, also our Gold Membership sponsors, supporting the event. Brookvale Insurance Brokers came to be involved through ex-player Graeme Turner, so it is a fantastic fit. Contact Graeme on 0414 329106 or graeme@bib.com.au for all your insurance needs.
Thanks also to our great friends at 4 Pines Brewery for their support in making this day happen.
Please come along and make a day of it. Contact old friends you haven't seen for decades and get together for a beer at the cricket. There will be a big local crowd there and the Sydney Sixers will be holding a junior Coaching clinic for our local juniors before the game.
However spaces for the ex-player event are limited to the first 90 people that RSVP so please make sure you get in quick. As per the attached invitation, RSVP to joel.mason@manlycricket.com to book your spot.
The club would still like to encourage as many ex-players and supporters to become Gold Members. Our Gold Member packages have just been released. Click here to view our Gold Member introuction