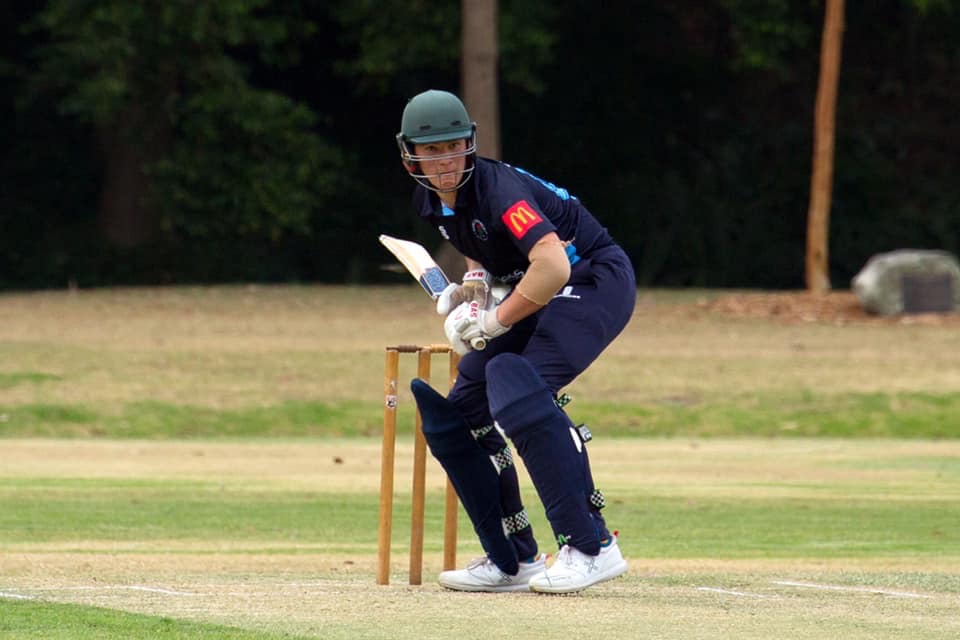 MANLY 3/224 (J COOPER 97, J DAVIES 47*, L JOHNSON 41) DEF UTS NORTH SYDNEY 7/222 (T LAUGHTON 2/26, H SHARMA 2/42)
The Greenies boys made their way out to Tunks Park ready for their Round 2 fixture against a North Sydney side who would be eager to bounce back from their first up loss to Fairfield.
Skipper Joel Davies led another strong warm up, and after the Hulios had once again dominated the Nerds in a one-sided Vortex match, the skipper was called for the toss. Unfortunately Joel called incorrectly and the North Sydney captain had no hesitation in electing to bat first on what looked to be a very flat surface.
Toby Laughton and Darcy Fleming resumed their opening bowling partnership, and after a conservative start from North Sydney, Toby struck, dismissing the opener LBW after he misjudged the line and allowed the ball to cannon into his pads. Following this, the home side began to build a solid partnership, before debutant Roop Dhillon was introduced into the attack with immediate reward, North Sydney's number three gone courtesy of an excellent catch diving forward from skipper Davies at mid-on. From here on, North Sydney continued to build steady partnerships, but with some great pressure from the Tahs, were never really able to sneak ahead in the game. Just after the halfway point of the innings, Joel picked up the crucial wicket of the opener for 63, before North Sydney's number five came out full of intent to cruise to a run a ball 48, putting the pressure back on the visitors. Toby Laughton was brought back on, and immediately began to dominate North Sydney's number four, before a quick and accurate bouncer saw the back of him for 47. Hurshwin Sharma returned from the other end, picking up the important wicket of the number five via a great catch running backwards from vice-captain Tom Wood, before helping himself to another wicket with a catch to Josh Cooper. Manly had done well in restricting North Sydney's total, keeping the home side to 7/222 when they could have easily made their way towards 240+, Toby with an excellent run out from the deep for the 7th wicket. Special mention to young Andrew Boulton who was heavily struck in the shoulder by a drive from one of North Sydney's batsman, but bravely continued on in the field.
Everyone was confident that if we applied ourselves in the run chase, we would come away with the victory. And that's exactly what the Tahs did. A new look opening partnership of Josh Cooper and Lachie Johnson combined for a brilliant 93 run stand, with both batsman regularly turning the strike over and punishing the bad deliveries. When Lachie was bowled for a gritty 41 from 80 balls, Blake McCarten came to the crease for his first game for the Manly boys, and immediately showcased his talent with some magnificent shots, before his innings was unfortunately ended, run out for 12 after a mix up between the wickets. Skipper Joel came to the wicket following this, with Manly needing roughly 6 runs an over for the last 20 overs. Josh and Joel worked together to build a magnificent partnership, again worth 93, with the boys putting pressure on the North Sydney fielders courtesy of some excellent running between the wickets. As Manly edged closer and closer to the victory target of 223, Josh Cooper was working his way towards an amazing hundred, unfortunately falling just short, caught behind for 97 off 133 balls with the Tahs just 15 runs from victory. Coaches, parents, teammates, were also visibly heartbroken for Josh, but everyone in attendance knew what a spectacular innings the youngster had just played, leading his team to a strong win.
Finlay Thornton joined Joel at the crease and the two quickly peeled off the remaining runs, the skipper finishing 47 not out from 39 balls, with Finlay at the other end on 9. An excellent win for the mighty Tahs, winning by 7 wickets with more than 3 overs left, our top order demonstrating a clinical run chase. The boys once again sung the song with pride, now 2 from 2 leading into the Christmas break. We next play January 4 at Manly Oval vs Sydney. Until then, Merry Christmas and a Happy New Year to the Manly crew.
Will Gustafson