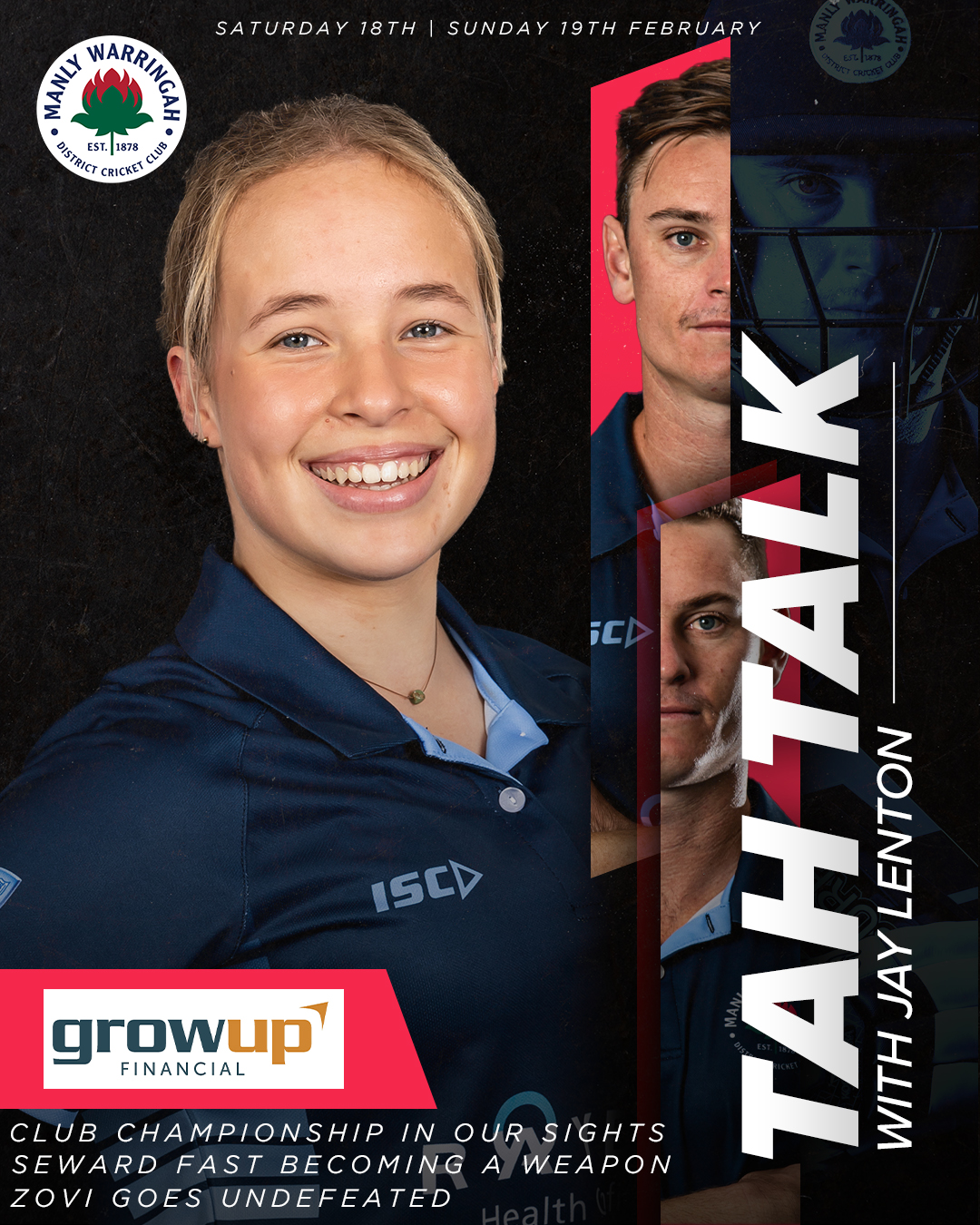 CLUB CHAMPIONSHIP IN OUR SIGHTS
This weekend looms as a pivotal moment in our season as we zero in on the club championship.
After a tremendous five wins from five grades effort against Sydney last round, Manly sit on top of the table on 1302 points.
Next is St George (1109) from Parramatta (1108) and Northern District (1090).
There are at least 120 points up for grabs each round (potentially more when outrights and one-day bonus points are factored in).  
So as we prepare to take on NDs across the next two Saturdays, you can see just how important the next fortnight is.
A strong performance across the grades will give us an iron-grip on the club championship heading into the final two rounds.
Northern District has won the last two club championships are a desperate to make it a rare three-peat. 
As I have mentioned previously in Tah Talk, grade premierships are very special and something we all strive for but the club championship really underlines a club's overall strength, depth and spirit.
This season has tested us on all three counts, with up to 25 players unavailable at different stages.
It's a testament to where this club is at – both on the field and off it – that we've been able to consistently produce the goods despite the myriad hurdles.
Manly has won eight club championships in is long history – the last in 2017/18 – so that gives you an idea of how hard they are to land.
Let's hope we are celebrating number nine in a few weeks' time.
SEWARD FAST BECOMING A WEAPON
It's been great to see the continual improvement in teenage fast bowler Josh Seward.
Josh was quick at a young age but natural pace only gets you so far once you start to climb the grades and play against older and more experienced batters.
He is still learning his craft but he is now using his smarts to out-think the opposition and the bad balls are becoming fewer and fewer and his hones his line and length.
He took 5-41 against from 13 fiery overs against Sydney in seconds, forcing batsmen to jump around like they were walking on hot sand.
It was Josh's second five-fa for the season and deservedly won him our player-of-the-week award.
Still only 19, Josh has already played plenty of first grade and will no doubt see plenty of time in the top grade in years to come.
I and many others at the club can't wait to see his progression.
ZOVI GOES UNDEFEATED
One of the aims of opening batters is to blunt the new ball, set up the innings, and get their lineup ready for a big total.
But it's not often that the opener does that and more. Last weekend, Isabella Zovi carried her bat through the entire innings for Brewer Shield against Greater Hunter Coast with 87* off 111 balls.
It was a phenomenal effort. The rest of the batting line-up crumbled around her. In-fact, only Darcey Whiteley with 10 at #9 and debutant Kaya Punter with 25 at #11 got into double figures.
Isabella and Kaya almost pulled off an unlikely victory with a huge last wicket partnership, but it was a bridge to far.
It capped off a great weekend for Zovi, especially after getting W3s over the line onf Saturday with 19*.
She has had a great year and has been a rock at the top of any batting line-up she has been part of. She looks a real talent.