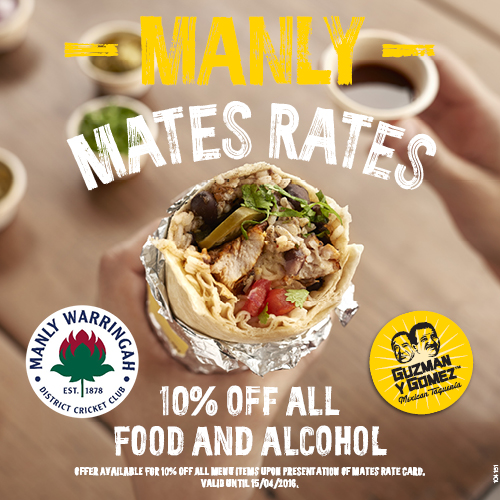 Guzman Y Gomez at Manly Wharf have come on board as a supporter of the mighty Waratahs for 2015/16.
Like all great revolutions, Guzman y Gomez (GYG) Mexican started with one simple passionate belief: that the hearts and palates of Australia would embrace the authentic flavours and traditional techniques of one of the world's great cuisines… Mexican!
GYG at Manly Wharf certainly adheres to this philosophy. Set-up 2 years ago, it is exactly what Manly Wharf was looking for and is currently thriving as a favourite for locals and tourists alike.
If you haven't tried the food at GYG, you really need to do yourself a favour and get down to Manly Wharf. It is fresh, deliciously authentic, and top value for money.
Think about all of the staple Mexican food and they have it…. Burrito's, Nacho's, Tacho's, Quesadillas, they have it all. We would especially encourage you to try the Fajita's which are absolutely top notch.
It's also a great place to have a beer and relax while in the heart of Manly.
GYG will be catering all of our Blue Blood Membership and sponsor events at Manly Oval throughout the season. They will also be providing man of the match vouchers to various junior clubs around the Northern Beaches as well as our Junior Rep teams.
More importantly, GYG want to reward you for providing them with your patronage. They are offering a 10% discount and all food and alcohol as part of our Manly Mates Rates program.
Thanks again to Nick Stephens and the team for their support, we look forward to a long and prosperous relationship.