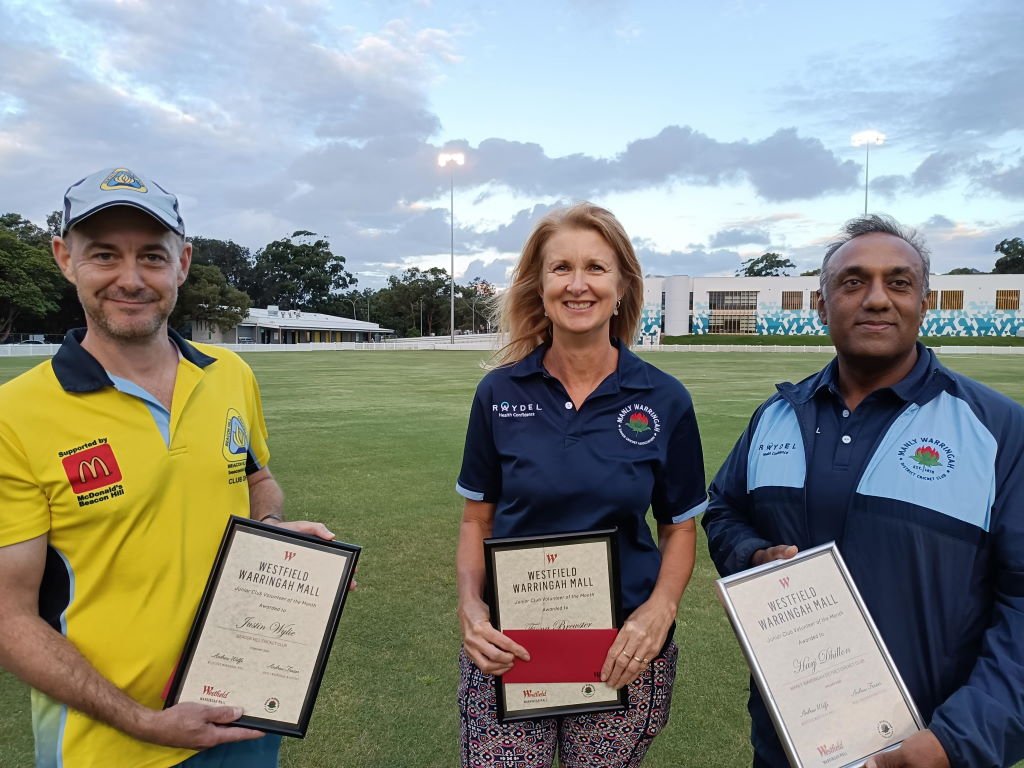 The Manly Warringah Waratahs are proud to announce Harj Dhillon, Fiona Brewster and Justin Wylie as the most recent recipients of our Westfield Warringah Mall Volunteer of the Month awards. This award is available to Manly Warringah junior clubs and Manly Warringah Waratahs volunteers and is generously sponsored by Westfield Warringah Mall.
Fiona Brewster
Fiona took over the running of Manly Mini Bash last year and has worked tirelessly on ensuring it has continued to be a feature of the junior cricket season. There is a huge amount of work to be done with regard to recruiting teams, organising the draw and finding suitable cricket pitches on which to play the games. With the help of a few others Fiona somehow managed to find time to do all of this as well as being the MWJCA Treasurer, a role which is vital to ensuring the association operates appropriately. Everyone really appreciates all the time and effort she has put into junior cricket over the last few years.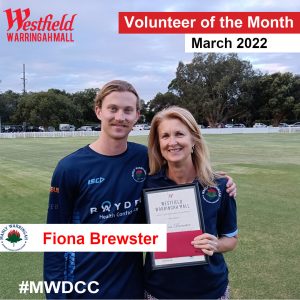 Justin Wylie
Justin first came to Beacon Hill Cricket Club in 2016, when his family moved to the area. He brought his 3 and 5 year old boys to MILO in2CRICKET in late 2016. Justin then started running in2CRICKET sessions in early 2017, and from 2017-2018 has coached or assistant-coached two teams or programmes each season ever since. His two boys are still playing cricket in U/10 and U/12. And along the way Justin became president of Beacon Hill Cricket Club, so he's certainly very busy to say the least!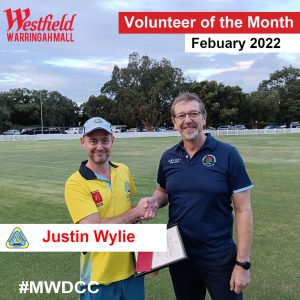 Harj Dhillon
Behind every successful team there's a great manager. Harj has managed the Green Shield team for the last 3 years. Harj is a master of organisation and made sure that everything ran smoothly for each of those seasons. This year, no sooner had someone mentioned that the team should go to the Gold Coast for some end of season friendly matches than Harj had organised flights and accommodation! His support for the team has been invaluable – organisational skills like his are hard to come by.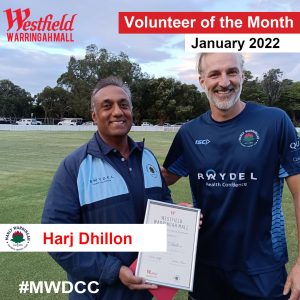 Both senior and junior cricket are extremely fortunate to have people like Fiona, Justin and Harj who give so much of their time to ensure cricket continues to grow on the Northern Beaches. They received their awards of a framed certificate and a $250 voucher each courtesy of our great friends at Westfield Warringah Mall who have generously continued to support our volunteer program through the hard times of the pandemic.
Congratulations and thanks for all your hard work, folks!