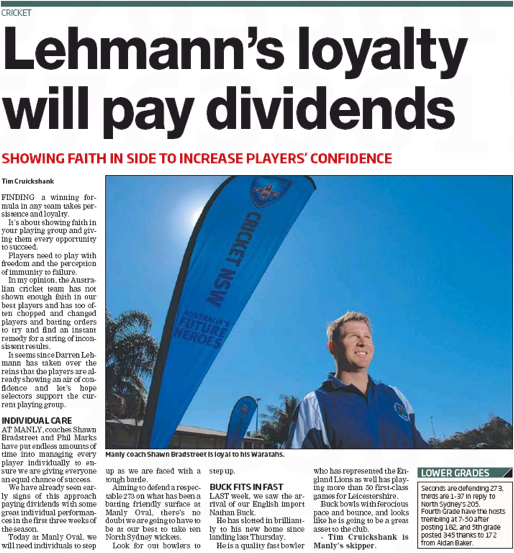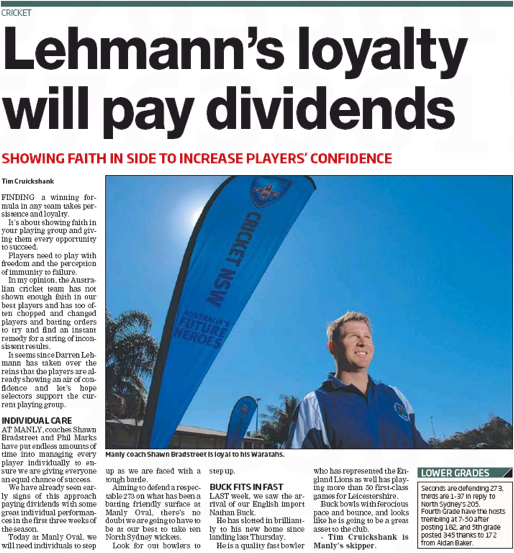 FINDING a winning formula in any team takes persistence and loyalty.
It's about showing faith in your playing group and giving them every opportunity to succeed.
Players need to play with freedom and the perception of immunity to failure.
Inmyopinion, the Australian cricket team has not shown enough faith in our best players and has too often chopped and changed players and batting orders to try and find an instant remedy for a string of inconsistent results.
It seems since Darren Lehmann has taken over the reins that the players are already showing an air of confidence and let's hope selectors support the current playing group. AT MANLY, coaches Shawn Bradstreet and Phil Marks have put endless amounts of time into managing every player individually to ensure we are giving everyone an equal chance of success.
We have already seen early signs of this approach paying dividends with some great individual performances in the first three weeks of the season.
Today at Manly Oval, we will need individuals to step up as we are faced with a tough battle.
Aiming to defend a respectable 273 on what has been a batting friendly surface at Manly Oval, there's no doubtweare going to have to be at our best to take ten North Sydney wickets.
Look for out bowlers to
step up. LAST week, we saw the arrival of our English import Nathan Buck.
He has slotted in brilliantly to his new home since landing last Thursday.
He is a quality fast bowler who has represented the England Lions as well has playing more than 50 first-class games for Leicestershire.
Buck bowlswith ferocious pace and bounce, and looks like he is going to be a great asset to the club.
{loadposition cricket}