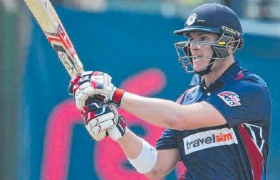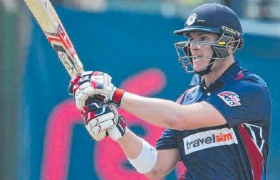 TODAY we welcome back our first-grade keeper-batsman Jay Lenton for a vital clash against Northern District on home soil.
After his NSW debut versus Victoria at the SCG was all but washed out, Lenton finally made it out to the middle for the Blues' followup match against Tasmania at Bankstown Oval this week.
And while it didn't exactly go to plan — NSW going down as ex-Manly boy Jackson Bird ran riot with the ball — it was still a great experience for Lenton and one he will take a lot from.
He is looking forward to being back in the Manly colours this weekend.
It's always good when one of our players steps up to the next level as they gain invaluable experience which they then bring back to grade cricket.
We look forward to Lenton leading from the front today as our latest NSW representative player.
STEPPING UP
LENTON felt he was tidy behind the stumps, and is keen for a few more opportunities after getting his maiden taste of first-class cricket.
"The step up was significant, all I had to do was look around and see who was out in the field for Tassie,'' he said.
"Ex Test players or those on the cusp looking to fight their way back into calculations.
"While the result didn't go our way I learnt plenty and the feedback was positive."
TEEN'S TALENT SHINES
I HAVE been telling you for a while how good some of our junior talent is and it was again underlined during our nine-wicket win over Eastern Suburbs in the Poidevin-Gray (under-21) competition last Sunday at Waverley Oval.
Against players up to five years older, 15-year-old Jack Edwards opened the batting and made a polished and classy 47 not out.
You would have to go back more than 30 years to find the last time a player so young opened the batting for Manly in the PGs.
Combined with skipper Ryan Farrell's half-century, Jack's patient dig helped Manly reach 1-104 in reply to Easts' 8-102 in a rain-reduced match.
Farrell also contributed with the ball, taking 3-9 to complement some good work from paceman Ben Falconer (3-31).
ROOKIE IN THE RUNS
ANOTHER junior player right out of the box is under-15s top order batsman Ollie Davies.
He belted 173 not out (from an overall total of 238) to help our 15s DCA team defeat a powerful St George side.
His 153-ball knock featured 19 fours and eight sixes.
Ollie, who is part of our Green Shield squad, also took two great catches at slip to cap a remarkable day out.
It's great to see our juniors doing so well and the future is bright.
{loadposition cricket}