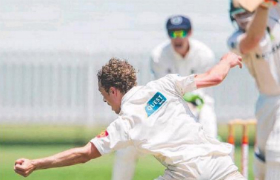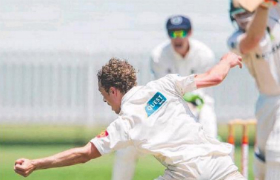 A BRILLIANT knock of 125 from Jay Lenton wasn't enough to land the Waratahs first innings points at Manly Oval on Sunday.
After spending all Saturday chasing leather, the home side knew a special team total was required from the first ball on Sunday morning.
Lenton belted eight boundaries and smashed eight sixes but in the end ran out of partners.
Captain Adam Crosthwaite felt the game was lost late on day one.
"We came on following a rain delay and leaked far too many easy runs. It was about 40 from their bowlers swinging the bat,'' he said.
"Credit to the Randy Petes. Nathan Price (148 not out) was outstanding. In my opinion he should be playing at a higher level.
"It is such a tight competition — we just have to regroup as a unit."
Manly will also have to soldier on without English import Nathan Buck, who once again has fallen victim to injury.
"Bucky will be missed but we have to think of his longterm career,'' Crosthwaite added.
"It is disappointing. On his day he is a matchwinner, as he showed against North Sydney last round.
"He felt a strain so he didn't play and we missed him big time."
Manly, who are now in eighth spot, travel to Drummoyne Oval on Saturday to play Sydney Cricket Club.
{loadposition cricket}