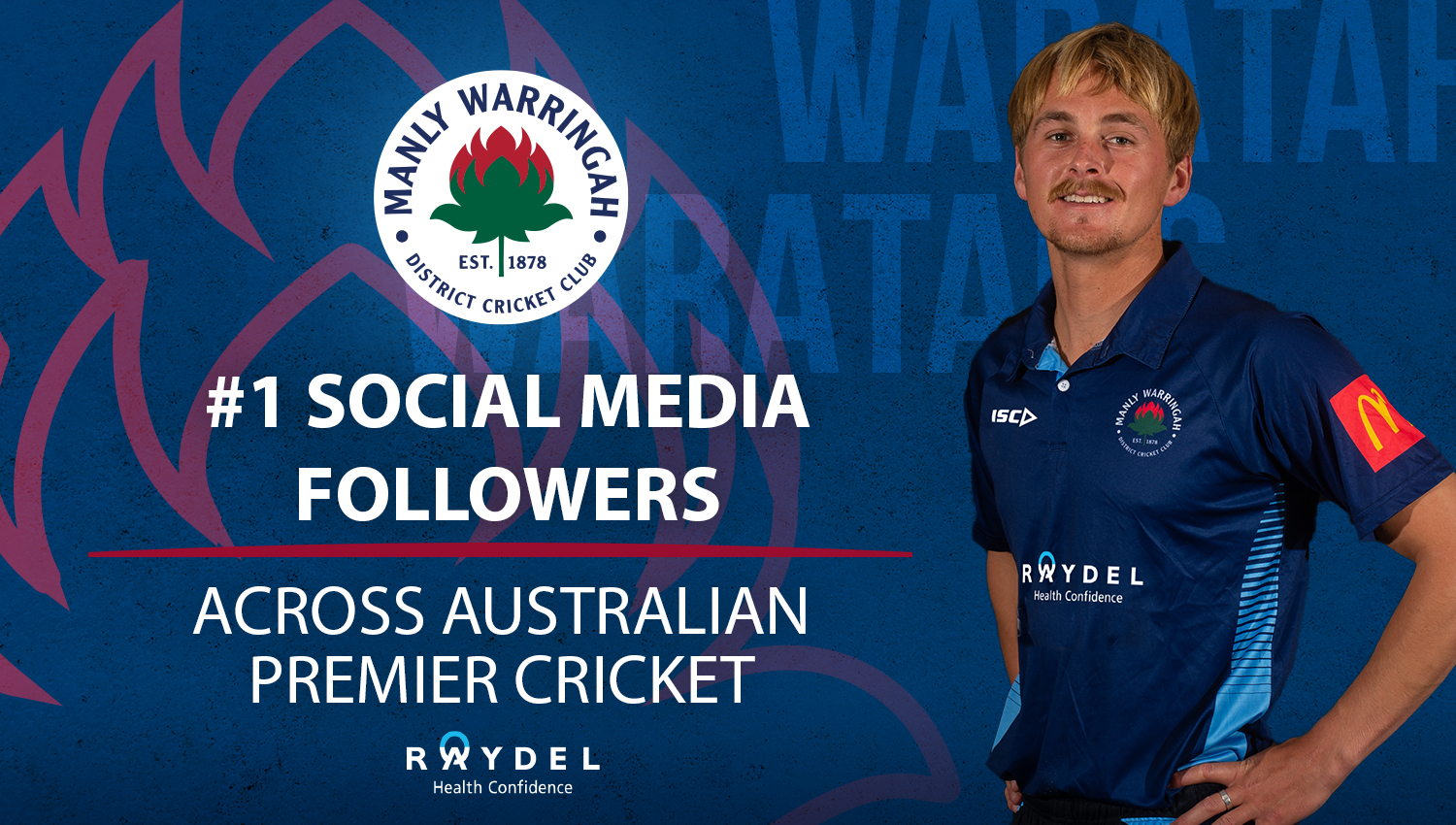 The Raydel Manly Warringah Waratahs have moved into top spot on the annual list of Social Media Followers across all Premier Cricket Clubs across Australia.
The review covers the 3 main social media platforms in Facebook, Instagram and Twitter.
The Tahs have over taken Wynnum-Manly from Queensland Premier Cricket for top spot after coming in 2nd in last years audit.
It is a wonderful achievement that the club should be very proud of.
The digital world is changing at a rapid pace, so it is important that semi-professional sporting clubs such as those competing in Premier Cricket utilise this medium to their advantage as much as possible.
To now have almost 20,000 followers means we are able to interact with a vast supporter base. This has implications to our community reach, commercial reach and brand reach.
However it takes a lot of hard work and dedication to provide the content that we do, and we will need to continue to be at our best to stay at the top.
But it's not just ourselves that provide great content. It is clear that all Premier Cricket Clubs, especially those in the NSW Premier Cricket competition, are looking to increase their exposure through their Digital platforms, and some do it very well. Sutherland have a fantastic program, and clubs like Sydney Uni, Mosman, North Sydney, Randwick-Petersham and Fairfield are creating some excellent content.
It's interesting that Melbourne Premier Cricket dominates the top 10. Fitzroy-Doncaster has build a great following over many years, mainly off the back of some fantastic videos, while clubs like St Kilda and Geelong also have great programs.
See below for the top 20 Premier Cricket Social Media followers:
| Position | Club | Competition | Followers |
| --- | --- | --- | --- |
| 1 | Manly Warringah | NSW Premier Cricket | 18,820 |
| 2 | Wynnum-Manly | QLD Premier Cricket | 17,807 |
| 3 | Fitzroy-Doncaster | VIC Premier Cricket | 17,195 |
| 4 | Sutherland | NSW Premier Cricket | 12,077 |
| 5 | Prahran | VIC Premier Cricket | 10,990 |
| 6 | Geelong | VIC Premier Cricket | 10,389 |
| 7 | Randwick-Petersham | NSW Premier Cricket | 8,691 |
| 8 | Melbourne University | VIC Premier Cricket | 8,580 |
| 9 | St Kilda | VIC Premier Cricket | 8,066 |
| 10 | Ringwood | VIC Premier Cricket | 7,606 |
| 11 | Carlton | VIC Premier Cricket | 7,568 |
| 12 | Mosman | NSW Premier Cricket | 7,489 |
| 13 | Dandenong | VIC Premier Cricket | 7,424 |
| 14 | Redlands | QLD Premier Cricket | 7,251 |
| 15 | Sydney University | NSW Premier Cricket | 7,215 |
| 16 | Essendon | VIC Premier Cricket | 6,955 |
| 17 | Valley | QLD Premier Cricket | 6,765 |
| 18 | North Sydney | NSW Premier Cricket | 6,481 |
| 19 | Penrith | NSW Premier Cricket | 6,317 |
| 20 | St George | NSW Premier Cricket | 6,269 |