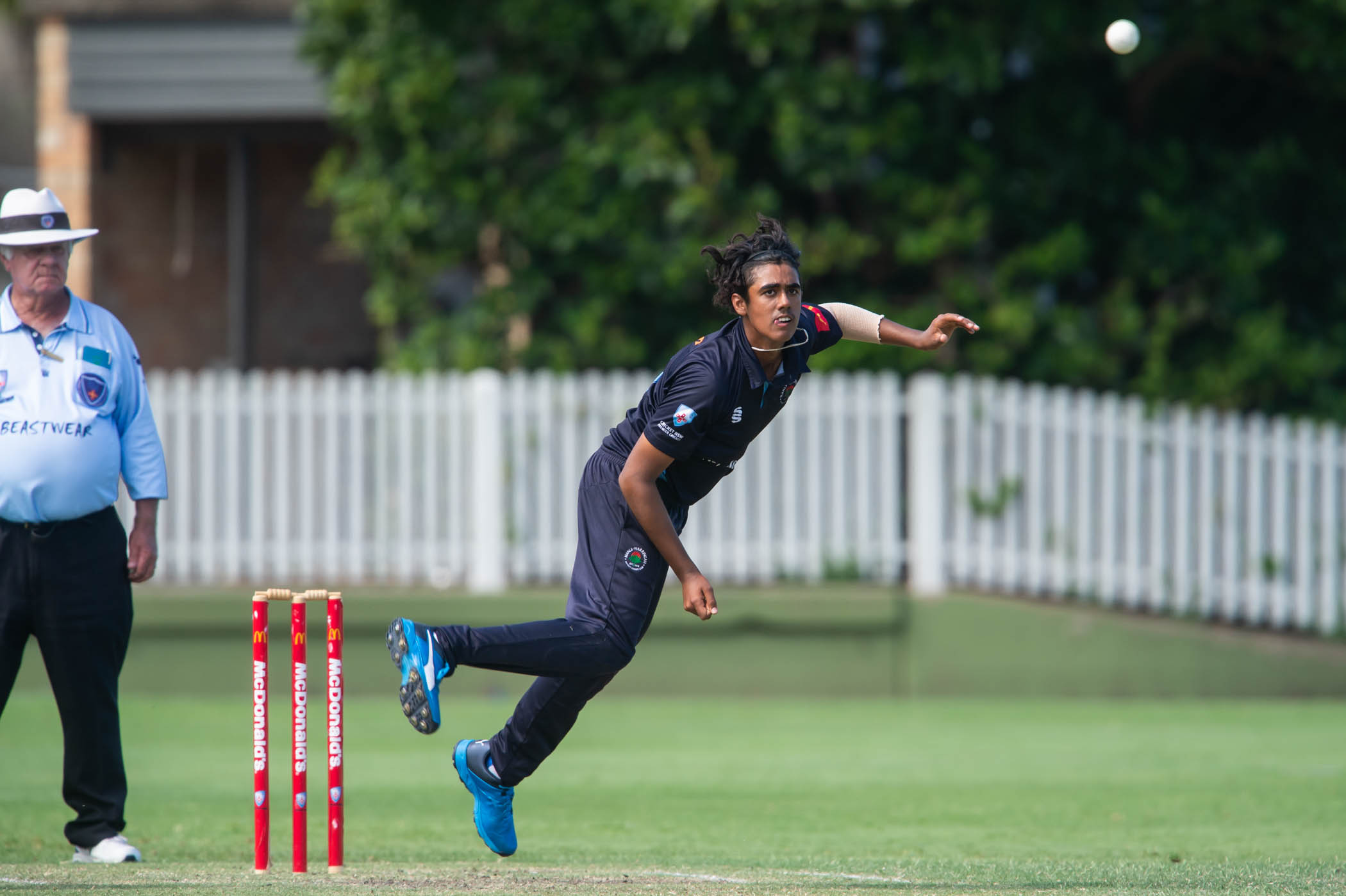 4 games into the 2021/22 Green Shield campaign, and Manly are sitting equal 1st on the ladder after 4 wins.
Round 1 saw a new look squad come up against local rivals Mosman at Allan Border Oval. Skipper Roop Dhillon lost the toss but the boys were pleased to be bowling first on an overcast morning. Toby Laughton struck early, before a strong 2nd wicket partnership from Mosman threatened to put them into the box seat. However, the boys fought back with some excellent bowling from all, Mosman bowled out for 138. Wickets were shared, Toby the pick of the bowlers with 3/18, and 1 wicket apiece to Josh Lawson, Nathan Pryke, Will Mathieson, Roop and Ethan Buchanan. The run chase started positively before the dismissal of both our openers put the boys on the back foot. Skipper Roop (21) combined with Jake Hutchings (28) for a steadying 44 run partnership to put us back in control, before a clump of wickets saw the game back on an even playing field. Brodie McDowell counter attacked with an excellent 26, but wickets kept falling to leave the Manly coaches and parents alike on the edge of their seats. Preston Lee however showed some great maturity and calmness under pressure to hold the innings together with 7 not out, before No.11 Toby hit the winning runs to see the boys victorious by 1 wicket, a great win to start the season.
Manly Oval was the venue for the boys' Round 2 clash with Sutherland, the first of four home games in a row. Skipper Roop again lost the toss, as Manly were sent into bowl. An early run out from Jack Donnan at square leg got the bowling innings started, however, some strong partnerships from Sutherland saw them take control of the game through the middle overs. A run out from Jake Hutchings, along with crucial wickets to Nathan Pryke and Roop saw Manly back into the game, before the boys closed out the innings with some great death bowling to restrict the visitors to 9/173. Wickets again shared, 2 each to Nathan, Toby and Roop, and 1 to Will Matheson. Unfortunately, Jack departed early in the run chase, before a brilliant 70 run partnership from Bailey and Jake put Manly in control. Bailey was dismissed for 34, before Roop combined with Jake in what looked to be the partnership that would guide Manly home. However, Roop departed for 19, and Ethan followed shortly after to put a few nerves through the Manly change rooms. Brodie again batted positively with 19 to put the game back in Manly's favour, however his dismissal was followed by a succession of wickets, including Jake Hutchings who was run out for an excellent 76, showing the rest of the boys a blueprint for building an innings, before Nathan Pryke hit the winning runs, Manly winning by 1 wicket for the second game in a row.
The boys returned to Manly Oval to face North Sydney in Round 3, with Roop continuing his poor form at the coin toss, Manly sent into the field. However, it was a blessing in disguise, as opening bowlers Toby and Nathan tore apart the North Sydney top order to see the visitors 4-5 early on. A partnership formed, however, wickets to Beau Kelley and a few quick wickets to Roop saw North Sydney bowled out for 86 in a dominant display by all Manly bowlers. Roop was the pick of the bowlers with 4/20, however it was set up by Toby with 2/6, Nathan 3/16 and an important wicket to Beau as well. Bailey and Jack started the run chase comfortably to take the score to 61, before Bailey was adjudged LBW for 29 with Jake caught and bowled soon after. However, Jack Donnan and Roop guided the boys home, Jack finishing 32 not out and Roop 15 not out. 3 wins from 3 to start the season.
Round 4 saw the Greenies boys return to Manly Oval to face UNSW. Gloomy, rainy conditions greeted the squad, and with a heavy downpour until 10.30am, play looked uncertain. However, thanks to some great work on the super sopper by Manly players and parents alike, play was allowed to start at 11am. Roop unsurprisingly lost the toss, Manly to bowl first again. UNSW started strongly with some uncharacteristically loose bowling from our boys, before Josh Lawson struck right before drinks, UNSW 1/66. Partnerships continued to build through the middle overs as some chances were missed in the field, but credit to the Manly boys, as they fought back to close the innings out well. Josh the pick of the bowlers with a brilliant spell in the middle and at the death, finishing with 3/22, along with 2 wickets to Nathan, and 1 apiece to Angus McConnell and Roop. Jack Donnan and Bailey Foster once again started the run chase in strong fashion, putting on 84 for the first wicket. Jack was dismissed for a patient and well made 32, before Bailey brought up 50 including some brutal boundaries. Jake and Bailey combined for a further 36 runs before Bailey looked to continue moving the game forward, out for 66. Roop looked positive, but was dismissed in unlucky circumstances, to bring Brodie to the crease with Jake, who soon brought up another classy 50. Brodie and Jake combined for the match winning partnership of 54, to guide the Manly boys home by 7 wickets with over 3 overs to spare. Jake 56* and Brodie 27*. The team song was once again sung loud and proud, the boys celebrating a great start to the season as we headed into the Christmas break.
Merry Christmas and a Happy New Year to all the Manly crew, hope you had a wonderful time with family and friends.
Greenies continue their season on the 11th of January, with a Round 5 clash against Bankstown at Manly Oval.
Will Gustafson