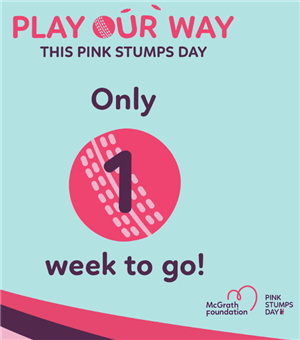 Late last year the boys grew some very impressive mo's for Movember and raised a whopping $8,207 for men's health. Now it's the girls' turn and they're supporting The McGrath Foundation by holding their own Pink Stumps Day on the 13th and 14th February.
Pink Stumps Day is the McGrath Foundation's largest community fundraiser and Manly Cricket is proud to turn their cricket game pink. Not only will the day raise funds for specialist McGrath Breast Care Nurses, it also provides an invaluable opportunity for the girls' playing group to come together and have some fun.
The McGrath Foundation raises funds to support people with breast cancer by providing specialist McGrath Breast Care Nurses where they are most needed across Australia. The Foundation currently funds 151 nurses who provide essential physical and emotional support free of charge to anyone experiencing breast cancer and their families from diagnosis and throughout their treatment. Breast cancer is estimated to be the most commonly diagnosed cancer in Australia (1 in 7 women will be diagnosed in their lifetime) and as the rate of diagnoses increases, so too does the need for more McGrath Breast Care Nurses.
This year's Pink Stumps Day will look a little different to previous years, due to social distancing, which means a lot of the fundraising will be online. Please visit our Pink Stumps Day fundraising page to make a donation to this very worthy cause.
In addition we'll be hosting two pink BBQs:
Women's 3rd Grade against Bankstown
When: Saturday 13th January 12:30pm start
Where: Balgowlah Oval
Women's 2nd Grade against Sydney
When: Sunday 14th January 10am start
Where: Grahams Reserve
There will be BBQs at both games. Come on down to support the girls, wear pink and have some cash on hand to donate to the McGrath Foundation!