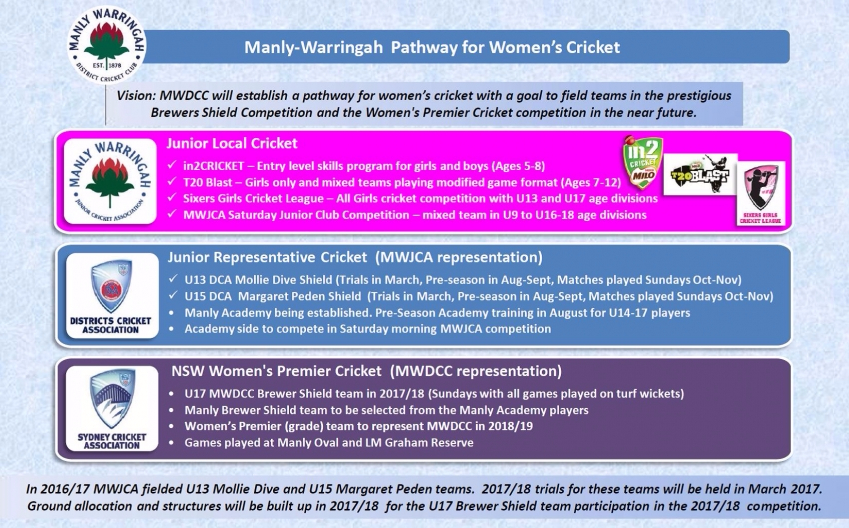 Inaugural MWDCC Womens Coaching Director Simon Waddington with the 2016/17 Margaret Peden U15 side.
In a watershed day for the club, the TravelSIM Manly Warringah Waratahs are extremely pleased to announce the official launching of our women's cricket pathway for the 2017/18 season.
There is no doubt that women's cricket, and women's sport in general, is one of the fastest growing sporting markets, with participation levels rising by records amounts over the last few seasons.
Based on the Nation Cricket Census from August 2016, women's participation reached record figures in 2015-16, growing nine per cent to 314,936 players. Undoubtedly that has increased once again this season.
The advent of the WBBL, an amazing successful product no matter which way you dissect it, has meant that there is now a clear pathway for women to get involved in cricket.
Unfortunately this pathway for girls in the Manly Warringah area has previously stopped at U/15 level, with players having to play at other clubs after this age to play grade cricket. However, this has now changed with the inaugural MWDCC women's pathway.
This involves the formation of a Women's Cricket Academy, which will help with the transition of females from the Junior U/13 Mollie Dive Shield and U/15 Margaret Peden Shield, both which continue to play in the DCA competition and be under the auspice of the Manly Warringah Junior Cricket Association, into senior women's cricket.
For 2017/18 the senior team that will play under the Manly Warringah Waratahs will be an Under 17 Brewer Shield side, which is the female version of the male U/16 AW Green Shield competition. Brewer Shield is played on turf grounds with the same level of prestige as Green Shield.
Our vision is that this pathway will pave the way for women's grade sides in future seasons.
In a big coup for the club, current 5th grade skipper and former NSW 2nd XI fast bowler Simon Waddington has been appointed as the inaugural MWDCC Women's Coaching Director, which includes coaching the Brewers Shield for 2017/18. He will report direct into the Waratahs Board and also have a dotted line to our club head coach, Shawn Bradstreet.
Simon will work very closely with the juniors in the off-season, as well as in the coming seasons, to firm up this pathway. In fact it has already been a collaborative effort with people such as Deanne Hutt, the MWJCA Women's Cricket Representative, Ross Denny, who is our current pathway manager, and Blake Cousemacker, the MWJCA Representative Chairman, all going above and beyond to make this happen.
There will be an official womens cricket sub-committee added to our 2017/18 board, with the head of this subcommittee sitting on the MWDCC board. This structure is an important component in our committment to the womens game, but this may change in coming years as womens cricket becomes part of the natural fibre of the club.
This is actually not the first time women's cricket has been part of our club. There was a women's side in the Sydney 2nd grade competition in 1982/83 (and were actually joint premiers) and then again in 1983/84 and 1984/85 in 1st grade, before the side disappeared due to a lack of numbers. With the current interest in women's cricket, this will not be happening again.
Selection trials were on 26th March for the U13 and U15 MWJCA representative squads for 2017/18, with preliminary U13 and U15 squads already announced on the MWJCA website at http://manlyjuniorcricket.nsw.cricket.com.au/
Some key upcoming dates:
Off-season 2017 – The Academy will run 2 off-season training sessions. One in May and one in July. Training is for all squad players in the U13, U15 and U17.
August 2017 – Pre-season training will begin on Saturday August 5th 2017 for all squad players from the U13, U15 and those eligible for the U17 Brewer Shield. Training will be from 3.30 to 5.00pm Saturdays.
September 2017 – U13 and U15 MWJCA representative teams will be selected in early September and posted on the MWJCA website. Pre-season training to continue with the selected players.
October-November 2017 – U13 and U15 DCA representative competitions are played on Sundays during October and November. Exact dates will be determined in due course and are subject to confirmation of relevant competition dates and formats by NSWDCA and Cricket NSW.
October 2017 – The Brewer Shield squad will be announced by MWDCC in mid-October. Training will be run in conjunction with U15 MWJCA Margaret Peden team at the MWDCC grade facilities at LM Graham Reserve.
November 2017 – The Brewer Shield team will be announced in mid-November. The team will be presented their caps by the MWDCC Grade club on the same evening as the capping of the AW Green Shield team, with both sides representing MWDCC in the Cricket NSW Premier Grade competitions.
December-March 2017 – The Brewer Shield competition begins in early December, running through March (with a Christmas break). The draw will be available on the Cricket NSW Women's Premier Cricket website.
Any questions, please contact the following representatives:
Simon Waddington – MWDCC Women's Coaching Director – 0414 393 807
Deanne Hutt – MWJCA Women's Cricket Representative – 0416 183 482
Ross Denny – MWDCC Pathway Manager – 0415 039 320
Blake Cousemacker – MWJCA Representative Chairman – 0415 039 320