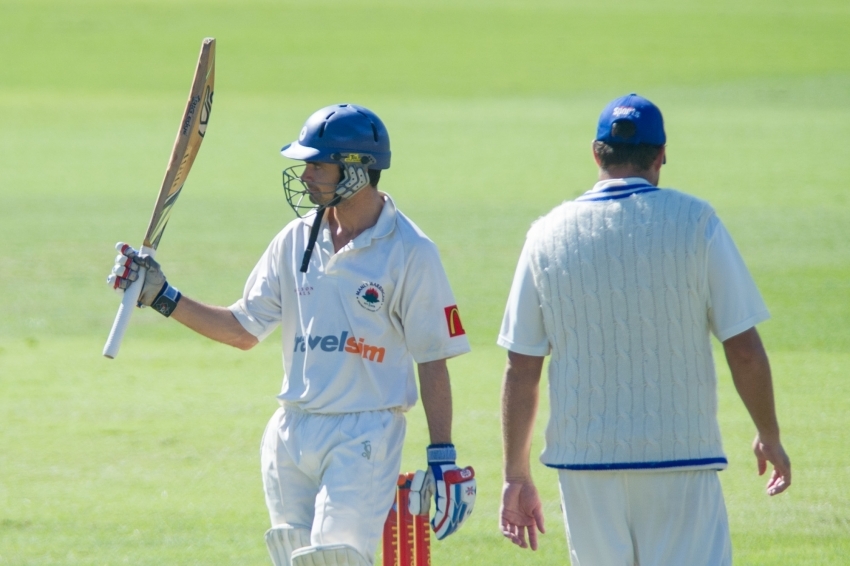 It has taken 26 years, but we can finally say that the TravelSIM Manly Warringah Waratahs are the 1st Grade Premiers for 2014/15.
Firstly we would like to congratulate Bankstown on a great year, as well as a great match. They are a fantastic side and will be for many years to come. All three 1st grade matches between the 2 clubs this year were tough but fair.
Monday 6th April will forever be remembered as one of the tensest days of cricket many of us have ever watched. The play was exilarating from start to finish with both sides playing good, tough, positive cricket for the entire match.
Ultimately it came down to the character and tenacity of one player, Jack Ritchie. "Cubby" batted for 5 and a half hours in scoring 87 not out off 229 balls against a quality bowling attack and under immense pressure. His calmness in the toughest of circumstances was truly amazing to watch, and no one will forget that innings in a hurry.
For his effort, Jack won the Benaud Medal for the player of the final.
With rain flowing all of Saturday, there was no play at North Sydney Oval on day one. While it was expected as the weather forecast had always been for rain to affect the weekend, it was never the less very frustrating for both teams. However, skipper Tim Cruickshank told his team all week that rain will not affect the outcome of this game, and one way or another there would be a result.
The rain cleared Sunday night and the players were greeted to bright, sunny skies on Sunday. Tim called the coin toss correctly, and we elected to field.
Bankstown's batting strength has been in their top order all year, with Solway, White and Wells leading the way. And so it started that way on Saturday morning with openers White and Solway getting off the a solid start, putting on 50 for the first wicket in decent time. However, the game turned at the drop of a hat with the introduction of NSW spinner Steve O'Keefe.
SOK had White smartly caught down the leg side by keeper Lenton. Next over Nic Bills put a thunderbolt through Solway, only to see him pop a catch up to Ritchie at point. 2 for 56.
SOKs next over was a delight to watch. Run machine Wells tried to drive a ball but only succeeded in presenting a catch to Crosthwaite, then had Cormack caught behind the very next ball trying to cut. 4 for 56.
In came Bankstown skipper Jarrod Burke. Burke is a quality cricketer and has enough experience to know how to handle situations like this, and he handled it excellently. His 65 not out, coming in at number 6, was a fantastic innings and led a fightback from Bankstown. He was well supported by Reece, however Mickey Edwards got one through Reece to shatter his stumps and at 5 for 118 it was anyone's game.
Burke tried controlled the game from here but he didn't have a lot of support from his tail, with McLachlan, Edwards and Bills cleaning them up for 168 from 54.2 overs.
The game was there to be won for the Waratahs as Jack Ritchie and Cameron Merchant strode to the crease confident of putting a big dent in the score before stumps.
Merchant looked fantastic as always but was LBW to Phelps for 16 with the score on 24. Crosthwaite came to the crease but was caught behind for 12. When Beadle departed for 5 with the score on 48, things were looking a little shaky.
Ritchie was up the other end the whole time, as calm as ever. He was pulling and cutting in his usual grinding way. He found an ally in Steve O'Keefe. SOK has been in great form with the bat all year and his 31 was as important as ever. However disaster struck in the 2nd last over of the day in fading light as he was caught behind off Phelps. Lenton and Ritchie saw out the rest of the day, with the Tahs on 4 for 104.
Day 3 saw another stunning day for the players, and North Sydney Oval was an absolute picture. Ritchie and Lenton returned to the crease but we lost both Lenton and skipper Cruickshank fairly quickly, and at 6 for 118, again it was anyone's game. Nick Bills joined Ritchie at the crease and they put on 20 runs before Bills was dismissed. 7 for 138 and game on with another 31 runs needed for victory and only 3 wickets in hand.
James Munting has shown throughout the years that he has a lot of ability with the bat, so everyone still had a lot of confidence when he came to the crease. However, it was the toughest 45 minutes for everyone on the sideline. Finally, Munting hit the runs to go past Bankstown, but with over 2 sessions left in the day, there was still plenty of cricket left in the day.
Munting was dismissed for 16 when the score was on 173. Nick McLachlan joined Ritchie at the crease and they saw the Tahs to tea with a lead of just 22. After the break, Bankstown couldn't make a breakthrough in the first 10 overs, and skipper Burke conceded defeat with the Tahs on 8 for 204.
The scene's in the grandstand were phenomenal as the realisation set in that we were officially the 2014/15 1st Grade Premiers.
Skipper Tim Cruickshank was overcome with emotion after trying to win a premiership for the last 15 years.
"It's the best day of the life, something that I will never forget" said Cruickshank. "We have busted our guts for the last 9 months, and to win it in the way that we did was amazing."
"That innings from Jack will go down as one of the best innings ever played for Manly. He was so solid and cool under pressure, but that is just the kind of guy that he is. He is exactly the person you want to bat for your life, and he showed today how good he is."
"This club has filled me with a lifetime of memories, but a first grade 2 day premiership was the only thing missing. Today we have finally done it for everyone at Manly, all those that have gone before us a built up a fantastic legacy at our club. So this victory is not just for the players, it's for all of our supporters."
The celebrations went deep into the night at Manly Bowling Club and then at the Room at the Top at Manly Oval. It was an evening that many at the club will never forget.
Manly Warringah. 2014/15 1st grade champions.
Click here to view all the photo's from the match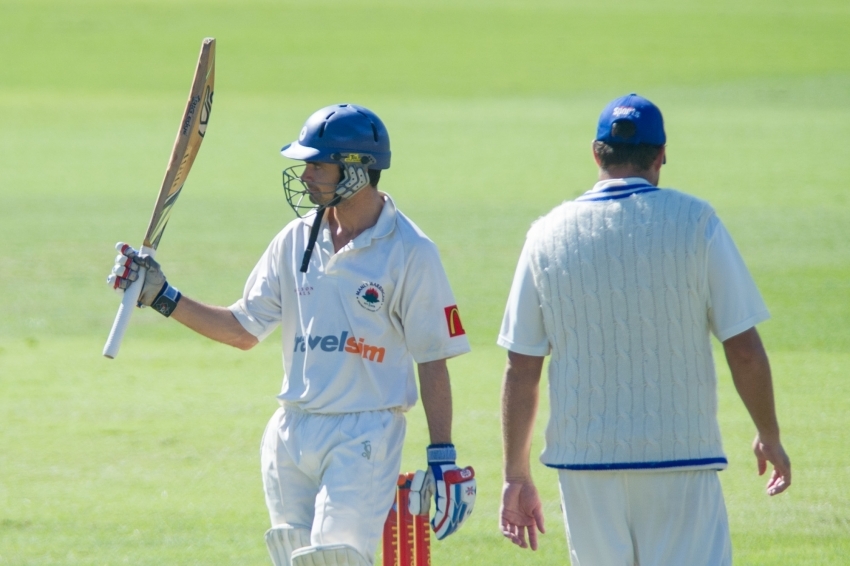 Ritchie saluting the crowd after reaching his 50

There was no happier man than 1st Grade Manager Michael Shepeard

Skipper Tim Cruickshank with head coach Shawn Bradstreet

Jack Ritchie accepts the Benaud medal for his man of the match performance