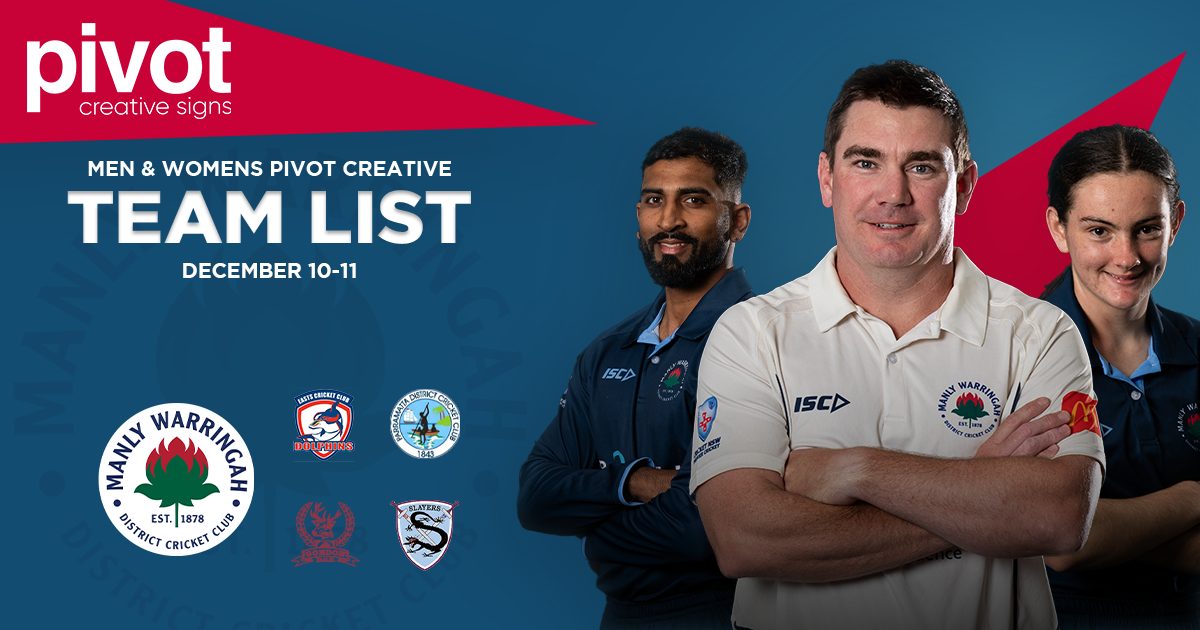 The Manly Warringah Waratahs have named the Pivot Creative Team lists for this upcoming fixture of premier cricket action. Men's round 7 see's the return of one day cricket for the season, as the tahs take on Easts. The Women's sides take on Parra, St-George Sutherland and Gordon across the four grades.
First grade enjoy the return of the experienced Ahillen Beadle to anchor the top order, while Andrew Boulton makes his 2nd grade debut at just 16, also joined by Lachie Trewartha who comes up from 3's, and Jordan Daly. Charles, Prowse, Cooper, Hole and Cumming all come into a strong 3rd grade side, with Hutchings, Ganeshraj and Keelan Mendel coming into 4's. Donnan, Lee, Waddington and Kapoor all return to round out the 5th grade side.
In W1's, Stephanie Hughes gets a call up, while 2's make several changes with Champion, Hatfield, Hough, Karcher and Zovi coming into the XI. Brewers welcome back Chick, James and Loh, while 3's enjoy the inclusions of White and Hughes.
Men's First Grade – One Day Match
Round 7 vs Eastern Suburbs @ Waverley Oval
10am start
1. Ahillen Beadle
2. Joel Foster
3. Ryan Farrell
4. Jay Lenton (c) (+)
5. Joel Davies
6. Matt Brewster
7. Isaiah Vumbaca
8. Eliot Herd
9. Ryan Hadley
10. Jake Carden
11. Josh Seward
Men's Second Grade – One Day Match
Round 7 vs Eastern Suburbs @ Manly Oval
10am start
1. Ben Bryant
2. Ned Hole
3. Brynn Mendel (+)
4. Jacob O'Sullivan
5. Lachie Coyte
6. Jordan Daly
7. Tom Kaye
8. Andrew Boulton
9. Andrew Jamieson (c)
10. Lachie Trewartha
11. Josh Wigney
Men's Third Grade – One Day Match
Round 7 vs Eastern Suburbs @ Trumper Park
10am start
1. Zach Trewartha
2. Sam Hole
3. Ellis Raymond
4. Lachlan Charles
5. Neal Prowse
6. Josh Cooper
7. Sam Webber (+)
8. Matt Sunshine
9. Michael Counsell
10. George Cumming
11. Lachie Kerr
Men's Fourth Grade – One Day Match
Round 7 vs Eastern Suburbs @ Graham Reserve
10am start
1. Dom Wheeler
2. Oscar Lucius (+)
3. Jake Hutchings
4. Reiley Dunlop
5. Ollie Melville
6. Adam Parkinson
7. Keelan Mendel
8. Andrew Rochford (c)
9. Fraser Noack
10. Hayden Williams
11. Raja Ganeshraj
Men's Fifth Grade – One Day Match
Round 7 vs Eastern Suburbs @ Snape Park
10am start
1. Liam Dinan
2. Simon Waddington (c)
3. Matt Evans
4. Jack Donnan
5. Preston Lee
6. Hayden Calvert
7. Reuben Kapoor (+)
8. Pat Day
9. Will Matheson
10. Beau Kelley
11. James Waddington
Unavailable –
– Steve O'Keefe
– Jack Melchiore
– Cameron Merchant
– Jack Edwards
– Ollie Davies
– Evan Dunnachie
– Logan Weston
– Roop Dhillon
– Ryan Bishop-Perrett
– Jack Hobson
– Toby Laughton
– Mickey Edwards
– Julian Osbourne
– Lachlan Barnsley
– Sentarou Murata-Davison
– Nick Rigg
– Josh Lawson
– Andrew Hicks
– Chris Halloran
Women's First Grade – One Day Match
Round 10 vs Parramatta @ Manly Oval
10am start
1. Charlotte Camburn
2. Kristie Crawford
3. Annabel Hutt
4. Laura Judson
5. Chelsea McLerie
6. Shivani Mehta
7. Sophie Morris
8. Mikaela Turik (c)
9. Stephanie Hughes (+)
10. Zara Shipp
11. Emma Thatcher
Women's Second Grade – T20 Match
Round 10 vs Gordon @ Killara Park
10am start
1. Olivia Champion
2. Natalie Guyot
3. Brooke Frew
4. Sarah Gordon
5. Emily Hatfield
6. Eliza Henry
7. Renee Hough
8. Molly Kidd
9. Ashleigh Karcher (+)
10. Mia Nel (c)
11. Isabella Zovi
Brewer Shield – T20 Match
Round 10 vs St George-Sutherland @ Graham Reserve
10am start
1. Annabelle Croll
2. Charlotte Croll
3. Caitlin du Preez (c)
4. Arabella Handley
5. Sophia Chick
6. Lara Hughes
7. Jazzy James
8. Hannah Moss
9. Shae Hiskett-Jones
10. Darcey Whiteley
11. Jaime Loh
Women's Third Grade – T20 Match
Round 10 vs St George-Sutherland @ Gannons Park #5
12:30pm start
1. Chloe-Amanda Bailey
2. Sophie Beukers
3. Annabelle Gilbert
4. Sophia Chick
5. Emily Hatfield
6. Isabella Zovi
7. Helen Hull
8. Renee Hough (c)
9. Emma Lyon
10. Sallie Molyneux
11. Stephanie Hughes (+)
12. Mason White
Unavailable:
– Sam Bates
– Niamh Bullen
– Saskia Horley
– Jasmin Wilson
– Sophie Lowry
– Ellen Hall
– Emily Horstead
– Stacey McManus
– Sarah Turner
– Lauren Kua
– Mia Phelps
– Dyandra Prins
– Katie Letcher
– Cam Pryor
– Sophia Slater