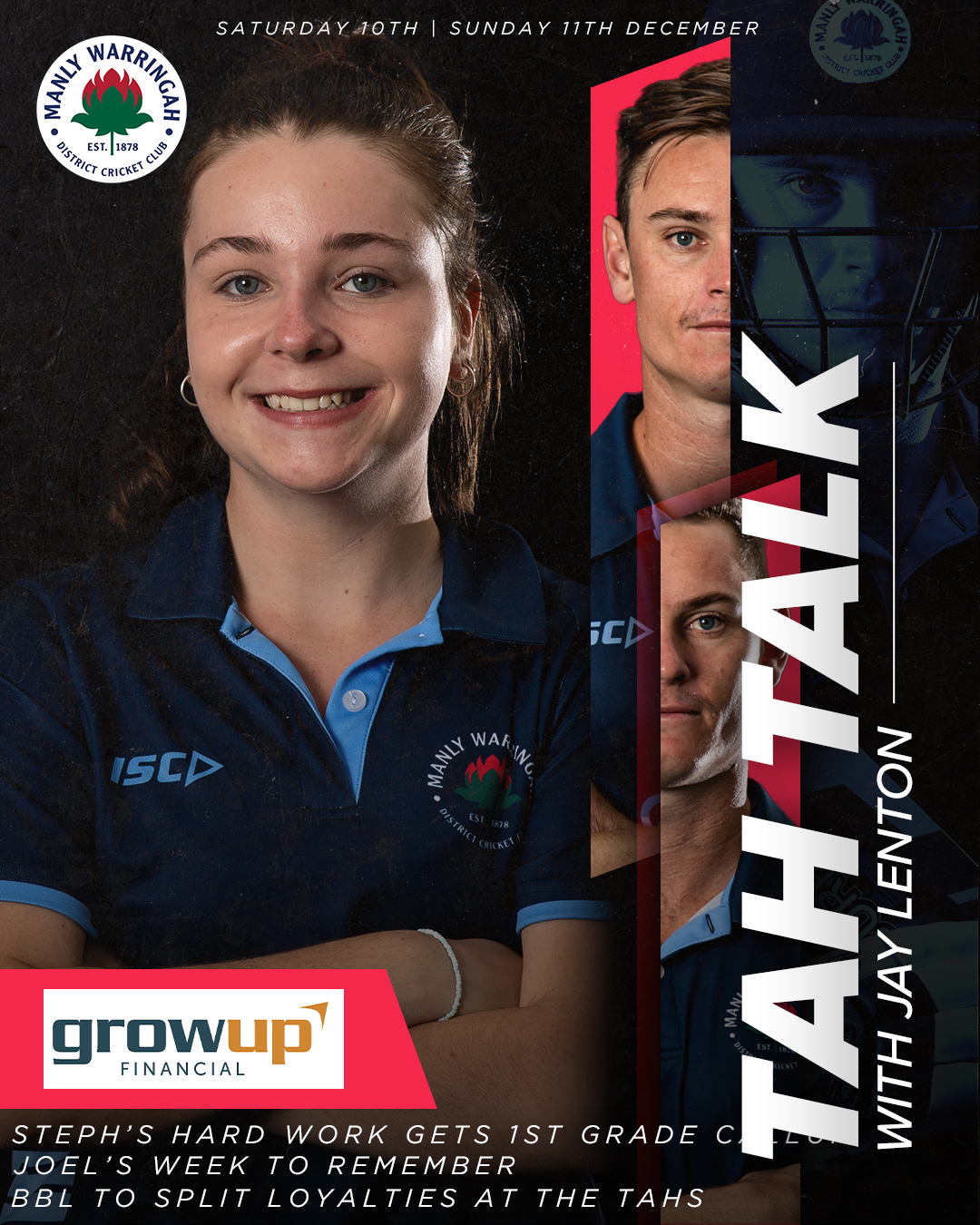 STEPHANIES HARD WORK REWARDED WITH TOP GRADE CALL-UP
It's always great to hear hard work and perseverance pay off for any cricketer.
That's the case for keeper-batsman Stephanie Hughes, who gets a shot in the top grade when our women's first grade side take on Gordon on Sunday.
Women's coach Dom Wheeler tells me Stephanie worked extremely hard on her batting and keeping over the winter as well as fine-tuning her mental approach to the game.
She scored an undefeated 18 to help set up a winning total against Penrith in a T20 encounter last start, which followed some solid performances with the bat earlier in the campaign.
Stephanie's glovework is also on the improve after putting in plenty of time at training.
Dom told Tah Talk: "Stephanie's a local junior who's been rising through the ranks over the past couple of seasons.
"She has become a very consistent performer in second grade with the gloves and has started to blossom with the bat this year as well.
"She debuted in first grade last season and now finds herself back in the top grade on the back of some strong performances."
Stephanie has just finished the HSC and is now able to dedicate more time to her craft.
I look forward to watching her progress from here.
Still on the women's teams, this weekend's round of matches is vitally important as we race towards the Christmas-New Year break.
Our Brewer Shield (under-18) and third grade sides are well placed – both are third – but firsts (eighth) and seconds (fifth) will be looking to climb the ladder before 2022 is out.
JOEL'S WEEK TO REMEMBER
You don't have to be a cricket expert to know you're watching something special when Joel Davies is in action.
Still only 19, JD is the complete package with bat, ball or in the field.
He also possesses a keen cricket mind and is doing a wonderful job leading our Poidevin-Gray side.
It was a privilege to have a front row seat last week when Joel produced three of the best innings you're ever likely to see for someone so young.
It started with a brilliant 68 in our T20 win over Sutherland last week, featuring an audacious switch hit for six.
Two days later he was at it again, compiling 78 off 49 balls to help us pull off an improbable outright win over defending champs Mosman in a two-day game.
After a couple of cans of whatever kids drink these days and a good night's sleep, he backed up to score 78 off 41 to guide PGs to a comfortable win over Gordon on Sunday.
All in all, not a bad week's work!
Not only is he a terrific cricketer, but a great young bloke to go with it.
I can't wait to see where Joel's cricket career goes from here.
BBL TO SPLIT LOYALTIES AT THE TAHS
It's that time of the year when club's loyalties are split down the middle.
You're either in the Sydney Sixers camp with Steve O'Keefe and Jack and Mickey Edwards or donning the lime green of Ollie Davies' Sydney Thunder.
I've signed on again as Sixers assistant coach and our fielding coach at Manly – Dave "Loz" Gardiner – is part of the back-up staff at home games.
It all starts on Tuesday when the Thunder host the Stars in Canberra.
Good luck to all our BBL reps.
If you get the chance, try to get out to a game to support the boys.